NEW YORK, – March 12, 2015 – (RealEstateRama) — Mesa West Capital's New York office has originated a $71.6 million first mortgage loan to a joint venture headed by Crocker Partners for the acquisition, renovation and stabilization of two Class A office buildings in Boca Raton, FL.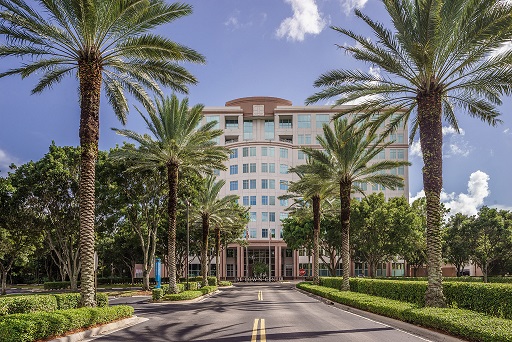 Local real estate firm Crocker Partners and New York-based equity partner Siguler Guff & Company LP acquired the 200,000-square-foot One Town Center and the adjacent 139,000-square-foot The Plaza from Met Life Real Estate Investors in an all cash transaction late last year. Both office buildings are located south of Glades Road near Interstate 95 and across the street from the popular Town Center Mall in the Glades/West Boca submarket. Collectively the buildings are 42 percent leased.
The floating rate loan allows the experienced local operator to leverage the acquisition and includes a future funding component to be used towards capital improvements and leasing costs associated with stabilizing the two properties, according to Vice President Russell Frahm, who covers the south east for Mesa West.
"As a lender, we are very interested in continuing to expand our presence in those submarkets in the Southeast US that we believe are primed for growth over the next several years," said Frahm. "The area is now in its second year of significant employment growth and with new jobs comes increasing demand for office space, especially for the kind of 'first-to-lease' high profile space offered at The Plaza and One Town Center," he said.
Factoring into Mesa West's decision to fund the loan was Crocker Partner's deep local roots.
"Headquartered in Boca Raton, Crocker is particularly experienced and reputed in the submarket and its surrounding area. Having built the Plaza in 1986 and One Town Center in 1990, Crocker has a unique understanding of the assets," added Frahm. "Moreover, Crocker's current and historical development of several other properties throughout Boca Raton gives it an acute awareness of the submarket's dynamics. Drawing on this market knowledge and experience, Crocker believes Boca Raton is on a steady path to full recovery due to low levels of new product delivery and positive demographic trends."
The financing was arranged by Charles Foschini of CBRE's Miami office.
About Mesa West Capital, LLC
Mesa West Capital (www.mesawestcapital.com) is a privately held debt fund manager and portfolio lender with more than $3 billion in assets under management. Headquartered in Los Angeles with an office in New York City, Mesa West has been one of the leading providers of commercial real estate debt since its founding in 2004. Mesa West provides non-recourse first mortgage loans for core/core-plus, value-added or transitional properties throughout the United States. Our lending portfolio includes all major property types with loan sizes ranging from $10 million up to $200 million. Since inception, the firm has sourced and closed more than 200 transactions totaling in excess of $6 billion.
Contact:
Bruce Beck
DB&R Marketing Communications, Inc.
920 Hampshire Road
Suite A 36
Westlake Village, CA 91361
(805) 777-7971
Follow us on Facebook: DBRPR
Twitter: dbrbruce
www.dbrpr.com