WASHINGTON, D.C. — (RealEstateRama) — The office of Congresswoman Eleanor Holmes Norton (D-DC) today announced that the expected final fiscal year (FY) 2019 District of Columbia Appropriations bill, filed last night, contains $40 million for the D.C. Tuition Assistance Grant Program (DCTAG) and no anti-home-rule riders. Norton achieved these victories despite the fact that the bill was finalized late last year, when Republicans controlled both the House and Senate and the Presidency.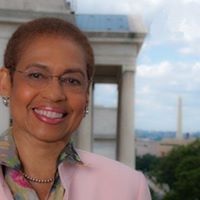 "I am grateful to our Democratic House and Senate appropriators and leadership, who were able to maintain our D.C. priorities in the bill, even though our members were in the minority when the bill was negotiated last year," Norton said. "With Democrats now in control of the House, I expect to achieve even more funding and home-rule victories in the FY 2020 D.C. Appropriations bill."
Norton secured $40 million for DCTAG for the fourth consecutive year, overcoming President Trump's budget proposal, which zeroed out DCTAG funding, and the original versions of the House and Senate bills, which proposed only $30 million for DCTAG. The bill does, however, reduce the family income eligibility threshold for future DCTAG students from approximately $796,000 to $500,000, indexed to inflation. Norton said that she will try to reinstate the current family income eligibility threshold in next year's bill.
Norton noted that it has been impossible to eliminate the current prohibitions on D.C. spending its local funds on abortions for low-income women and commercializing recreational marijuana, but is encouraged to try again now that the Democrats control at least one House. She was pleased to be successful in eliminating the five other anti-home-rule riders that were in the original House version of the bill.
Norton said the bill also exempts D.C. from shutdowns in FY 2020, a continuation of an exemption she has secured each year since the federal government shutdown in 2013. The exemption proved critical to maintaining D.C. services and operations during the record 35-day federal government shutdown this fiscal year.
Norton said the bill also provides the following special funding for D.C.: $8 million for the DC Water and Sewer Authority (DC Water), critical funding Norton has secured annually for ongoing work to clean up the Anacostia and Potomac rivers and Rock Creek and to control flooding in the District; $435,000 for the Major General David F. Wherley, Jr. District of Columbia National Guard Retention and College Access Program, which provides tuition assistance for D.C. National Guard members; and $3 million to combat HIV/AIDS in D.C.