WASHINGTON, D.C. — (RealEstateRama) — Congresswoman Eleanor Holmes Norton (D-DC) today helped cut the ribbon at the new D.C. Water Headquarters and praised its leadership for use of state-of-the-art green infrastructure in the building and replacements for some tunnels to capture stormwater overflow. She said D.C. Water's progress "encourages me in my work to get annual funds from Congress" for D.C. Water.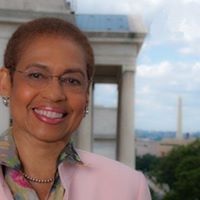 Norton's full remarks, as prepared for delivery, follow:
"Congratulations D.C. Water on a much-deserved new headquarters. D.C. Water's new digs on the banks of the Anacostia River are in keeping with the progress D.C. Water is making on our Clean Rivers Project to reduce the overflow of storm and sewer water from our 19th century stormed sewer system into the Anacostia River, the Potomac River, and Rock Creek. I appreciate that D.C. Water is also building facilities above ground to capture overflow in tunnels along M Street SE, the Southeast Freeway and the I-295 corridor. Special congratulations to D.C. Water for your environmentally enlightened green technology, readily apparent in the new state-of-the-art green building that uses recycled energy.
"This new facility encourages me in my work to get annual funds from Congress, last year, 14 million, to supplement resident and business ratepayer fees that pay for the massive underground tunnels that capture overflow. I am able to get federal funds for D.C. water every year by reminding Congress that D.C. Water is essential to the operations of the federal government itself, witness that the federal government is D.C. Water's largest ratepayer."
###