D.C. Law Already Prohibits Obstructing a Bridge
WASHINGTON, D.C. – (RealEstateRama) — As part of her effort to rid federal law of anti-home-rule provisions, Congresswoman Eleanor Holmes Norton (D-DC) announced today that she will introduce a bill to repeal a redundant 1997 federal law that makes it a crime for a person in the District of Columbia to obstruct any bridge connecting D.C. and Virginia. The District already had and continues to have its own local law prohibiting obstructing a bridge in the District. There is no federal law that prohibits a person in Virginia from obstructing such a bridge or a person in any state from obstructing a bridge connecting two states, and, fortunately, D.C. does not need a federal law to keep our bridges clear either.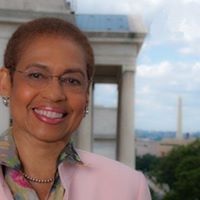 "This law is as offensive as it is redundant," Norton said. "It harks back to a time when a private group in D.C. attempted to block the 14th Street Bridge into Virginia, although there is no evidence that D.C. authorities did not act. Our local criminal law prohibiting obstructing a bridge takes care of any obstruction occurring here."
Under the 1997 federal law, "whoever in the District of Columbia knowingly and willfully obstructs any bridge connecting the District of Columbia and the Commonwealth of Virginia…shall be fined not less than $1,000 and not more than $5,000, and in addition may be imprisoned not more than 30 days…." Under D.C. law, a person may be subject to imprisonment and/or fines for "crowd[ing], obstruct[ing], or incommod[ing]…[t]he use of any street, avenue, alley, road, highway, or sidewalk."
The courts have long held that D.C. may repeal federal laws that predate the 1973 Home Rule Act (HRA) and that apply exclusively in or to the District, but have not ruled on whether D.C. may repeal post-HRA federal laws that apply exclusively in or to the District. Norton's bill would avoid any court challenge the District could face if it tries to repeal this 1997 federal law, but Norton said that the District itself should also consider repealing this federal law.
###