Colorado Park Apartments – 1141 Colorado Avenue, Palo Alto, CA 94303
PALO ALTO, Calif. – (RealEstateRama) — On August 17, 2017, Palo Alto Mayor Greg Scharff, City Council Members, and other local leaders gathered to celebrate the grand re-opening of Colorado Park Apartments, an affordable residential rental community developed by Palo Alto Housing (PAH).
"The City of Palo Alto is proud to be a longstanding partner of Palo Alto Housing," said Mayor Scharff. "Preserving and renovating high-quality affordable housing, like Colorado Park, helps ensure that Palo Alto continues to be a great place to live, work, and raise a family." The City of Palo Alto was also a partner in the original construction of Colorado Park in the early '70s.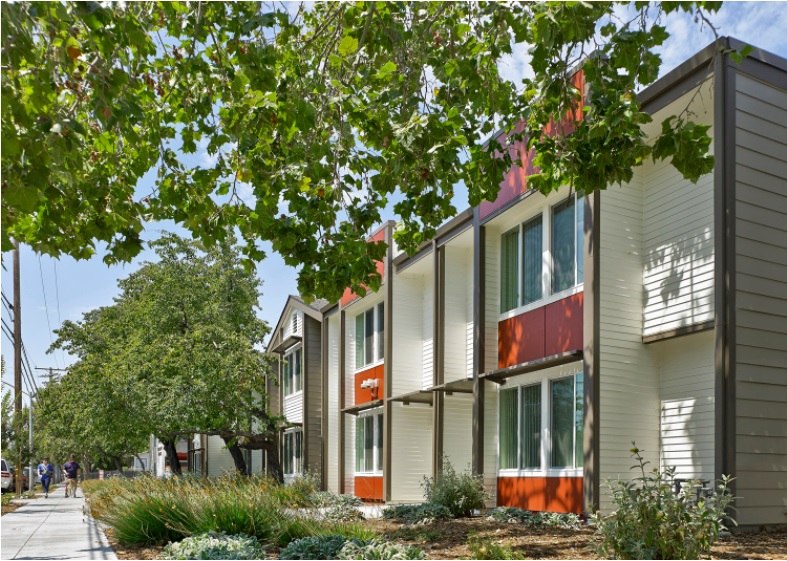 Colorado Park Apartments is a seven-building, 60-unit garden walk-up complex originally constructed in 1972 by PAH. The property has a diverse unit mix with eight one-bedroom, 24 two-bedroom, 22 three-bedroom, and six four-bedroom apartments. The latter two unit types are two-level townhouses with washer/dryer hookups. The development also includes a laundry facility and 90 spaces of both covered and uncovered car parking for tenants.
"Colorado Park Apartments is a wonderful example of affordable housing preservation and modernization," said Candice Gonzalez, president and CEO of Palo Alto Housing. "Through high-quality design and construction, we were able to significantly update the buildings and enhance the quality of life of our residents here."
Gonzalez continues, "This rehab and syndication also ensure that these homes remain affordable for the long-term. Thanks to our funding partners, we were able to accomplish this beautiful renovation of our oldest property in our portfolio." The cost of the renovation was approximately $31.9 million.
In addition to providing development and property management services, Palo Alto Housing also offers resident services. The onsite resident service coordinator serves youth in grades K-12, offering a combination of academic support, enrichment activities, and life and leadership skill development.
In 2016-2017, PAH conducted extensive renovations to the complex through an update of the site's aesthetic style, while reducing its environmental impact. In addition to the replacement of the building façade, the improvements included new patio fencing, roofing, paint, finishes, and landscaping. Upgrades included increased outdoor seating, a new barbecue area, solar panels, two play structures, adult outdoor exercise equipment, and a bicycle storage shed. The lawn areas have also been made more eco-friendly with the inclusion of native drought-resistant plants, significantly reducing water usage. Inside the apartment homes, various appliances have been replaced with new energy-efficient models and new water-saving fixtures have been installed.
Colorado Park L.P., an affiliate of PAH, financed the renovation through tax-exempt bonds as well as loans from U.S. Bank, Union Bank, and the City of Palo Alto.
"Kudos to Palo Alto Housing for turning this development into high-quality affordable housing in a high-demand market," said Sebastian Glowacki, vice president of U.S. Bancorp Community Development Corporation, a division of U.S. Bank. "U.S. Bank is pleased to be a trusted partner on this project that will improve the living standards for all residents."
About Palo Alto Housing
With more than 45 years of service, non-profit PAH builds, develops, acquires, and manages low- and moderate-income housing in the San Francisco Bay Area. With over 700 units located on the Peninsula, PAH provides high-quality, award-winning housing with subsidized rents, to the greatest degree possible, and supports its residents in reaching their goals through its Resident Services program. Palo Alto Housing continues to expand its portfolio and focuses its future housing efforts along transit corridors on the Peninsula. For more information, visit www.pah.community.
# # #
Anne Monaghan
MONAGHAN COMMUNICATIONS, INC.


830.997.0963