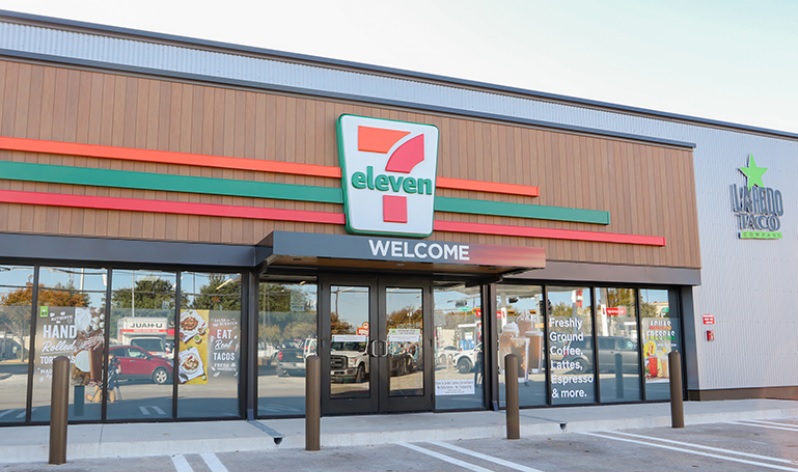 NEWPORT BEACH, Calif. – RealEstateRama – RealSource Group, a national commercial real estate brokerage company focused on retail, healthcare and automotive properties, announced today that the firm arranged the sale of a brand-new, single-tenant net-leased investment occupied by 7-Eleven and a fuel station in an off-market transaction in Arlington, Texas. Although the purchase price could not be disclosed, the sale achieved a cap rate of 4.7%.
RealSource's Vice President Austin Blodgett, along with ParaSell, Inc., represented the seller, a private developer based in Houston. Jeremy McChesney, executive vice president with Hanley Investment Group, represented the buyer, a private investor based in Southern California.
"We helped secure an all-cash, California-based 1031 exchange buyer who was looking for a brand-new construction 7-Eleven property for their upleg," said Blodgett. "We negotiated that the buyer was non-contingent months before the store opened for business or started paying rent. However, due to the buyer's 180-day exchange deadline ending before the scheduled close of escrow (which was tied to 7-Eleven's opening and the payment of rent among other things), we structured two different closings. The first closing occurred early to meet the buyer's 1031 exchange deadline requirement, and certain funds were held in escrow until the store opened, which triggered the second closing and final disbursement of funds."
Blodgett added, "This was a unique loophole to get around the 180-day exchange closing deadline in a situation where construction was delayed beyond the buyer's exchange deadline and the buyer did not want to close escrow until the store opened. We often see delays on new construction transactions, and we were able to work with the buyer to get them comfortable with this type of closing structure to make the deal work."
The property is located at the signalized intersection of Collins Street and Blue Lake Blvd. at 4016 N. Collins Street, the main north-south corridor in the Arlington area. 7-Eleven, which opened on June 10th, occupies a 3,010-square-foot building on 1.3 acres with a new absolute, triple-net 15-year lease.
The city of Arlington is the 49th-most populous city in the United States and is located in the Dallas-Fort Worth Metropolitan Statistical Area, the fourth largest MSA and one of the fastest growth markets in the country.
According to Blodgett, "7-Eleven is one of the most popular, recession-proof and internet-resistant net lease investments available today. In the last six months, 19 new-construction 7-Eleven deals have traded in Texas and, with the company's growth and expansion plans in states like Texas, along with the population growth in these areas, we can expect to see a lot more of these transactions over the next year. The increased demand from buyers for new 7-Eleven builds will put pressure on cap rates to compress and pricing will continue to grow."

About RealSource Group
RealSource Group is a commercial real estate brokerage company that specializes in tenant representation, investment sales and sale-leasebacks on a national platform. With the combination of RealSource's leasing and sales experience, broker network, technology, processes and national platform; RealSource delivers high production, quality service and measurable results for its clients. Since 1991, having transacted over 850 commercial real estate deals nationwide, RealSource has perfected its platforms through proven execution. For more information, visit:  realsource.com.
#  #  # 
CONTACT:
Austin Blodgett, Vice President, Investment Sales
RealSource Group
12 Corporate Plaza, Suite 150 | Newport Beach, CA 92660
949.431.2735 office | 949.235.0621 mobile
realsource.com |