WASHINGTON – (RealEstateRama) — The U.S. Department of Housing and Urban Development (HUD) announced a graduate student team from Rutgers University as the winners of HUD's fourth annual Innovation in Affordable Housing Student Design and Planning Competition. The Rutgers team was one of four finalists to introduce a comprehensive plan for redeveloping a property owned by the Cuyahoga Metropolitan Housing Authority in Cuyahoga County, Ohio. HUD also announced a team from the University of Michigan as runner-up.
"We're so proud to help honor these outstanding students," said Matthew Ammon, HUD's General Deputy Assistant
Secretary for Policy Development and Research. "I want to congratulate the team from Rutgers, and all of our finalists, for their passion and ingenuity in expanding housing opportunity for Americans of modest means."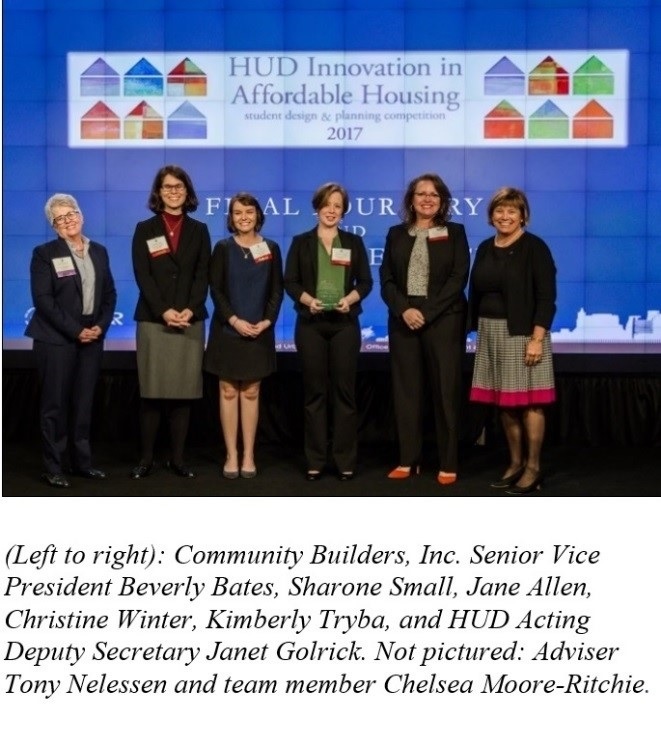 HUD's Innovation in Affordable Housing competition strives to spur research, collaboration, and creativity in affordable housing and community development. This year's real-life scenario required competitors to produce recommendations that address social, economic, environmental, and construction issues in redeveloping Woodhill Homes, a 478-unit multifamily property owned and operated by the Cuyahoga Metropolitan Housing Authority.
The students presented their final projects to a jury of practitioners and a live audience at HUD's headquarters in Washington, DC. The Rutgers University team will receive a $20,000 award and the team from the University of Michigan will receive a $10,000 award.
The competition jurors praised the winning team for its designs to build private and public spaces for all groups, increase energy efficiency, and add a mixed-use building with community space for resident services. Its members were compromised of graduate students from the Edward J. Bloustein School of Planning and Public Policy, and the Department of Landscape Architecture in the Rutgers School of Environmental and Biological Sciences.
The University of Michigan team was judged runner-up for its plans to create a family-centered sustainable community that prioritized social services, connected residents to health care resources, and built economic partnerships with local organizations. The other finalists consisted of students from Yale University and a joint submission from New York University and Columbia University.
By initiating and funding this competition, HUD hopes to inspire and support aspiring members of fields such as architecture, planning, policy, and finance in advancing affordable and sustainable housing for low- and moderate-income Americans.
###
HUD's mission is to create strong, sustainable, inclusive communities and quality affordable homes for all.
More information about HUD and its programs is available on the Internet
at www.hud.gov and http://espanol.hud.gov.
You can also connect with HUD on social media and follow Secretary Carson on Twitter and Facebook or sign up for news alerts on HUD's Email List.
202-708-0685
http://www.hud.gov/news/index.cfm