What Is Streitwise?
Streitwise is a real estate investing platform founded in 2017 by Eliot Bencuya, Joe Kesse, and  Jeffrey Karsh. It is sponsored by Tryperion Holdings, a very established real estate property management company with over $5.4 billion in transaction experience and more than $750 million in assets under management. This platform mainly focuses on commercial real estate, and it is available for both accredited and non-accredited investors.
Through Streitwise, you will access a growing portfolio of commercial real estate properties, currently composed of two high-quality commercial buildings: the Streitwise Plaza in Missouri and the Allied Solutions Building in Indianapolis. Over the last 22 quarters, Streitwise has averaged dividend payments of 9.1%, outperforming the likes of public REITs and bonds by a very wide margin.
In this quick Streitwise summary, I will go over the best features of this platform and make a recommendation based on the type of investor you are. If you want to read a more in-depth numbers-based analysis, check out our full Streitwise review.
Pros & Cons of Streitwise
Pros
Available for accredited and non-accredited investors
1% average returns over the last 22 quarters
Reinvest your dividends automatically with Dividend Reinvesting
Professionally managed & access to tax benefits
Focus on high-quality commercial properties
App available on iOS
You can redeem your shares early (after the first year)
Cons
500 shares minimum investment (around $5,000 depending on the NAV price of shares)
Penalty if you redeem your shares early (within five years of your investment)
Your investments are locked for a year
Streitwise Features
1) Invest In Commercial Real Estate
The Streitwise portfolio comprises two properties: the Allied Solutions Building and the Streitwise Plaza.
Allied Solutions Building: Located in Carmel, Indianapolis, the Allied Solutions building is an office building project (Class A). It has over 140,000 sq. feet of leasable space, and Streitwise has already secured tenants until 2030. Some tenants include F.C. Tucker, Allied Solutions LLC, and Fork & Ale House.
Streitwise Plaza: Located in Sunset Hills, St. Louis, the Streitwise Plaza is an office park (Class A) totaling over 280,000 sq. feet distributed across three buildings. They have also secured tenants for the next couple of years, and some of their partners include Wells Fargo, New Balance's regional HQ, among other companies.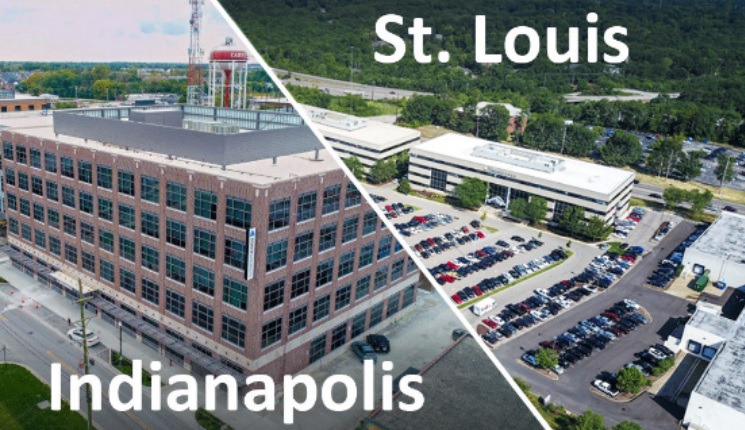 In the medium-to-long term, Streitwise plans to expand its portfolio and include other properties that meet its high-quality standards.
If you are interested in real estate development, you should check out Groundfloor. Groundfloor is a real estate platform that offers many services, including fix and flip loans to real estate developers – with industry-low interest rates.
2) Track Record Of Consistent Returns
Since its inception in 2017, Streitwise has maintained consistent returns and averaged 9.1% in annual dividends paid to shareholders. To put that into perspective, public bonds and public REITs average dividends yields of 3.34% and 3.95%, respectively – that's less than half of what Streitwise offers. Additionally, Streitwise makes it very easy for you to reinvest your dividends by setting up Automatic Reinvesting.
Streitwise main two holdings are two commercial buildings, the Allied Solutions Building and the Streitwise Plaza. Both have an occupancy rate of 95.5%, and as of 2022, they have already secured contracts and rental obligations until 2030. The total market value of this REIT is around $81 million, and it is available for accredited and non-accredited investors. In this post, we take a deeper look at the characteristics of each building.
Analysts at Streitwise project that the commercial real estate market is poised to grow as workers return to the office following the pandemic. It's worth mentioning that even during the pandemic, Streitwise reported growth and met the return targets – partially thanks to its high occupancy rate, high-quality tenants, and its conservative 50% LTV ratio. Moving forward, they're looking to add more properties that meet their quality standards to their portfolio.
You can also diversify investments to high-performing, grocery-anchored commercial properties like First National Realty Partners.
3) Early Redemption Program
Streitwise is an excellent platform if you're looking for long-term investment opportunities – think five years or more. If you can't afford to invest in that time frame – and you think there's a genuine chance you may be forced to redeem your shares early – we can't recommend this platform for you. The penalty for early redemptions can be as high as 10% of your investment.
Streitwise is very flexible compared to other investing platforms – most don't even offer the option to redeem early and lock your money for the full period. Here are the expected penalties for redeeming early:
| | |
| --- | --- |
| Redemption term | Percentage paid per share |
| Less than one year | N/A |
| 1-2 years | 90% of the NAV |
| 2-3 years | 92.5% of the NAV |
| 4-5 years | 97.5% of the NAV |
| 5 years or more | 100% of the NAV |
You can take a deeper look at the pros and cons in this post, plus some limitations that every investor should be aware of.
4) Security
Streitwise conducts regular audits to make sure all their finances are in order. Streitwise is also regulated by the Securities and Exchange Commission (SEC) in compliance with the Regulation A+ of the JOBs Act.
They keep all the personal information of investors secured through their partnership with Computershare and FundAmerica, two SEC-regulated companies that take care of authenticating and validating all personal information and maintaining the chain of custody for electronic documents.
Streitwise Fees
Annual Fee: 2% of all the assets under management
Minimum Investment: $4,835 as of Q3 2022 (500 shares of the NAV price)
Profit-Sharing Fees: Free
Acquisition Fees: Free
Developer Fees: Free
Property Management Fees: Free
Keep in mind the annual fee is taken out of the dividend payments, not out of your investment. The minimum investment is 500 Streitwise shares, calculated based on the current NAV price of the shares. As of Q3 2022, the trading price is $9.67 per share, so the minimum is $4,835 (500 x $9.67).
Sign-Up Process
Streitwise is marketed primarily towards US investors, but it's open to foreign, non-US residents and non-US citizens. As long as you can make a transfer from a US bank or complete an international wire transfer, you can invest in this platform. Keep in mind that if you're outside the US, it may take some time for physical correspondence to arrive.
The sign-up process is very quick, and there are no special requirements. You can get started in just a couple of minutes, and here are the steps:
Visit Streitwise's website
Click Start Registration
Fill in some of your basic information
Choose how much you want to invest
If you sign up with Streitwise using this link, you'll get the best sign-up bonus available.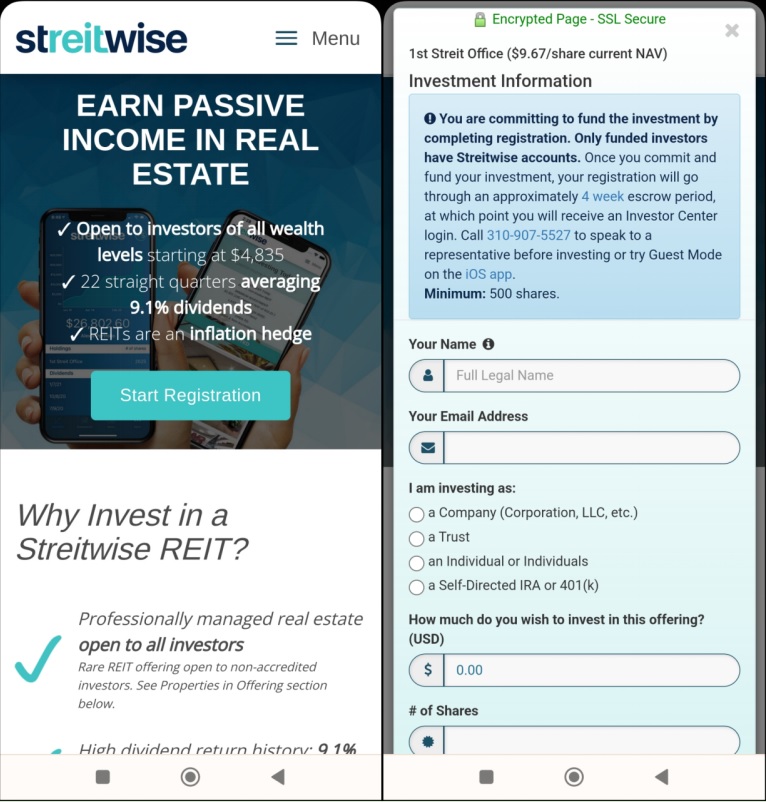 Final Thoughts
Streitwise is an excellent real estate investing platform with an excellent track record, despite being relatively new. In just five years, it has established itself as an alternative to public bonds and public REITs and is available for both accredited and non-accredited investors. It has very low fees (2%) compared to the industry average, and you can get started with as little as 500 shares; the only downside is that if you can't afford to keep your investment for over five years, you may have to pay an early redemption penalty, but this shouldn't be an issue if you're comfortable with long term investments.