Calmwater Capital, a Los Angeles-based provider of commercial real estate debt, has originated a senior secured term loan to Edwards Companies for its acquisition and redevelopment of a 362,720-square-foot office building in Downtown Columbus, Ohio. The sponsor plans to redevelop the property, located at 155 E. Broad St., into a mixed-use property comprising residential, office and hotel space.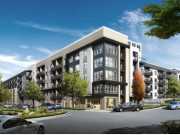 Crescent Communities, has secured financing for an upscale for-rent multifamily community now under way in Atlanta's booming Perimeter neighborhood. The community, Crescent Perimeter, will consist of 320 apartments units ranging from one to three bedrooms. Situated at 5755 Glenridge Road in Sandy Springs, Georgia, the contemporary community will be four and five stories surrounding a parking deck within the 26-acre Lakeside office park just north of I-285.
WASHINGTON, D.C. - July 18, 2014 - (RealEstateRama) -- Holdings, LLC, a Class A distribution property totaling 1,025,000 square feet in Memphis, TN managed and sponsored by affiliates of Panattoni Development Company. The loan will recapitalize the existing financing, and will allow Panattoni to focus on leasing efforts on existing and future vacant space.
BOCA RATON, FL - July 22, 2011 - (RealEstateRama) -- Global Tower Partners ("GTP") announced today that it closed its $645,000,000 Secured Tower Revenue Notes Global Tower Series 2011-2 on July 7, 2011. The Company issued $490,000,000 Series C Notes (rated A2(sf)/A(sf) by Moody's and Fitch respectively) and $155,000,000 Series F notes (rated Ba3(sf)/BB-(sf) by Moody's and Fitch respectively). The notes have a blended coupon of 5.135 percent with a 30-year legal maturity.
New York, NY - June 13, 2011 - (RealEstateRama) -- In a move to broaden its transactional, financial, and operational capabilities, Faris Lee Investments today announced the launch of the Faris Lee Capital Markets Group. The move provides an even deeper level of retail investment expertise to the firm and its clients. The leadership of Faris Lee believes that controlling the finance process is crucial to the profit, timing and certainty of closing an investment transaction. Richard Berlinghof, principal with Faris Lee Investments and a 26-year financial industry executive, has been named managing partner of the Capital Markets Group.