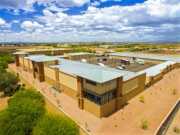 Scottsdale, Arizona, May 16, 2017– Dominion Self-Storage is proud to announce the opening of their second self-storage center. The state-of-the-art self-storage business is located in Queen Creek, Arizona on Germann Road, East of Power Road at 18729 Business Park Drive.
WASHINGTON, D.C. - February 5, 2015 - (RealEstateRama) -- The National Association of the Remodeling Industry (NARI) named 160 Regional CotY (Contractor of the Year)TM winners from the 2015 competition, with 33 team members. Regional CotY Winners now advance as finalists at the national level.
November 23, 2011 - (RealEstateRama) -- When comes to home improvement or remodeling houses it is always to recommend hiring a professional only. To improve or remodel a home there are so many contractors are available in the market to fulfill home problem. But, there is no need to hire a professional for small repair in home if home is having a major repair then need to hire a professional.
June 28, 2011 - (RealEstateRama) -- Every home needs to have the lighting arrangements for all rooms, let it be residential or commercial places. Owning your own home is fun and exciting. You can do anything you want and there are so many exciting things available now days to improve it and change the look of your old home by remodeling.
West Haven, CT - May 23, 2011 - (RealEstateRama) -- So, you have decided now is the time to do that home improvement project. Knowing where to begin can be a daunting task. Tina Chamberland, founder of ConstructionConfidant.Com says the very first So thing that should be done is to consider the purpose and uses of the project. Are you planning these improvements in an effort to sell your home faster? Are they going to be part of a long term plan to remain in the house? These two differences can lead you down two very different paths.
May 6, 2011 - (RealEstateRama) -- A good looking home is possible only by doing Home Remodeling/improvement. But, it is very hectic task to do as every care should be taken from start to end. Nobody can predict when a professional contractor would be needed for either a small repair or for a total renovation at home. It is suggested that every property owner should have a contractor for their home repairs/ improvements to have a happy living with their family in peace of mind.
New York, NY - April 25, 2011 - (RealEstateRama) -- In the last 8 years single women buying homes has raised 50%. They now account for 22% of all home sales, an estimated 1.5 million home sales. Single women consists of women of all ages and walks of life including age ranges of 20's through seniors, divorced women, single moms, & childless women.
April 18, 2011 - (RealEstateRama) -- There are certainly lots more ways to increase the value of your home by making additions or repairing without disturbing the existing house layout. Indeed this process involves more risks, investment and time it will add value and fresh look. Though property owners don't aware of getting permission from the local government authorities but this should be one of the crucial steps to start work in construction field
February 23, 2011 - (RealEstateRama) -- A home is a vital component for many families and single individuals alike. A home consists of many different components and regions, all of which must be put together immaculately and in perfect order to make your home as comfortable as it can be. Hire-a-contractor-now.com is a website which is capable of advising and selling products with which one can complete home repairs and improvements.
February 14, 2011 - (RealEstateRama) -- Home improvement can be both exciting and intimidating. Whether you're just thinking about remodeling or ready to start, we'll guide you all the information you need to make a smart decision on how to hire a professional home remodeling contractor and how to make your home beautiful for live with joy and happy. Find information on choosing the right re-modeler for the job using the Directory of Professional Re-modelers, avoiding contractor fraud, how to enjoy your home for a lifetime, and much more!