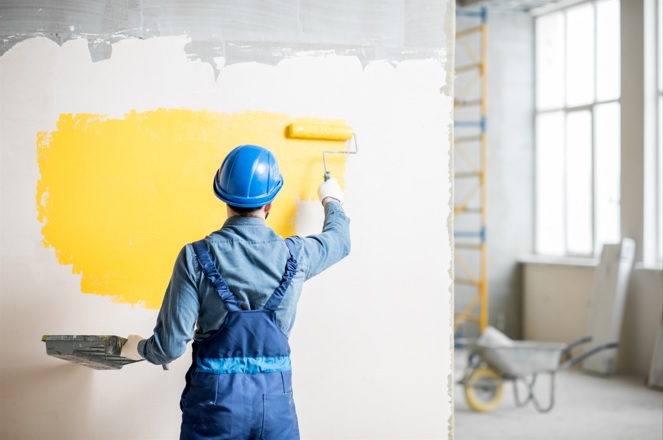 Did you know there are about 232,341 painting contractor businesses in the US? Hiring professional interior painting services is a great way to boost your home's interior. Professional painters' services have many benefits, such as helping you save time and money.
But why would you ever want to hire someone else to paint inside your home? Shouldn't it be a job taken care of by yourself?
Many people think they can get the job done themselves more quickly. They also likely believe they will be less expensive because they don't have to pay wages to any employees.
Here are the top reasons you should hire an expert to handle your painting needs.
Provide Quality Work Compared to DIY
There are several benefits to hiring an interior painting company instead of attempting to do the work yourself. Perhaps most importantly, professional painters have the experience and expertise to provide a high-quality finished product.
In addition, they will have the proper tools and supplies and take the necessary precautions to protect your home and belongings from paint fumes and spills. Furthermore, they will be able to complete the job promptly so that you can return to enjoying your newly painted space.
They Will Save You Time
Hiring an interior painting service can save you a lot of time. You won't have to spend hours painting your walls yourself, and you won't have to worry about making a mess. The professionals will take care of everything for you and do it quickly and efficiently. In the end, you'll be able to enjoy your newly painted home without all the hassle.
Increased Home Value
Interior painting can do wonders for your home's value. A fresh coat of paint can make a difference in how your home looks and feels, and potential homebuyers will undoubtedly notice. If you're looking to increase the value of your home and make it more appealing to buyers, interior painting services are a great place to start.
In addition, painting the walls of your home can create a fresh, new look and feel. It can be especially beneficial if you are trying to sell your home, as a fresh coat of paint can make it more attractive to potential buyers. Consider these easy upgrades to add saleability to your home quickly.
Equipped With Experience and Expertise
Whether you want to revamp your home's look or simply change the color palette, hiring painting contractors is one of the best ways to achieve your desired look. Many homeowners try to take on this task themselves, but there are several advantages to hiring professional painters.
For one, they have the experience and expertise to properly prep and paint your home. This includes protecting your floors and furniture and ensuring that the paint job is neat and even. They also have the right tools and equipment to do the job quickly and efficiently. Plus, you won't have to worry about the cleanup afterward!
Painting With The Right Tools and Equipment
When it comes to painting the interior of your home, there are many benefits to hiring interior painting services. One of the enormous benefits is that they will have the right tools and equipment to do the job correctly. This includes having ladders, drop cloths, tape, and other necessary supplies.
They will also know how to properly prep the area to be painted, which can save you time and effort. In addition, they will be able to choose the right type and color of paint and have the expertise to apply it correctly. This can help ensure that your paint job looks its best and lasts many years.
Takes Color Choices Seriously
When you work with an interior painting service that takes color choices seriously, you can be confident that your space will look its best. You'll be able to consult with a color expert who can help you choose the right tones for your walls, ceilings, and trim.
This will ensure that your home feels cohesive and put together. Furthermore, a professional painting service will have the tools and techniques to apply your chosen colors flawlessly. This will give you a polished look you couldn't achieve alone.
Polished Prep Work
One big benefit is that professional painters will better prepare your surfaces for painting than you could do yourself. This includes removing old paint, sanding rough surfaces, and priming the walls. This prep work is essential for getting a good finish on your paint job, and it's something that most homeowners don't have the time or skills to do themselves.
Spotless Clean-Up After Paint Job
Interior painting services can provide many benefits for those looking to update the look of their home or office. One of the main benefits is that most professional painting companies will offer a cleanup service after the job is completed.
This means you won't have to worry about paint drips or any other mess after the job is done. Many people also appreciate that they can have the job done quickly and efficiently by a professional who knows what they are doing.
They Will Provide You With a Warranty
When you hire an interior painting service, they will provide you with a warranty. This is an excellent benefit because it gives you peace of mind knowing that if something goes wrong, they will fix it. Another advantage is that they will usually give you a discount if you use their service again in the future.
Choose the Right Interior Painting Services for You
Hiring interior painting services can be a great way to refresh your home's look without doing the work yourself. These services can provide you with a new color palette for your home that can give it a unique look and feel. If you're considering hiring an interior painting service, get quotes from multiple companies to ensure you're getting the best price for the work.
Are you looking for more tips? Visit our website for more of the latest information, insights, and trends for all your needs!