ATLANTA (August 8, 2016) – (RealEstateRama) — Plans were announced today for Pinewood Forrest, an innovative mixed-use community located in Fayetteville, Georgia. Envisioned as a community themed and centered around storytellers, the creative and the-creative-at-heart, Pinewood Forrest will go beyond traditional live-work-play plans to become Atlanta's first Live-Create-Play community. Rising adjacent to Pinewood Atlanta Studios, Pinewood Forrest is designed to inspire and celebrate creativity, and to help people live their best lives.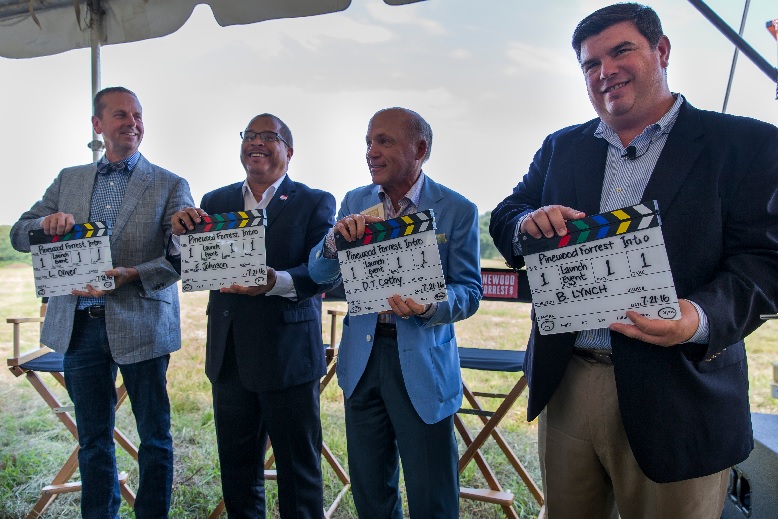 The purpose-built development is strategically placed next to what has been hailed as one of the busiest and most-technologically advanced movie studios in North America, Pinewood Atlanta Studios, which supports up to 2,000 thousand workers on any given day. It is also situated less than 30 minutes from downtown Atlanta and close to major employers such as Delta Air Lines, Atlanta's Hartsfield Jackson Airport, Porsche North America and Chick-fil-A.
The Pinewood Forrest development team is led by lifelong Fayette County resident, Dan T. Cathy, CEO of Chick- fil-A, and includes project management by Pace Lynch Corp. and town planning by Lew Oliver of Whole Town Solutions.
"Pinewood Forrest is going to set a new standard for place-making – one that fosters community, creativity and fellowship in a truly walkable environment," said Dan T. Cathy, lead developer of Pinewood Forrest. "We've been very careful to envision a community that will attract a wide spectrum of people, that will inspire folks to live well, and to honor others. I believe this is the model for future generations."
Pinewood Forrest is planned to feature more than 1,300 residences in a variety of architectural styles, with an emphasis on diversity of size and connectedness. The mix includes single-family homes, townhomes and for-rent multi-family flats, as well as an imaginative mix of tree homes that will border the community, age-targeted cottages for active seniors, and shop homes in the Village Square. The homes will be spread among three distinct residential districts and the Village Square, all of which will be connected by 15 miles of pathways and multi-use trails so residents can freely move through Pinewood Forrest on foot. More than 50% of the community's 234 acres will remain public-realm dedicated green space, supplementing private courtyards for most residences.
The community's entertainment and commercial hub, Village Square, will feature street-level retail shops, unique restaurants, dynamic office space, hotels and public gathering spaces. At its heart is conceptualized a multi-story wellness & fitness center with state-of-the-art exercise and interactive programming, active entertainment zones, an aquatics center, medical offices and family play areas.
"We know that Pinewood Forrest will be a transformative experience for all residents and for those who visit," said Bill Lynch, project director, Pinewood Forrest. "Everyone has a story. Pinewood Forrest is the place to bring them all to life."
You can find information on Facebook and Twitter @PinewoodForrest
###
About Pinewood Forrest:
Pinewood Forrest is a 234-acre master planned residential and mixed-use development located 24 miles south of Atlanta, adjacent to Pinewood Atlanta Studios in Fayetteville, Georgia. Designed to be the next chapter for an innovative, inspiring and diverse, multi-generational community, Pinewood Forrest is the place to bring stories to life.
Skyline, A Wilbert PR Company
Skyline, a Wilbert PR company, is a public relations and communications firm specializing in commercial real estate. Skyline has significant clients in Charlotte, Nashville, Atlanta, Charleston/Columbia, South Carolina, and Grand Cayman. Skyline has deep expertise in all areas of traditional media relations, social media, and content creation and has previous experience delivering impactful PR programs for professional services firms. Founded by a former real estate journalist, Skyline has unparalleled national and local media relationships.