WASHINGTON –- (RealEstateRama) — Me The United States and Japan face the common challenges associated with an aging population, and both nations are exploring ways to expand housing opportunities to allow seniors to remain in their own homes and 'age in place.'  Today, the U.S. Department of Housing and Urban Development (HUD) and Japan formally agreed to work cooperatively on researching innovated approaches to housing both nation's vulnerable senior population. Read the Memorandum of Cooperation (MOC).
HUD Secretary Ben Carson; Hisayuki Fujii, Parliamentary Vice Minister of Japan's Ministry of Land, Infrastructure, Transportation and Tourism (MLIT); Maren Kasper, Acting President of Ginnie Mae; and, Masahiro Nakajima, President of Japan's Urban Renaissance Agency (UR) signed the agreement today at HUD's headquarters. In addition, the Japan Housing Finance Agency will participate in the joint research effort.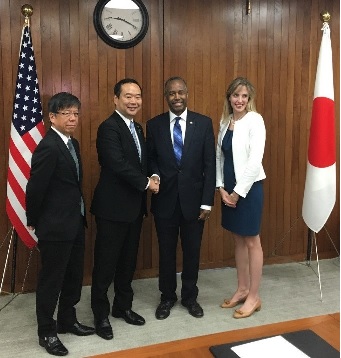 "Our nations have much to learn from each other, and we recognize that our strength is measured by our regard, respect and care of the elderly," said HUD Secretary Carson. "Working together, the U.S. and Japan will combine our strengths to find new and innovative approaches to housing our older citizens."
Specific areas of research include:
Discovering innovative approaches to financing
aging in place
Identifying the connections between health and housing
Seeking effective public-private partnerships
Focusing on healthy and accessible communities, and
Developing viable policies in a constrained budget
environment
"Based on this agreement, MLIT is going to start concrete studies of aging in place. UR's initiatives in local communities will provide valuable insight as well," said Keiichi Ishii, Ministry of Land, Infrastructure, Transportation and Tourism (MLIT).
The bilateral partnership will promote increased knowledge and innovation in both countries. One example already underway in the United States is HUD's Supportive Services Demonstration for Elderly Households in HUD-Assisted Multifamily Housing, designed to evaluate the effect of housing with services on low-income elderly populations. The Demonstration will provide researchers with information to assess how an enhanced service coordinator and wellness nurse affects residents' health care utilization. HUD's partnership with Japan will leverage this type of information, sharing it with an international audience and allowing the two countries to learn together.
Although Japan's approach has relied more on government entities to deliver services and resources, the United States relies heavily on the private and nonprofit sectors, as well as volunteers, to support older adults. By gaining a greater understanding of each country's approach to this challenge, both the United States and Japan will be able to take advantage of new ideas, innovative strategies, and evidence-based policies, allowing each country to better support and finance the needs of their populations as they age.
Officials from Japan and the U.S. signed an agreement to conduct joint research on aging in place and housing finance.
###
HUD's mission is to create strong, sustainable, inclusive communities and quality affordable homes for all.
More information about HUD and its programs is available on the Internet
at www.hud.gov and http://espanol.hud.gov.
You can follow Secretary Carson on Twitter, Facebookand Instagram.
Ginnie Mae promotes affordable access to housing finance through mortgage-backed securities totaling
$1.8 Trillion. A pioneering component of Ginnie Mae's portfolio is the securitization of home equity conversion mortgages (HECMs) through the Home Equity Conversion Mortgage-Backed Security (HMBS) program, which helps ensure that senior homeowners can obtain affordable financing for necessary expenses through their home's equity. 
Cynthia Adcock
(202) 402-4948