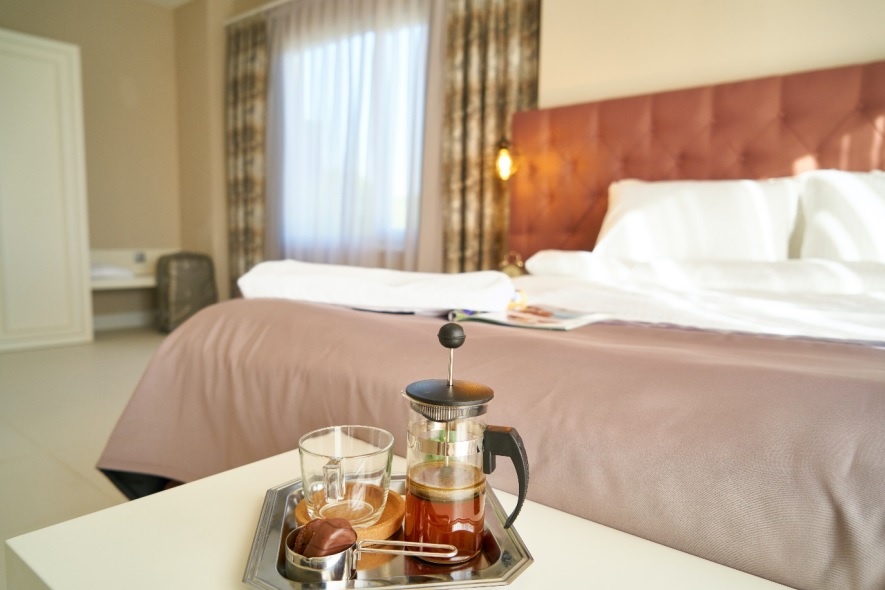 With striking red rock terrains, stunning iconic canyons, world-famous national parks, and a temperate climate, St. George, Utah, is a paradise for nature lovers, adventure enthusiasts, and history buffs alike. The city hosts over six million tourists each year, resulting in a 26% rise in temporary residents during peak season. To accommodate this abrupt population increase, the city has a variety of tourist accommodations available at prime locations.
If you're planning to take a trip to St. George any time soon, it's only natural to start thinking about suitable and comfortable temporary accommodation for your stay. However, with so many tourist accommodation options available, you may find it difficult to determine which one is most suited to your particular needs.
This is why we have prepared this informative guide to help you make the best decision. Continue reading as we take you through the most common types of tourist accommodations and weigh the advantages and disadvantages of each.
1. Vacation Rentals/Self-Catered Accommodations/Tourist Homes
If you're looking for a combo of private space with home-like freedom and top-notch community amenities in St. George, vacation rentals or tourist homes might be the best option for you.
If you're a frequent traveler, we suggest looking into fractional ownership of vacation rentals in St. George. Some reputable companies offer this service where travelers can enjoy the same benefits of owning a rental property, such as an apartment, cottage, house, or villa, but use it only for 5-8 weeks a year. Even during this short period, if your property is vacated, the company rents out the vacant dates to overnight guests and helps you earn from the property even when you're away. During your stay, you can enjoy both individual and community amenities like free Wi-Fi access, swimming pools, courts for various sports, and more.
Booking a conventional tourist home or vacation rental for a short period is predominantly done through web platforms. Tourist homes are a popular choice among St. George tourists due to their low cost, particularly when traveling with a group of people. You can prepare your own meals, have the freedom and privacy of a home, and mingle with other tourists or temporary residents living within the community.
2. Hotels
If you're planning a short stay at your destination location, then staying at a hotel is also a suitable option. Hotels offer a luxury stay with a range of individual and community amenities as well as top-notch 24-hour services. Hotels are usually graded from 1 to 5 stars. While grade 1 means basic hotel services with only some essential features, grade 5 is given to the highest-rated and most extravagant hotels.
In a 5-star hotel, you'll find larger and more luxurious rooms with the highest quality standards of room service and additional amenities like a personal bar and pantry, spa-like bathrooms, upgraded coffee amenities, plush towels, premium-quality toiletries, bigger televisions or home theaters, and even heated flooring and toilet seats. Bigger suites often include work desks and separate bedrooms with attached bathrooms.
5-star hotels also offer other amenities like sports clubs, fitness centers, spas, swimming pools, self-grooming centers, housekeeping, buffet and custom dining options, and much more. You might also find a range of restaurants and bars within your hotel, each of them offering unique continental cuisine and drinks. However, the type of hotel you choose depends entirely on your budget, proximity to airports and tourist spots, and duration of stay.
3. Motels
Motels have somewhat the same features as hotels. They also provide fully-furnished rooms with private bathrooms, but the accommodation usually consists of low-rise buildings with rooms that have separate exterior entrances. Unlike hotels, motels are typically situated alongside the road to facilitate travelers who are on the move and require a convenient place to spend the night with easy access to their room from their vehicle.
Motel services offer limited amenities and services, and in many cases, there aren't any additional features like restaurants, fitness centers, etc. Compared to hotels, motels are more budget-friendly, making them a suitable choice for travelers looking to save on accommodation expenses during their journey.
Moreover, the separate exit and open exterior entrances offer a greater sense of privacy since guests don't need to pass through a common hallway. Having said that, an open exterior also invites loads of noise and disturbance from the main road, not to mention the security concerns compared to enclosed buildings.
4. Bed and Breakfast (B&B)
The first idea of bed and breakfast goes back to the early 1800s when English travelers frequently sought refuge in private homes and inns. The legacy has continued over the years, with the difference being that bed and breakfast places now offer separate accommodations that are well-furnished and typically include a luscious breakfast as part of the complete package itself.
Some bed and breakfast lodgings have shared bathrooms and limited accommodations, typically between five and eleven. However, these accommodations are available at a low price that any traveler can afford for an overnight stay. Bed and breakfast accommodations not only let you enjoy a personalized experience, but you also get to experience the local culture and interact with the local community. So if you crave a homey touch during your travel, B&B is the most suitable tourist accommodation option for you.
5. Hostel/ Youth Hostel
If you're a lone explorer or planning a long stay with a group of friends, hostels offer some of the most affordable, cost-effective, and long-term accommodation options. Hostels are a common lodging facility for temporary residents, students or professionals from remote areas, and travelers who plan to stay longer on a budget. Moreover, hostels often boast prime locations, with some even providing superior views compared to certain top hotels in the area.
Hostels essentially have shared rooms or dormitories with single beds or bunk beds, along with communal living spaces like entertainment rooms, dining halls, and even fitness centers. Some hostels also offer single rooms and other facilities for guests, such as cooking your own food. However, most hostels require you to bring your own toiletries, towels, and even bed linens.
Final Thoughts
Each tourist accommodation type discussed above offers a unique travel experience. Before planning your next vacation, consider the pros and cons of each type and select the one that suits your needs and preferences best. It is advisable to book your accommodation well in advance to avoid any last-minute difficulties or unexpected issues.