Are you looking to sell property in Phoenix? Spring is always a busy time for people to consider this big step.The market in Phoenix and across Arizona is expected to be on fire, so it might be a good time to sell. Plus, more and more people are calling Arizona home.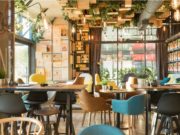 Hotel design has progressed into a dynamic, bold, and colorful concept. There are many aspects that go into designing the spaces of a hotel to impress guests and bring them back later on. Here are some of the leading trends for hotels in 2019
Moving is an involving task that requires you at your best. You don't want to arrive at your new place with broken or damaged items. To ensure you have a seamless moving, this article looks at some of the most common moving mistakes and how to avoid them.
Real estate investments usually appreciate with time. With such an investment, you can set up a comfortable future for yourself. However, a common misconception is that property management companies are all equal and that they provide a similar quality of service. This is, however, not true. If you have ever had previous distasteful experience with any property management company, then you know this too well
If you are currently in the military or even retired from the military, there are many benefits to using a VA realtor when moving around.  The city of Glendale in Arizona is a gorgeous city to live in, and when relocating there are many reasons to use a Luke AFB VA realtor.