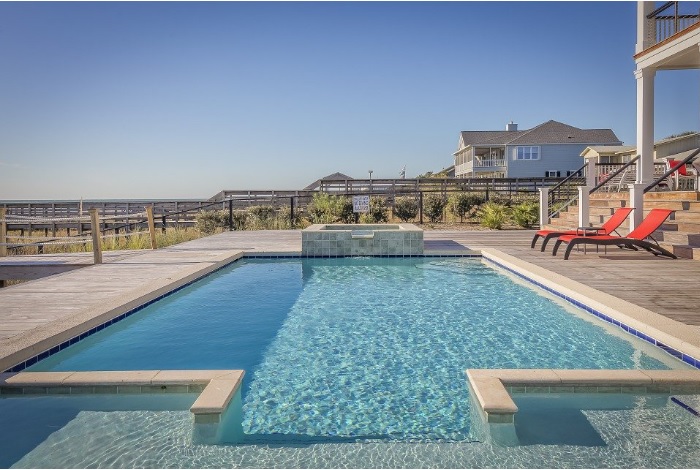 Are you done seeing the cliché balcony each and every day? Are you also exhausted from visiting your porch and witnessing the same materials every single day? Say goodbye to the basics! The time has arrived when you finally realize that change is needed, a greener and elegant one! We have some bold yet creative ways to make your home's exterior even better. Some of these tips and tricks will require you to drive all the way to the supermarket or the departmental store while some may be as easy as they will just require a couple of minutes and can easily be made from the stuff already available in your own home. Remember that creativity is the key in this whole process so your creative side needs to pop up for you to produce a great outcome. So bring your notebook and a pen and get ready to take down some notes on these exciting ways!
Get rid of the basic concrete floor
Starting with basics is the key to every project. You should realize that these boring grey concrete tiles aren't your thing and maybe try covering it up with some wooden tiles, a patterned rug of your choice or exciting paints. Adding artificial grass just for the sake of some texture is a viable option and coupling it with some artificial flower pots will add on to the beauty. Similarly, placing a couple of rugs in the corner won't hurt so do that if you can!
Set up a Patio
This old-school aesthetic goes completing perfectly with antique brown furniture. The vibes that you get from setting up a patio are unlike any other. To refresh your mind, all you need is a chilly or maybe a warm Saturday evening with your family or friends, some hot drinks and a nice topic to have a chat on. These ancient-looking patios will have a plus point when your aged friends or relatives arrive, and it will leave them in awe.
Modern cozy furniture
It is completely okay if you are not a Patio person. We got you covered on this one too. You can also set up a cozy small mattress with a cover on top and a couple of soft pillows. A pink curtain would enhance beauty. Your outdoor space needs to be as welcoming as possible, yet comfortable. Shelters with beautiful drapes and lounge cabanas can be used. These landscape designs are extremely in-fashion right now and some such as the Atlanta Landscape Design are being appreciated by consumers recently.
DIY hanging chair and Hammock
This creative Do It Yourself (DIY) technique can turn out to be the best spot you have to chill in your entire household. To make this chair, you just need to drop cloths and a couple of towels. You can see all the processes here. You can even set up a hammock which could even be a substitute for your bed someday. Hammocks can be one of the perfect spots to doze off in the afternoon or maybe have a relaxing read of your favorite Colleen Hoover Novels.
Outdoor Sound system and kitchen
If you are the kind of person that likes to throw casual parties with grilled chicken and ribs, you would love this one. A griller, coupled with some stoves and an oven would be perfectly fine for an outdoor kitchen in the corner of your porch. Just to add on to some fun, a sound system can also be installed consisting of speakers and mic. If you want to go a bit extra, you may also want to add a permanent small dance floor for throwing late-night parties. Remember, this could be a bit costly so just think of it if you have enough spare finances available!
Swimming pool and Jacuzzi
Again, this is one of the most "pocket heavy" and fancy ways, not to mention, one of the most relaxing too. Pools are available in different sizes and you can also customize the surrounding the way you want to, maybe by adding some lighting or some kind of music. This is an elegant way to have your friends over if you are a young-adult and spend a good time. A pool party with some drinks awaits, so get ready!
Hang pots of herbs and flowers
Some fresh green leaves just enhance the vibe of your house or your lawn. You can plant a couple of herbs such as coriander and mint. They can serve two functions: enhance the outdoor beauty of your house and can provide you fresh produce to add to the food you cook at home. Adding beautiful colored flowers to the pot is an option too. The pots holding your plants can be spray painted along with some patterns on them. The colors of ropes are on up to you as well! Recycling can be an interesting idea to implement, as in the place of sand pots; you could use sand or oil containers.
DIY lighting
There is no denial in the fact that strands of LED lights are an absolutely cool feature to add, but you can become even cooler by using Ping-Pong balls. A great amount of time is not needed to build this interesting yet cute object. An object that will provide a captivating look to your summer evenings or winter afternoons. Here's the guideline on how to make it. You need to do a couple of things now: stay focused and follow the steps listed above to have a perfect outcome right in front of you in just a matter of minutes.
Creative Hanging Chair
A slight transformation to the hammock, this hanging chair has a couple of pillows and a neck pillow too. Variations and different types of hanging chairs depending upon the color, design or some other features which are at the store easily. Getting a pastel-colored chair with white shaded couches could be a nice option. Remember, you need to drill your ceiling and attach a buckle to the rope. A carpenter can do that easily but if you get a drilling machine so you can do it yourself too. Remember to not be lazy, because a great outcome will only be achieved if you put in all you have.
Stones and waterfalls
A viable option would be to stack up some rocks in the corner of your porch. You can even add some strands of grass to touch-up the atmosphere. Nowadays, easy to set-up small waterfalls are available in stores and you can set that up elegantly in your lawn. Some strands of grass and flowers around it would suit the atmosphere. You can even add lights to it to just spice up the atmosphere at night! The vibe that the waterfall along with grass and rocks coupled up with a patio would give is just phenomenal. You wouldn't want to stand up from that place, trust us on this one!
Glam up your walls
Who likes plain walls? Absolutely no one! Attaching antique frames or even more modern style paintings to some of your favorite walls could add on to the fortune. Texture-painting and wallpapers are also in-fashion nowadays so think about that too. Pasting your personal polaroid pictures from one of your absolutely favorite vacations is a nice way too. Empty walls can be a major turn-off for your whole house, so don't try and do that mistake!
Conclusion
It's really important for you to glam-up the outer area of your home. Whenever a guest comes in, he walks through your porch or garden before entering your house and his first impression is pretty much the outside. Some of these tips and tricks are as easy as a flip of a paper, while some may be complex. Remember to play your imagination at the time you start to design the landscape of your home. Acquiring external help from agents could be an idea but make sure to implement all of your knowledge and amalgamate it into a fruitful output for you and your loved ones!  Remember, the first impression is the last impression, so make sure to give your guests a good one by using our tips listed above!