WASHINGTON, D.C. — The following is a statement from Tom Kiernan, CEO of the American Wind Energy Association (AWEA) on President Trump's Energy Week remarks:
"We support President Trump's strategic vision to seek American energy dominance. The wind industry — America's largest source of renewable energy capacity — stands ready to do our part implementing the President's vision to deliver American jobs, investment and prosperity.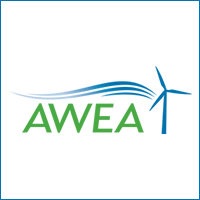 We are proud to join with the White House recognizing Energy Week and highlighting how wind power works for America. The Administration's all-of-the-above energy strategy, including resources like wind, can work to make America safer and more self-reliant while growing the economy.
We know this because the U.S. is already a global leader in wind power with world-class natural resources. Our wind turbines are among the most productive in the world because of those resources and technological innovation. Unleashing American wind power is breathing new life into rural and Rust Belt communities, building new schools, fixing roads, improving emergency services, and creating well-paying jobs.
By tapping into more of our inexhaustible wind resources between now and the end of President Trump's first term we can generate $85 billion in new economic activity and nearly 50,000 new jobs direct and indirect jobs, according to Navigant Consulting.
We embrace the Administration's plan to expand America's leadership and fully harness our nation's abundant energy potential from all sources. Eliminating barriers and approving vital infrastructure, including electric transmission lines and wind energy projects, will put even more Americans to work and unlock our vast energy potential.
A true all-of-the-above energy strategy will ensure American energy dominance."
For a library of up-to-date images of wind energy, please use this link.
###
AWEA is the national trade association of the U.S. wind energy industry. We represent 1,000 member companies and over 100,000 jobs in the U.S. economy, serving as a powerful voice for how wind works for America. Members include global leaders in wind power and energy development, turbine manufacturing, and component and service suppliers. They gather each year at the Western Hemisphere's largest wind power trade show, the AWEA WINDPOWER Conference & Exhibition, next in Chicago, Illinois, May 7-10, 2018. Find information about wind energy on the AWEA website. Gain insight into industry issues on AWEA's blog, Into the Wind. And please join us on Facebook, and follow @AWEA on Twitter.
Media Contacts
Evan Vaughan (primary contact)
Media Relations Officer
American Wind Energy Association
Email:

Phone: 202-431-4640 (cell)
Peter Kelley
Vice President, Public Affairs
American Wind Energy Association
Email:

Phone: 202-270-8831 (cell)