Construction on Infrastructure at Alameda Point to Commence within 30 Days
ALAMEDA, Calif. – (RealEstateRama) — Thirty acres of the 68-acre Site A parcel at Alameda Point was transferred from the City of Alameda to Alameda Point Partners(APP), the City's private partner. Alameda Point Partners is a joint venture between Trammell Crow Residential, a division of Dallas-based Crow Holdings, srmERNST Development Partners, Madison Marquette, Eden Housing, and financial partner Cypress Equity Investments.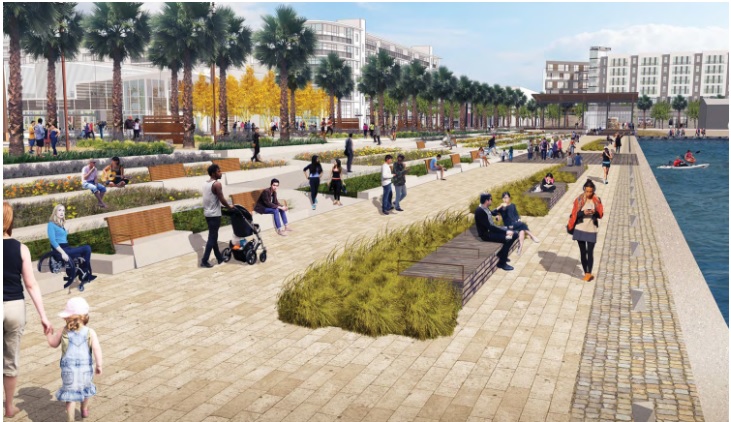 This transfer paves the way for the mixed-use, transit-oriented waterfront development at Site A, the gateway to Alameda Point. Construction of major infrastructure will commence later this month, including new water, sewer, electrical and gas lines, and newly paved streets with bike and transit lanes. Phase One will also include eight acres of new parks.
Site A's major infrastructure improvements are essential for attracting job-generating uses to designated areas of the former Naval Base that have long been vacant and supporting current commercial tenants at Alameda Point. These critical improvements also will reduce upfront costs of important utility extensions, making it possible to rebuild the supportive housing for the Alameda Point Collaborative, Building Futures for Women and Children, and Operation Dignity, formerly homeless residents who currently reside in deteriorating 70+-year-old Navy housing, and attract future workforce and affordable housing developments.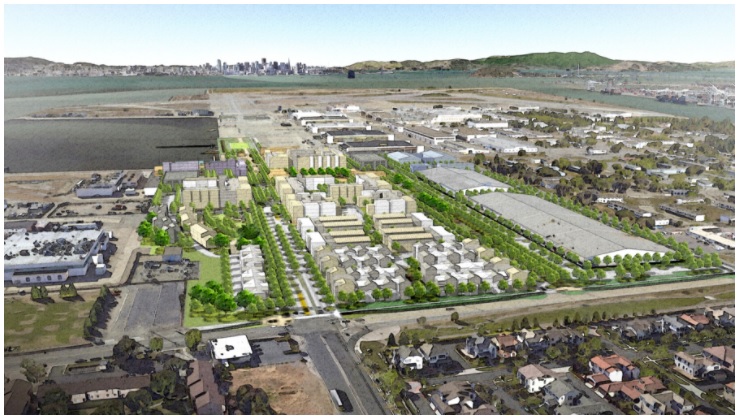 The $500 million first phase of the Site A Project will consist of 673 housing units, including 130-units of affordable housing for low- and very-low income households, 310 units projected to be affordable to middle-income households, eight acres of parks and open space, funding for the Seaplane Lagoon Ferry Terminal, and 93,000 square feet of retail development. Remaining financing for the affordable housing units is likely in the coming months. Completion of the new infrastructure is expected over the next two to three years, with the first new residences projected to open in 2021.
As part of today's transfer, the City and its affordable housing partner, Eden Housing, received $10 million for a new Seaplane Lagoon Ferry Terminal, $3 million in funds for affordable housing, and a $1 million payment for a planned Sports Complex.
"The land transfer immediately provides $14 million in funding for the projects that matter most: affordable housing and new transportation improvements, like the new ferry terminal, and paves the way for construction to begin in the next month, resulting in 2,500 construction jobs," stated Jennifer Ott, Director of Base Reuse and Transportation for the City of Alameda. "The City Council's continued support of this project has allowed us to get to this point, where our next step is to schedule the official groundbreaking — something we all look forward to."
"We are excited to begin construction on new housing, streets, parks and utilities that will transform Alameda Point into a lively place to live, work, and play and catalyze new job-generating projects and re-building of the existing supportive housing in the next few years," said Joe Ernst, with APP.
– Block 8 – 130 units of affordable housing to be developed by Eden Housing; Eden plans to develop a 70-unit family affordable community and a 60-unit senior affordable community
– Block 6 – sold to Trumark Homes to develop 123 townhomes (Block 7 is currently optioned by Trumark Homes)
– Block 9 – sold to Cypress Equity Investments to develop a 200-unit apartment community with 10,000 square feet of retail/commercial space
– Block 11 – sold to Trammell Crow Residential/Cypress Equity Investments joint venture, to develop 220-multifamily units and 15,000 square feet of retail/commercial space
All of these transactions have closed simultaneously with the City selling the site to APP and then APP selling the individual parcels.
"Closing this deal and starting construction is significant – this has been two decades in the making," said Bruce Dorfman, Senior Managing Director of Trammell Crow Residential's Northern California division and a member of APP.
"The base closed over 20 years ago and several attempts to redevelop it failed. Due to extensive infrastructure requirements, this is a very complicated development," Dorfman continued. "We are grateful to the City Council for selecting us in 2014 to enter into this public-private partnership and continuing to support our efforts. TCR looks forward to delivering an integrated master-planned community on the Bay which will not only be a model for other cities struggling with similar redevelopment sites, but also provides the new residents and the City of Alameda with significant public benefits, including a new commuter ferry service to Downtown San Francisco."
The Site A project represents the first major public/private development at Alameda Point since Naval Air Station Alameda closed and lost 18,000 jobs in 1997. The project will create approximately 2,500 direct construction jobs over the life of the project and serve as the catalyst for thousands of future jobs.
When complete, the full project will bring 800 residential units, including 200 affordable units, 600,000 square feet of commercial space, 15 acres of parks and public open space, major utility infrastructure benefiting the entire property, and new transportation services and facilities, including a new ferry terminal.
More information about Site A:
https://alamedaca.gov/alameda-point/site-development
To arrange a media interview, please contact Sarah Henry at (510) 747-4714 or email
.
####