Home renovation not only gives a facelift to an otherwise dull-looking home but also improves its resale value. A home is a place where many spend most of the time after a stressful day, and this makes it necessary to spruce it up. Although home improvement can be costly, you don't require a fortune to transform the look of your interior space. A few low-cost home renovation ideas can give your home an ultimate makeover. When planning an inexpensive home renovation project, your focus should be creating a high-style space but still stick on your budget.
Identify the misses and plan for change.
When on a budget, the first thing you ought to do is to identify the areas that require improvement. Also, consider your reason for wanting to remodel your home, and this will support you to shape your budget. To achieve this, employ the services of an inspection expert, and they will assist in identifying and issues in your property that need fixing.
Come up with a comprehensive budget, and this will give you an idea of the overall project cost. Also, search online or visit different home décor stores to gather ideas for the task. If possible, consider some do-it-yourself projects, and this will save you some money in the end.
Some of the handy budget-friendly home renovation hacks are;
Kitchen upgrades
 The kitchen is where you prepare meals for your loved ones and guests, and it has to look its best. Simple changes in your cooking space can transform the entire feel of your home. Applying a coat of fresh paint on your kitchen walls and changing the cabinet doors are excellent examples of renovation on a budget. Moreover, pay attention to the lighting fixtures and consider pendant lights over the kitchen countertop. Lastly, replace electronic gadgets for energy-efficient ones, and you'll save more on the bills.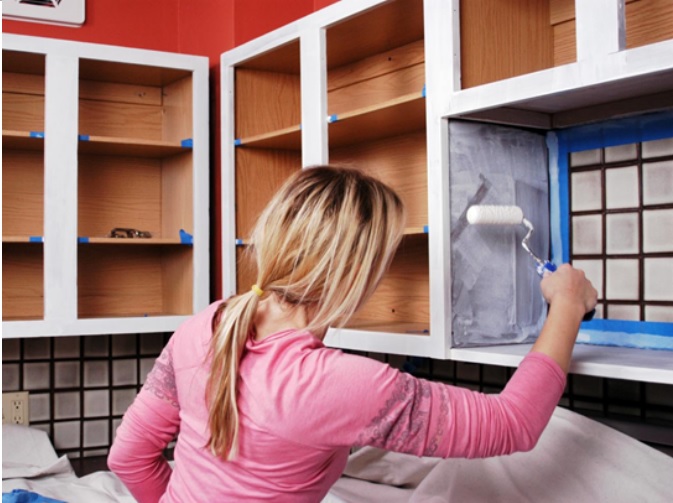 Bedrooms
Although changing your bedroom furniture can be costly, acquiring new beddings, curtains, rugs, cushions, and other add-ons in your room can make a big difference. In case your side tables look old fashioned, repaint the drawers or use an artistic wallpaper to give them drawers a new look. For a more organized space, consider a few closet systems; they are unique home improvement ideas for maximizing storage space.
Living room
 Your home renovation won't be complete if you fail to make some changes to your living area. Redoing the furniture placement is one low-cost improvement that works when renovating old houses. By merely shifting your couch from one place to the other, you can significantly change the entire look of your space.
However, if you need a new sofa, use the old frame and have an expert cover it up in a contemporary style. For the walls, apply a fresh coat of bright paint and accentuate the look with unique pieces of art.
Remodel the bathrooms
  Revamping your bathroom can significantly increase the resale value of your property. Consider replacing old faucets using attractive contemporary fixtures and don't overlook chipped paint and leakages. Also, organize everything differently, especially if you have lots of stuff.
Update lighting fixtures
 Lighting fixtures are low-cost home renovation ideas for enhancing the look in your home. Consider accessories that will improve the look of your monotonous home decor. Things like energy-saving dimmers or recessed halogens work best. Track lights are also an excellent idea for the hallway, especially when you have wall art on the walls. Place the lights right above the art, and this will accentuate the beauty of the painting.
Take away
Although renovating your home may seem expensive, there are many low-cost home renovation ideas to consider. So, identify the areas that need improvement to make minor changes in your home. Simple things like changing your lighting or repainting your walls can go a long way in giving your home a fresh look.