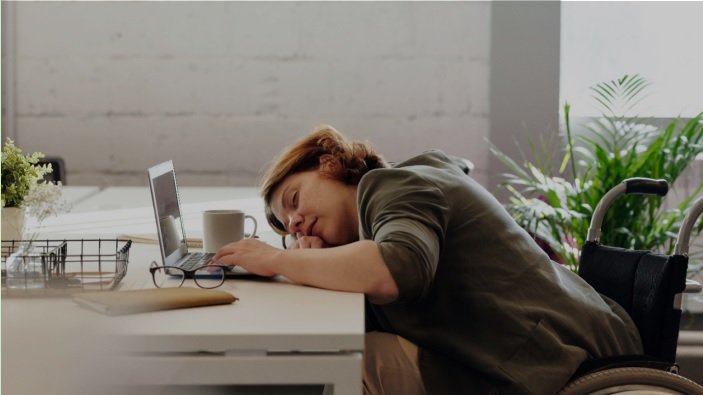 In today's diverse and inclusive workplaces, people have started to accept disabled colleagues in their organizations with decent pay and facilities. Various companies have created flexible policies to hire, assist, and design the workplace according to such disabled employees. According to the United Nations, there are 370 million persons with disabilities, out of which almost 238 million of them are of working age. Therefore, designing the workplace as per the disabled people's requirements is the need of the hour. An all-embracing organization needs to provide special employees with equal opportunities to compete with other employees. The design of the workplace largely depends on the type of disability and its requirements. However, some things are common for all special employees.
Those who plan to incorporate all kinds of employees in their workplace under one roof should design it accordingly to make it disabled-friendly. We have compiled a few essential points to keep in mind to strategize and execute your plan of developing a disabled-friendly workplace, smoothly and efficiently.
SPACIOUS WORK STATION
The company should design the office so that such special employees' workstations must be spacious for them to roam freely. The free space allows the disabled employees to move their wheelchairs with liberty.
 TEMPERATURE CONTROL
Centralized air-conditioning in the office can cause difficulty for some disabled people who cannot bear the harsh weather; therefore, they need to install a portable AC in their workstations. It will help them to adjust their temperature according to their need and endurance.
 SEPARATE RESTROOMS
People with special needs may have difficulty using the restrooms designed for other people; therefore, they should have their own separate space for the loo. The company should install an independent washroom having labels along with their ADA signs to help them. Light switches and doorknobs must be present at a lower level for better approachability.
 CUSTOMIZED COMPUTER SYSTEM
Computer systems need specific customization so that it could aid disabled people. It should be ideal for special employees to work efficiently and utilize their capacity to the maximum—for instance, screen readers programs like Jaws and HAL function to support completely blind people. Similarly, keyboards and mouse also need customization; hence, they can hold the equipment and operate it conveniently.
CALCULATE DISABILITY EQUALITY INDEX (DEI)
The American Association of People with Disabilities (AAPD) provide companies resources and later rank them accordingly based on their performance. It is a national, transparent analyzing tool that offers businesses a score on their disability inclusion policies and practices. It will help companies identify their position and determine how they can provide an equal work environment.
 INSTALL RAMPS
Many disabled employees use wheelchairs due to their inability to walk. Therefore, ramps are a prerequisite in such organizations that plans to welcome disabled employees, increasing accessibility in the process. If they do not wish to install ramps, there must be an alternative way like spacious passages or ground floor for disabled people.
SPECIAL PHONES
Companies need to provide unique phones to disabled people with features that are convenient for them to use. Usually, people with disabilities require a phone with prominent buttons, a pair of headphones, and auto dialing ability, and big speakerphones for a clear voice. Under the Individuals with Disabilities Education Improvement Act (IDEA, 2004), local education agencies are providing Assistive Technology to disabled people to work and learn effectively. It is an ideal service to collaborate and learn for disabled employees while allowing for an excellent opportunity for business team engagement.
 ADJUSTABLE FURNITURE
For a comfortable stay, there must be adjustable desks and chairs and flexible door adjustments for employees. The office is a 9-10 hours job that requires mostly sitting; therefore, it is highly essential to provide them with the most comfortable chairs where they can sit for a long and do their work efficiently.
 COGNITIVE AID
The administration should use diagrams and graphs to help the employees in having better guidance. Moreover, they should provide special employees with appropriate learning materials to comprehend the instructions and job descriptions for better performance. The managers' instruction should be easy to grasp and must be made in a way where the employees can understand it as per their ability.
 SYSTEMATIC PLACEMENT OF ITEMS
The companies must take into the shelves' placement, and other office items must be per the disabled employees. Shelves must be accessible and positioned at an appropriate height so such people can reach them quickly with no difficulty. In the same way, shelves should be designed to support visually-impaired employees to retrieve their office supplies.
CREATE AWARENESS
Above all, building awareness is perhaps, one of the most crucial steps a company needs to take if they wish to adopt a disabled-friendly work culture. Your company's workforce must be united and committed to accepting and following the administration's rules by being disabled-friendly. They should aim to create a good work environment and fulfill the rights of fellow employees accordingly. It can be achieved better through Human Resources' efforts as they are responsible for a safe and healthy work environment. They can sensitize training and etiquette classes to help employees get a profound understanding of their disabled coworkers. It will also encourage them to support them in their pursuit to achieve better results or in case of an emergency. Such awareness courses will also lead to disability sensitivity among the company's colleagues that will benefit the challenged employees.
In a nutshell, companies contemplating incorporating disabled employees at their workplaces need to realize that they will have to revamp their office altogether. Employees with special needs require particular facilities and differently-styled workstations for seamless operations and a comfortable work environment. An entire 360 scheme needs to be planned and later executed to ease the office for such individuals. Moreover, not just the physical changes, the company needs to change its environment and make its employees more disability aware, so they can be more supportive of their fellow employees as they try to cope with the ordinary world. The change has already begun with the U.S as 19.3 percent of people with a particular disability were employed in 2019, the U.S Bureau of Labor Statistics reports. However, we wish to see more significant progress, one diversified workplace at a time.