Affordable housing will be produced for 730 residents—most making at or below $59,000 a year
(Washington, DC) – (RealEstateRama) — The DC Department of Housing and Community Development (DHCD) recently closed on three loans that will produce 326 affordable units capable of housing 730 District residents in three Ward 8 neighborhoods.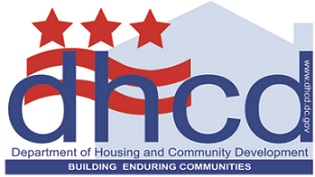 "Mayor Muriel Bowser's administration is starting out this fiscal year producing and preserving affordable housing in a big way, by making our first large financial commitments to creating safe and affordable housing for the residents of Ward 8," said DHCD Director Polly Donaldson.
The Housing Production Trust Fund (HPTF) provided over $39.5 million in financing; the remaining $11.5 million is from 9-percent low income housing tax credits (LIHTC) and a Department of Behavioral Health (DBH) grant. Over 88 percent of units will be affordable for households making no more than $59,000 a year (50 percent of the 2018 Median Family Income [MFI] for a family of four).
DHCD is providing nearly $28.8 million in HPTF financing to St. Elizabeth's I LP, for 202 units of affordable housing at The Residence at St. Elizabeths East, 1100 Alabama Avenue SE in Congress Heights. The affordable units will be for households making no more than 50 percent MFI; the property also will have 50 market-rate units. St. Elizabeths I LP is controlled by the Anacostia Economic Development Corporation (AEDC) and Flaherty & Collins (F&C).
"DHCD's support of the project places a clear emphasis on the production and retention of affordable housing, while introducing new and innovative supportive services to community living," said AEDC President Stanley Jackson.
Approximately $10.7 million in HPTF financing provided to Ainger Place Associates, LLC will help further a church's dream of providing affordable housing in the Randle Heights neighborhood. There, Emmanuel Baptist Church (EBC) owns an existing 24-unit property at 2410-2412 Ainger Place SE. It formed a nonprofit, Ainger Place Development Corporation (APDC), and entered into a collaboration with the Michaels Development Group in order to demolish that property and construct Ainger Place, 72 units of affordable housing. Ainger Place Associates, LLC is receiving the funds for predevelopment and acquisition costs and will execute a minimum 75-year ground lease with the church.
"To facilitate our partnership with community pillars such as Emmanuel Baptist Church and Ainger Place Development Corporation, our ability to leverage the District's Housing Production Trust Fund was of utmost importance," says Michaels Vice President Christopher Earley. "Emmanuel Baptist Church had the vision for what will be the new Ainger Place Apartments, and we are looking forward to bringing these 72 units of affordable housing to the neighborhood."
The affordable unit breakdown at Ainger Place will be as follows: (1) 18 units at no more than $35,160 (30 percent MFI) that will have Local Rent Supplement Program (LRSP) subsidies administered by the DC Housing Authority (DCHA); and (2) 54 units at no more than 50 percent MFI. There will be 34 one-bedroom apartments—with eight set-aside as permanent supportive housing (PSH), 30 two-bedroom apartments, and eight three-bedroom units. On-site amenities will include a fitness area, a community room, laundry rooms, a tot-lot, a resident courtyard, and parking for 36 vehicles.
Finally, DHCD closed on City View, a 58-unit project in the Barry Farm neighborhood that will receive $11.3 million in equity from 9 percent LIHTC as well as a $252,000 DBH grant. The unit breakdown is as follows: (1) 14 units at no more than $70,320 (60 percent MFI); (2) 32 units at 50 percent MFI—with all but two receiving Annual Contributions Contract (ACC) rent subsidies from DCHA; and (3) six PSH units at 30 percent MFI. The six remaining units will be market-rate. The project will consist of 27 two-bedroom units, 26 one-bedroom units and five efficiencies. The developer is City View Redevelopment LLC, an entity formed by WC Smith.
"WC Smith is excited to move forward with City View. DHCD funding is essential for the creation of these affordable apartments, which we know are in high demand," said WC Smith Chairman and CEO Chris Smith.
Bowser Administration's Commitment to Affordable Housing
On October 1, Mayor Bowser celebrated a record annual investment in affordable housing—in fiscal year 2018, her Administration was able to commit $167.6 million from the HPTF to projects that will create or preserve affordable housing. For three straight years, the Mayor has exceeded her annual commitment of $100 million to the HPTF, from $58.6 million in FY15 to $106.89 million in FY16 to $138.59 million in FY17 to $167.6 million in FY18. As a result, the Bowser Administration has been able to use multiple programs and tools to deliver 6,000 units of affordable housing, with an additional 5,200 under construction.