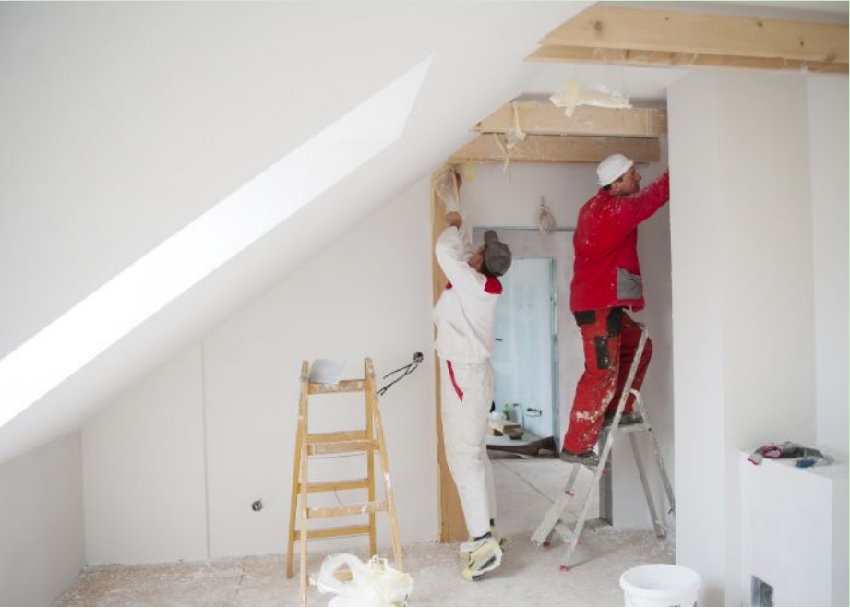 Is your home looking a bit dingy these days? Though at times you may be able to bring your home back to tip-top shape by pressure-washing the exterior, eventually it may just need a fresh coat of paint. The same goes for the interior- touch-ups will cover up the stray scuff on the wall, but eventually it's time for a new coat.
Painting a house is a lot of work, especially for a homeowner to take on by themselves, so many people hire someone to do the job for them. However, cost is always a factor in deciding what projects to do on your home and when. Let's take a look at the cost of hiring house painters and whether hiring someone or DIY is the best choice for you.
Interested in learning more about house painting? Be sure to click "Visit Website" for more information. Our house painters are the best in the business.
How Often Should You Paint Your House?
House painting, whether it's interior or exterior, is a huge undertaking. It may surprise you to learn that the exterior of your house should be painted every 7 to 10 years. While exterior paint is formulated to last for a long time, nothing lasts forever. Weather conditions, fading, damage, and organic growth can all make the outside of your house look dingy. After a decade, it's time for a spruce.
Before Painting Your House
When you decide to paint your house, there are a few things to think about before you start painting. There are also a few steps you'll need to take in order to prepare your home and make sure the painting process goes smoothly.
First of all, if you're changing the color of your home, be sure to check with your homeowners' association if you have one. They may have restrictions on the colors you can use, and you may end up paying a fine if you paint your home a different color.
For exterior paint jobs, it's a good idea to have the house pressure-washed first so that the paint goes on smoothly. Since the exterior of your house is exposed to the elements, it's easy for things like algae and lichen to grow on the outside. Mildew can also develop. All of these things can lead to a bumpy paint job, so you may need to plan for the cost of hiring a pressure-washing company when you're calculating the cost of painting your house. However, your painting company may provide this service, as the pressure-washing needs to be done right before the primer goes on.
On the interior, you'll need to take everything off of your walls and cover your furniture with sheets or tarps. It's a good idea to have everything in the center of the room so that the painters have plenty of room to move around and there's little risk of getting paint on your things. You may also need to put down sheets on the floor, but be sure to ask the painters if they bring their own.
How Are Painting Estimates Calculated?
Square Footage
Most painting jobs will be calculated by square foot, as square footage is easy to measure and keep track of. The painting company will factor in the costs of labor, materials, and other costs such as transportation, then take the square footage of the area being painted and provide you an estimate.
The average paint job costs between $1.50 and $3.50 per square foot. This estimate may go up if you have areas in your home that are more difficult to paint, such as very high ceilings, or if you decide to use a particularly high quality paint.
What Changes the Cost?
The cost of your paint job may change from room to room. Areas like the kitchen and the bathroom, which have appliances that are difficult or impossible to move and must be worked around, may bump the estimate up. Additionally, if your walls are damaged and need to be spackled or otherwise repaired, that work will be an additional expense.
Total Project Costs
At the end of the day, your total project cost will depend on the square footage of your home and the specific work that needs to be done. The average cost of an interior paint job is around $1,900, while an exterior paint job averages $3,000. You will likely get a quote as one total sum for the entire job, but most companies will be happy to break it down with you to look at specific costs and answer questions.
Is Hiring House Painters a Worthwhile Investment?
When it comes down to it, is it worth it to hire people to paint your house for you or should you do it yourself? While you may be able to save specifically on labor costs if you paint your own house, you'll save yourself a lot of hassle by hiring house painters. In fact, you may even end up saving money in the long run. If you end up mistakenly taking on too much and the paint job doesn't look the way you want, you could still have to hire a professional painter eventually.
Professional painting companies not only have the experience necessary to complete the job right, they also have the proper equipment. Especially if you haven't painted a house before, it can be hard to know exactly what equipment you need. A painting company, on the other hand, will evaluate the job and come prepared.
Finding The Right House Painter
If you've decided to hire a house painting company, how do you find the right one? Using services such as Nextdoor or your neighborhood's Facebook page and asking your neighbors for recommendations can lead you to some good companies. A simple Google search can also take you to review sites that can provide insight from other people and help you make a decision.
Get quotes from more than one company, and go with your gut. The least expensive option may or may not be the best- what's important is that you trust your painters and feel good about the people you're working with.