Washington, D.C. – (RealEstateRama) — House Majority Leader Kevin McCarthy (CA-23) released the following statement on the passage of H.R. 8, the Water Resources Development Act of 2018:
"As a Californian, I know water can be the difference between poverty and prosperity. The Golden State's audacious water projects made a middle-class life possible for so many Californians. They helped a desert bloom into a garden.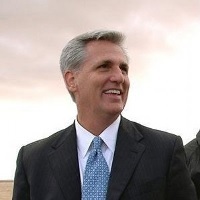 "Just like in California, water infrastructure has helped transform the face of America. This infrastructure supports the movement of approximately $3.8 billion worth of goods each day in all 50 states.
"But today across the country our water infrastructure is aging – and in some case failing.
"Today the House passed WRDA to strengthen our nation's ports, waterways, dams, and other vital infrastructure. Building on the reforms passed by the Republican-led Congress in 2014, this bill improves oversight and transparency to ensure that water infrastructure projects pay off for Americans as they have for Californians.
"I commend Rep. Bill Shuster (PA-9) for his hard work to support water infrastructure with this year's WRDA. Strong water infrastructure will keep American goods flowing and protect our communities from natural disasters like flooding."