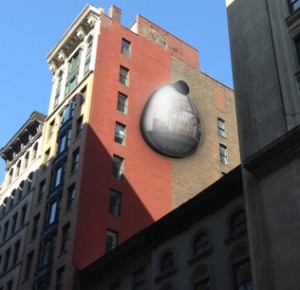 Washington, D.C. – May 12, 2015 – (RealEstateRama) — The American Institute of Architects (AIA) and Houzz, the leading platform for home remodeling and design, today announced the winners of the Future of Architecture Residential Design Contest and Showcase.
The entire showcase, including the winning projects, is now available for view worldwide.
Contestants competed across five categories for career-advancing prizes, including the opportunity to collaborate with Houzz on an upcoming community revitalization project, $5,000, and an expenses-paid trip to next week's 2015 AIA National Convention in Atlanta. The winners of the competition were determined by the Houzz community of homeowners and design professionals from around the world. The winners of the Future of Architecture Residential Design Contest and Showcase are:
Student Project: Jie Zhang, "The Thirsty House"
MIT architecture student Jie Zhang designed the "Thirsty House" as an environmentally-sensitive and "frugal way of living in relationship to water," inspired by underground caves. The home is designed with space for collecting and purifying rainwater and groundwater.
Social Impact: Michael Perry, Associate AIA, "Cliff Swallow Apartments"
To address the growing need for affordable housing solutions in New York City, Michael Perry envisioned a "temporary micro-unit" that can be affixed to the sides of existing buildings, without requiring new construction. The units are modeled after the gourd-shaped nests of cliff swallows.
Small Spaces: Morgan Gerdel, AIA, "Maui Cottage"
A modern take on the historic plantation cottages throughout the area, this compact plan Maui cottage was also built with sustainability in mind, and is a Silver LEED-certified space. The home fits three bedrooms, one bath and an open kitchen and living area in less than 1,000 square feet.
Universal Design: Ziga Design Build, Felix Ziga, AIA, "Tierra de Dios (God's Land)"
How can design facilitate aging in place and community involvement throughout the golden years? Ziga Design Build was tapped to design the dream communal retirement home of three Baby Boomer women, just outside of San Antonio. The project looks to balance communal living and privacy, and adapt to future mobility constraints.
Innovation: The Ranch Mine, Cavin Costello, "Link"
"Link" is a new construction spec house built on the last empty lot of an historic neighborhood in Uptown Phoenix. The home was built for just $138 a square foot, using typical builder materials in new and innovative ways, in an attempt to break the mold from the typical "Tuscan" builder homes that are typical of the area's suburban sprawl.
"We are excited to work with the AIA on programs that help emerging architects showcase their ideas to millions of prospective employers, colleagues and design enthusiasts around the world. This is something that is difficult for new practitioners to attain," said Adi Tatarko, co-founder and CEO of Houzz. "Providing architects with the tools and technology they need to succeed today is a priority for both Houzz and the AIA, and is a critical component of the Future of Architecture program."
"Good design can have a positive effect on our lives and communities—right where people live," said AIA EVP/CEO, Robert Ivy, FAIA. "The AIA and Houzz are both committed to increasing awareness and appreciation of design by the public, as well as engaging architects," he said. "As the latest initiative of our ongoing strategic partnership with Houzz, the Future of Architecture competition provides us with a unique opportunity to reach architects at the early stages of their careers, and provide them with support and visibility right from the start."
Additional details on the competition, showcase and winning projects can be found at http://bit.ly/FOAWinners.
About The American Institute of Architects
Founded in 1857, the American Institute of Architects consistently works to create more valuable, healthy, secure, and sustainable buildings, neighborhoods, and communities. Through nearly 300 state and local chapters, the AIA advocates for public policies that promote economic vitality and public wellbeing. Members adhere to a code of ethics and conduct to ensure the highest professional standards. The AIA provides members with tools and resources to assist them in their careers and business as well as engaging civic and government leaders and the public to find solutions to pressing issues facing our communities, institutions, nation and world. Visitwww.aia.org.
About Houzz
Houzz is the leading platform for home remodeling and design, providing people with everything they need to improve their homes from start to finish – online or from a mobile device. From decorating a small room to building a custom home and everything in between, Houzz connects millions of homeowners, home design enthusiasts and home improvement professionals across the country and around the world. With the largest residential design database in the world and a vibrant community empowered by technology, Houzz is the easiest way for people to find inspiration, get advice, buy products and hire the professionals they need to help turn their ideas into reality. Headquartered in Palo Alto, CA, Houzz also has international offices in London, Berlin, Sydney, Moscow and Tokyo. For more information, visitwww.houzz.com.