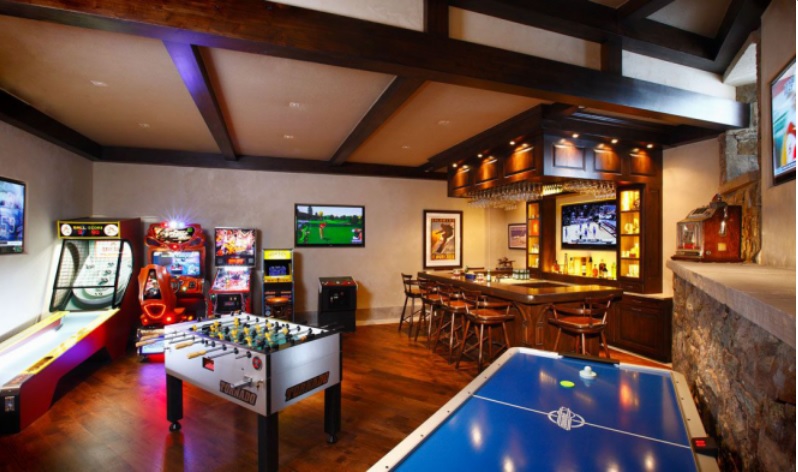 Games rooms are an age-old favorite in millions of homes around the world.
However, over the last few decades urban living, with its smaller spaces may have contributed to a decline in the presence of games rooms in many properties. Fitting a bulky pool table or ping pong table into a small top floor apartment is definitely no easy task, but with the help of technology games rooms are making a strong comeback.
And for good reason, a games room is the perfect place to spend good quality time with family and friends. The daily hustle and bustle can be stressful and time consuming, a fun and entertaining games room is the perfect solution.
Perfect for any season
Games rooms can be utilized throughout the year, but they are especially fun to have when the winter months and the holidays roll around. Games rooms also make it fun to spend time at home, the reigniting games room trend sees more and more people spending money on making their home a fun place to be instead of going out to find activities to do. A great way to add value to your property.
How technology is driving the trend
Technology is a big contributor in the return of the games room, electronic dart boards, home theatre systems and golf simulators are all popular additions. From the examples above, electronic dart boards in particular are very popular. Not only are they easy to use, they also feature state of the art technology that gives users access to a variety of different games and an electronic scoreboard. The technology featured in these types of boards is impressive, but the best part about them is that they don't take up a huge amount of space.
If you have a bit more space, golf simulators are potentially one of the 'coolest' items that one can add to a games room. These simulators allow you to play a round of golf with your friends or family at any of your favorite courses around the world.
Imagine playing 18 holes at iconic Pebble Beach when your lawn is covered in snow, or playing St. Andrews without the torrential Scotland wind and rain. The screen used for your golf simulator can also be used to watch television and movies, meaning with the click of a button your golf simulator can turn into a home cinema instead. These simulators can expensive, but it is an investment that avid golfers will be able to enjoy for a lifetime.
So, is it time you invest in a games room?
At first it might seem like a daunting task to kit out a games room but the end result and the countless hours and sheer amount of entertainment and joy that it brings will make it worth the effort. Technology has made it a lot easier to make your games room a fun and playful place, and thankfully the legacy of the games room lives on.