When it comes to construction projects, collaboration is critical. From your architects, engineers, and field crews to your contractors, bookkeepers, and project managers, everyone is working together for the same goal: completing a high-quality project on time, on budget, that exceeds client expectations. But if your construction firm has been functioning in silos, achieving this level of synchronization may seem challenging at first.
The good news? It's super easy for construction firms to streamline projects and get everyone on the same page. It's as simple as integrating construction accounting software with project management software and apps. Leveraging these robust tools and technology offers many benefits your team—and your bottom line—will appreciate.
Why working in silos doesn't work
Here are a few reasons why departmental isolation can be detrimental to your construction firm.
Since everyone comes to each project with different skill sets, responsibilities, and tools, miscommunication can be common.
Actual hours vs. budgeted hours may be dramatically off.
Manual data sharing and report delivery can be very time-consuming and leave room open for gaps and errors.
There may be multiple stakeholders spread out over different geographic locations.
All of this can slow down your project trajectory, increase costs, and make your business less competitive.   
Benefits of synching construction accounting and project management tools
No doubt, construction projects are complex. An integrated accounting and project management solution can track and automate many tasks at every phase, boosting efficiency and productivity. Let's look deeper at some of the benefits this technology can bring to your business.
Stay on time and budget
Project management and accounting software tools can track hours, simplifying team and job oversight. Set up permissions so stakeholders can view dashboards to understand everything from labor costs and team efficiency to job milestones so that you can adjust deadlines, resources, or budget if necessary.
More accurate estimates
Construction jobs can vary significantly in scope, timing, and budget. Project management and accounting software provide valuable data you can use to plan and quote future jobs. View project and task-related expenses related to labor, payroll, materials, and more. Accurate job estimates can help keep customers happy and coming back.
Facilitate time tracking
Your team members can track hours worked from any device, whether at a job site, with a client, or in the office. Time and billable hours can be automatically added to invoices, if applicable, and synched with payroll.
Keep organized and informed
Every construction job is unique and involves lots of moving parts. Even a seemingly minor inaccuracy or piece of missing information could result in a significant issue. Integrated accounting and project management software keeps information in order, accessible, and all in one place. Connect invoices and transactions to each project and view open jobs to see where your time and money are going and if you need to pivot.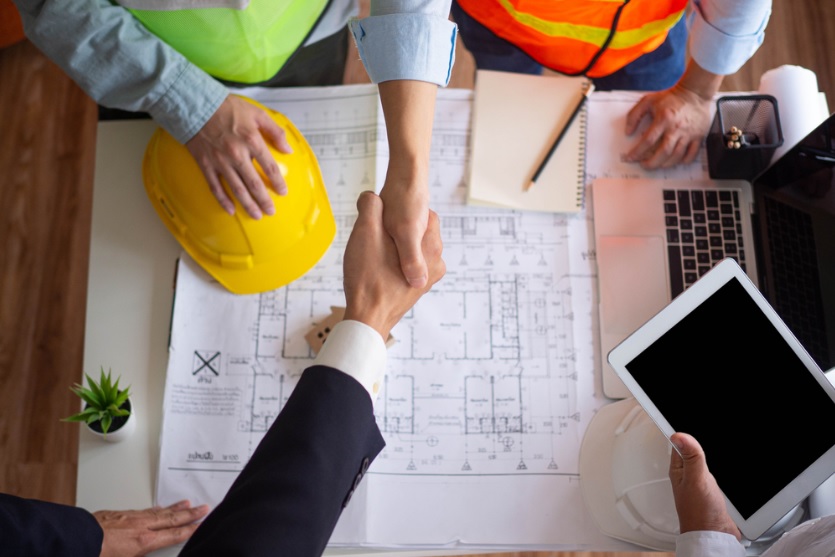 Manage scopes of work
Project management software can help you manage and track time against specific tasks or entire projects so you can oversee your scope of work. Integrate that data with accounting software to simplify your payroll and invoicing.
Profitability insights
A connected construction accounting software and project management platform can give you the real-time big picture of all your jobs. View your profit margins and compare your total hourly cost rates to your expenses to see if you're on budget or need to adjust.
View key metrics anytime
With synced accounting and project management software, you'll be able to run and share robust reports covering the following and more:
Profit and loss, expense, and balance sheets
Sales
Accounts receivable and accounts payable
Profitability
Revenue and cash flow
Automate accounting reminders
Save time and headaches and reduce the risk of tasks falling through the cracks by setting up reminders for:
Recording bank deposits
Open estimates
Payments from customers
Unsent invoices
Sending estimates
Sending reports
Open purchase orders
Customer follow-ups
Facilitate approvals
Set up an invoice or bill approval process and customize it to trigger actions based on certain criteria, for example, if you need director approval on invoices over a specific dollar amount.
Automate reports
Cross tasks off your to-do list by scheduling and sending reports or statements at your desired frequency.
Create and send online invoices
Get paid seamlessly and keep your cash flow steady and strong. Generate instantly payable online invoices with your logo and accept payments via cards, ACH, and eChecks.
Integrate with apps
Project management and accounting software tools can integrate with many apps you may already be using, delivering increased efficiency and accuracy. When everything works together, you may be surprised to see how seamless payroll, taxes, forecasting, HR, and customer relationship management can be.
Break down silos. Improve business processes.
Construction accounting and project management software integration help break down the silos that often hinder construction firms. Empower your team and free up their time to focus on more pressing aspects of their job by automating tedious tasks, streamlining workflows, and tracking relevant data and information that can be quickly accessed and analyzed to make more informed business decisions.