Having the right set of patio furniture is very important. This is something many people are particular about and they do all they can to get the best.
But the furniture will be lacking something important without the right patio umbrella. This is so that it would provide the needed shade and make the patio look better.
To this end, you have to get an umbrella for this part of your house. However, it has to be the right one. One of the ways to end up with the right option is to know the different types available. For more on this, you can read this.
This article aims at helping you figure out the right one. We will do this by explaining the various materials used to make these products and what each of them offers. By knowing them, you will be able to make informed decisions.
Patio Umbrella Material That  You can Choose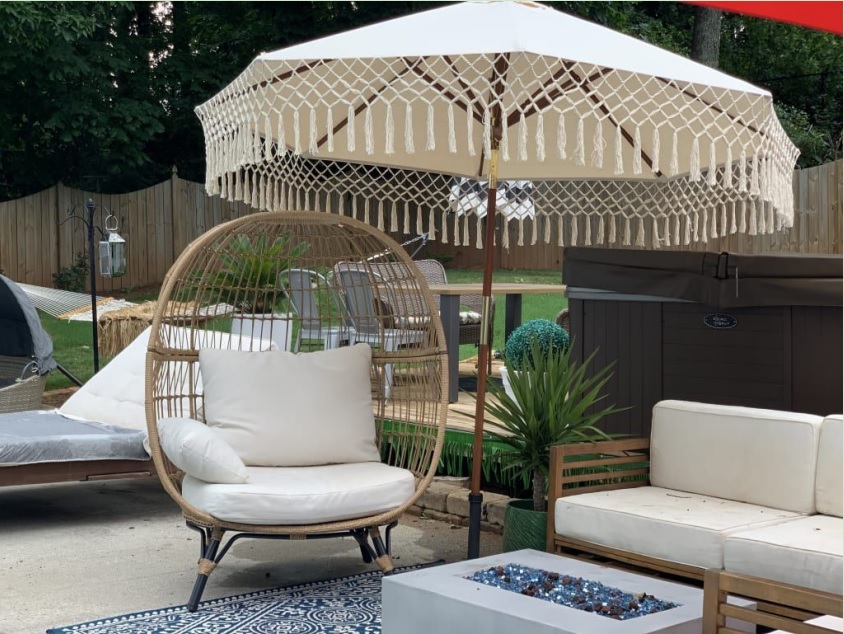 These products are made with various kinds of materials. Understanding the qualities of each of these materials will go a long way in helping you make the right choice. So, listed and explained below are some of the materials used to make these kinds of umbrellas:
Sunbrella Material
This is one fabric that is specially made to handle the odds these products are faced with. It can rise to the occasion especially when it is supported by a capable frame. We would advise that you go for a frame that is made using fiberglass ribs.
This is rather than a wood or steel frame. The reason is that fiberglass ribs are known to be better at dealing with harsh weather elements such as heavy moisture, salt air, and others. However, make sure the wood or steel frame is good enough if this is what you want.
With the Sunbrella fabric used, you have little or no worries as regards the material fading. The fabric does not fade when exposed to Ultraviolet rays.
Also, it is durable considering that it is offered in stripes and solids and is one of the best materials used in the industry. So, whether you are getting traditional, tilt, or outdoor offset patio umbrellas, you might want to get one made with this material.
Polyester Material
There are many amazing qualities of products made using this fabric. This explains why it is also a frequently used option in the market.
Speaking of amazing qualities, let us start by saying products made with polyester materials perform very well. By performance we mean that they are long-lasting, do not rot, fade, and are not vulnerable to mildew.
You should enjoy all of these amazing qualities for no less than 5 years all things being equal. This is why many manufacturers are confident enough to offer as much as a 4-year warranty. Some even do more.
Also, you would love this option considering that there is a wide range of fashionable patterns and colors to choose from. So, people that are particular about their patio looking very good can go for such.
Acrylic Material
Many of the fabrics discussed above are solution-dyed. However, the solution-dyed feature is a step further with this fabric. This is because the grade is an A or even an A+.
So, people who are particular about options that are solution-dyed should consider this. Also, it is very protective and this makes it great for pools and places that have pillows, cushions, and draperies.
Furthermore, you have yourself a durable fabric with this. Additionally, it is colorfast and this adds to its many other impressive qualities.
Olefin Material
Cost-effectiveness is one of the greatest highlights of this kind of material. As a result, products made using this material tend to be a lot cheaper. So, people who are all about cutting costs when getting a patio umbrella should think seriously about this option.
It is also durable despite the low cost and so can serve so many years. However, you have to maintain it properly to make sure of this.
Furthermore, it is fade-resistant. The good thing is that it does a better job in this regard than cotton and even polyester. And as stressed earlier, this is all at a low cost.
Thatch Material
One good thing about this option is that it uses bits of other fabrics. For instance, polyester base fabrics are used. Also, it is not uncommon to see it have polypropylene strips.
Generally speaking, this is one of the fashionable options for those that want something that offers this. Additionally, the chances of this material experiencing mildew, rot, or even attracting insects are very slim. This is one reason you may be very interested in patio umbrellas made using this fabric.
On a Final Note
Other than paying attention to the material of the canopy, things like the pole material should also be seriously considered before getting a patio umbrella. For more on this subject, you can check: https://www.familyhandyman.com/list/how-to-buy-a-patio-umbrella/
We have discussed one of the important factors to consider before getting a patio umbrella. As a result, you know some of the common materials used in making the canopy of these products. We advise that you make informed decisions using the information shared here when you need to get this product.