WASHINGTON, D.C. – (RealEstateRama) — Congresswoman Eleanor Holmes Norton (D-DC) got major wins for the District of Columbia topped by maintaining the record $40 million for the D.C. Tuition Assistance Grant Program (DCTAG) in the fiscal year 2018 omnibus appropriations bill last night. Norton fiercely negotiated to maintain $40 million for DCTAG, a historic increase she has now secured for three years in a row, overcoming only $30 million in the House, Senate and White House's fiscal year 2018 D.C. appropriations proposals. At the same time, Norton was able to obtain a bill with no new anti-home-rule riders; the full $150 million for Washington Metropolitan Area Transit Authority (WMATA) capital improvements; a D.C. shutdown exemption for fiscal year 2019; and other critical funding for the District that she requested. The omnibus funds the federal government through September 30, 2018.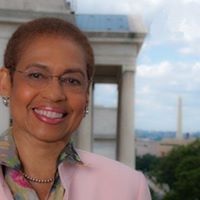 "Despite facing incredibly tough conditions for these budget negotiations, District residents got what they deserved in this omnibus," Norton said. "I am particularly relieved that we were able to face down the administration and secure the full $40 million funding for DCTAG. In addition, we were able to achieve another major priority in preventing any new riders from overturning or blocking local D.C. laws and funded the District's major priorities. This omnibus is a victory for the District of Columbia."
Norton drove back attempts to repeal D.C.'s medical aid-in dying law, the Death with Dignity Act, and budget autonomy referendum and to bar D.C. from spending its local funds on enforcing the Reproductive Health Non-Discrimination Act, all of which were in the House-passed D.C. appropriations bill. Although Norton kept any new D.C. riders from being included in the omnibus, the omnibus does include the same riders that were enacted in fiscal year 2017—prohibiting D.C. from spending its local funds on abortions for low-income women and on commercializing recreational marijuana. Norton said it will take a change from Republican control of Congress to eliminate these riders.
Norton got $14 million for the D.C. Water and Sewer Authority (DC Water) for ongoing work to control flooding in the city and clean up the Anacostia and Potomac rivers and Rock Creek, equal to the fiscal year 2017 enacted level. She secured an extra $5 million to combat HIV/AIDS in D.C., equal to the fiscal year 2017 enacted level. The bill provides $435,000 for the Major General David F. Wherley, Jr. District of Columbia National Guard Retention and College Access Program for tuition for D.C. National Guard soldiers, a small decrease to the fiscal year 2017 enacted level.
###