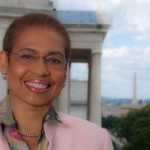 WASHINGTON, D.C. — (RealEstateRama) — Congresswoman Eleanor Holmes Norton (D-DC) will speak tomorrow, Saturday, June 8, 2019, at the ribbon cutting of new athletic fields at the RFK stadium site at 11:00 a.m.  Norton recently introduced a bill to sell the RFK stadium site, which is currently unused federal land, to the District of Columbia for fair market value.
Norton's work in making land owned or controlled by the federal government available to the District has been essential to revitalizing D.C. neighborhoods, such as the Wharf, the Capitol Riverfront, and NoMa.  The sale of the RFK stadium site would allow the District to redevelop the site with the freedom to consider options for additional green space, affordable housing, commercial development, and other enhancements that would benefit the surrounding neighborhoods and the District as a whole.  RFK is owned by the National Park Service, but 90% of this 190-acre site is parking lots.
"The RFK stadium site is owned by the federal government, and is the most valuable, underdeveloped land in D.C., but the District is doing the right thing in making the full use allowed by the lease," Norton said.  "Pending passage of my bill to sell RFK to the city, the baseball and soccer fields we are opening today are in keeping with the permitted use of this site for recreational purposes."
Media interested can RSVP to ">
.
WHAT: Congresswoman Norton speaks at ribbon cutting for RFK stadium site fields
WHEN: Saturday, June 8th at 11:00 AM
WHERE: 279 Oklahoma Avenue NE, Washington, DC
###