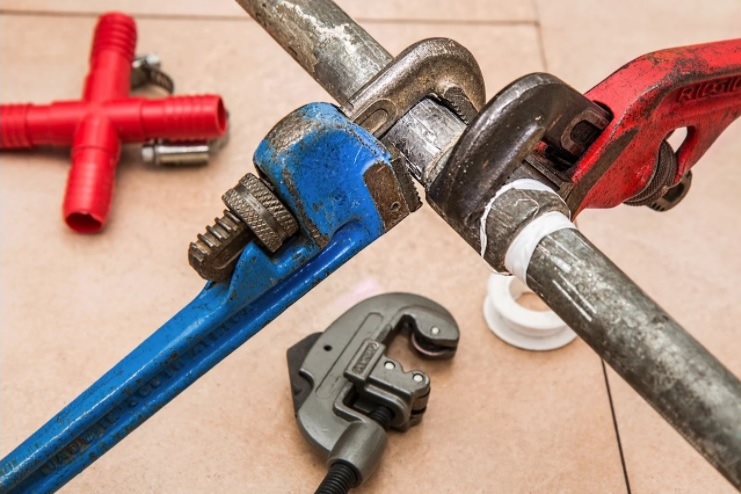 If you are one of those who enjoy doing DIY, you may want to consider starting plumbing pipe DIY for home decor. This can be an interesting hobby. DIY plumbing can be a great way to save money. It is not that difficult as many people may think. In fact, it can even be fun and rewarding if you have the right plumbing tools, plumbing materials, and equipment. However, there are also some things that you need to know and consider before you start your DIY plumbing project. But remember, this article is about plumbing pipes repurposed, not using a whole new set of plumbing pipes for home decor. So if you think you have a plumbing problem, call Reliabledp for a solution. If they say these pipes are ill-suited, then use your plumbing pipe to craft something for home decoration. Read on to learn more about how you can make beautiful and useful DIY plumbing pipe projects.
1. Clothing Rack
You can easily make a clothing rack with your plumbing pipe. It is a great solution to tidy up your clothes. Even you can use it in your commercials store or garments also. Just you need to stall pipes in suitable places and connect them.
2. Desk Lamp
You can build a beautiful and customized desk lamp with your plumbing pipe. You will get all the additional accessories in your local hardware shop. Just collect them and connect them properly. Then connect the lamp plug into the socket. See how easy that was! Even you can also modify the length of the light stand also.
3. Table Legs
No need to buy if one lag of your table or chairs is broken. You can easily make a table leg with a plumbing pipe. If you have enough wood, you can build a side table also. For this purpose, choose a black pipe.
4. Bookcase
You can quickly build a bookcase If you have enough plumbing pipe. It doesn't need extra cost. Just measure the size and fasten it with the wall studs properly.
5. Miniature Bookcase
Do you have a library full of books? Then why don't you do something to show off your favorite novels? To attract people, arrange them in shorter selves. For this, you can easily create a miniature bookcase on the corner of your library room.
6. Pot Rack
If you have many pots in your kitchen, you should use a rack to organize them. Many restaurants use pot racks to arrange the pots in order. But you don't have to pay for this. If you have a spare plumbing pipe, you can easily create one for yourself.
7. Magazine Rack
To organize magazines, plumbing pipes can be a solution. If you are a magazine enthusiast, you can use a pipe magazine rack to arrange your magazines. It does not take that much space but gives a premium look.
8. Coffee Table
With spray painted plumbing pipes and wood, a beautiful coffee table can be made. If you cannot do it by yourself, then take help from your local woodworker.
9. Curtain Rods
If you have PVC pipe or galvanized pipe, you can easily create a curtain rod. It saves your money, and you don't have to worry about sagging curtain rods again.
10. Laundry Room Hanging Rod
Do you have a weird space in your laundry room to hang clothes? You can easily solve this problem with a plumbing pipe. Just cut it as much as you need and attach them properly in the space. Now you can easily hang your clothes on the hanging rod.
11. Dog Washer – Self Standing
If you have a dog in your house, then a dog washer can be beneficial for you. You can make it easily with PVC pipes and connectors. Join the pipes with connectors and make some holes on the pipe with a drill machine. 
12. Knife Holders
It is risky to leave sharp knives often. You should keep them properly so that nobody gets hurt. Therefore, make containers for your knives with PVC pipes. 
13. Drawer Pulls
If you have a problem with your old dresser's drawer poolers, you can add plumbing pipes to them. This will make it easy to pull the drawer.
14. Pencil Holder
You can organize your pencils and other study materials such as a pen, scale inside a pencil holder. You can make it with old plumbing pipes. Just decorate the holder with some color; it will become more beautiful.
15. Jewelry Organizer
Women have to fall into hassle with jewelry organization. You will need some pipes and pipe flanges to make it. You will find a lot of videos on youtube on how to make a jewelry organizer with plumbing pipes. 
See, there are a lot of things you can create with plumbing pipes, and it doesn't cost that much. You will just need a couple of plumbing pipes and some hardware, along with creativity. So it is time to think about spare pipes or old pipes resting in your storehouse. Gather them and take ideas from the internet. You can turn them into amazing things and can use them to decor your house.