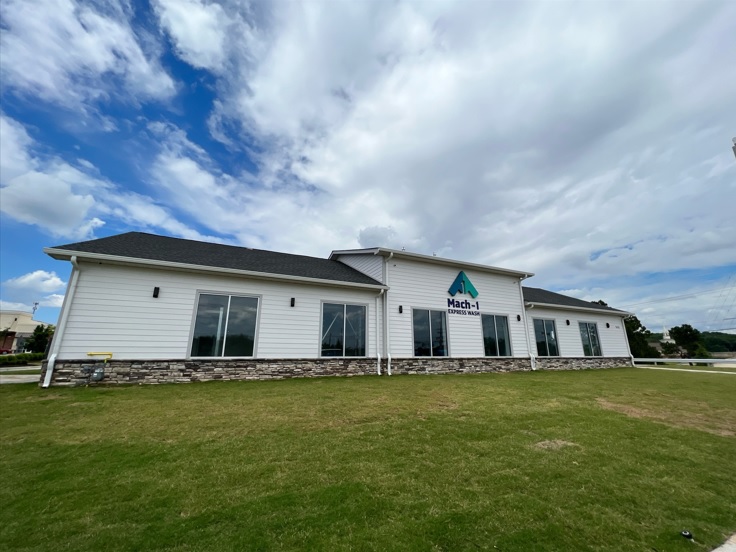 HUNTSVILLE, Ala. – RealEstateRama – RealSource Group, a national commercial real estate brokerage company focused on retail, healthcare, automotive and education properties, announced the pre-sale of a new construction, single-tenant net-lease investment occupied by Mach-1 Express Car Wash at the new Publix grocery-anchored shopping center in Huntsville, Alabama. The sale price was $4.3 million.
RealSource's Senior Vice President of Investment Sales, Austin Blodgett, in association with ParaSell, Inc., represented the seller, a private developer based in Tampa, Florida, and the buyer, a 1031 exchange private investor based in Riverside, California, in the off-market transaction.
Mach-1 Express Wash is a family-owned and operated business with over 15 years of experience in the express carwash industry with 11 sites opening or coming soon located across the U.S. (Alabama, Delaware, Georgia, Mississippi, New Jersey, North Carolina, and Ohio).
The new, single-tenant, 4,000-square-foot Mach-1 Express Wash was built on 0.91 acres at 1624 Old Monrovia Road at the signalized intersection of Old Monrovia Road and Johns Road (31,660 cars per day). The car wash is situated on a pad to the new Publix-anchored shopping center in Huntsville, the largest city in Alabama. The Huntsville metro area has approximately 500,000 people.
"We were working with the developer, a preferred developer of Mach-1 Express Car Wash, to pre-sell the single-tenant car wash real estate while at the same time representing a California-based 1031 exchange buyer who was familiar with express car wash net-lease deals," said Blodgett. "The car wash's high-identity location at the Publix-anchored shopping center, the strong demographics and traffic count, limited direct car wash competition and Mach-1's absolute triple-net long-term lease were all very appealing to the buyer. As a result, we structured a mutually beneficial closing for both parties just weeks after the car wash opened for business."
The property is near the US Highway 72's retail corridor, which is lined with national and regional retailers and situated just north of Cottages at Old Monrovia, a 25-acre housing development. Within five miles of the shopping center, there are over 112,000 people with an average household income of $82,000.
Thus far in 2022, RealSource Group has completed the sale of 11 single-tenant net-leased car washes valued at more than $55 million located in the Midwest and Southeastern states.
"We expect that the demand for new single-tenant net-lease car washes will continue to be strong in 2022," said Blodgett. "There is currently little on the market that can compare to the return on a brand-new construction express car wash with a new 20-year triple-net lease with a corporate guarantee and annual increases. Also, accelerated depreciation is always a driver for investors to purchase these sites, giving them tremendous tax advantages over other retail asset types."
About RealSource Group
RealSource Group, founded in 1991, is a national commercial real estate brokerage company that specializes in tenant representation, investment sales and sale-leaseback transactions. With the combination of RealSource's leasing and sales experience, vast broker network, technology, unique processes, and national reach; RealSource delivers consistency, high production, quality service and measurable deal-making results for its clients on a nationwide platform. RealSource transacted over 900 commercial real estate deals nationwide, RealSource has perfected its platform through proven execution over the last 30 years. For more information, visit: realsource.com.
#  #  #