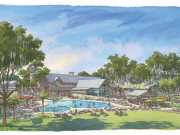 Crescent Communities today announced it has appointed David O'Donoghue as executive vice president of its Resort and Second Home Communities team. In this role, O'Donoghue will be responsible for sales, marketing, development, overall operations and property management for the company's flagship Palmetto Bluff community, a 20,000-acre development in the South Carolina Lowcountry, between Hilton Head and Savannah, Georgia.
The South Carolina REALTORS® (SCR), in partnership with the National Association of REALTORS® is offering assistance to South Carolina's flood victims through the REALTORS® Relief Foundation. The foundation is providing mortgage or rent relief up to $1,000 to those who qualify
COLUMBIA, S.C. - December 9, 2014 - (RealEstateRama) -- South Carolina REALTORS® (SCR) closed its office Friday afternoon, December 5th, so that its staff could lend a helping hand at Harvest Hope Food Bank.
Torrance, CA - February 12, 2013 - (RealEstateRama) -- Lee & Associates, one of the largest broker-owned commercial real estate firms in the country, has closed the sale of a former's Sam's Wholesale Club for $3.25 million in Greenville, S.C.
Torrance, CA - January 16, 2012 - (RealEstateRama) -- Mountain Real Estate Capital (MREC) announces the closing of two notable acquisitions: one for a loan portfolio with residential assets located throughout South Carolina and a separate note purchase...
CHARLOTTE, NC - June 24, 2011 - (RealEstateRama) -- Real Estate Mortgage Network, Inc. (REMN), is pleased to announce that mortgage industry veteran, Richard Lester, is joining the company. Taking on the newly created role of Area Manager for the Ca...