ANAHEIM, Calif. – (RealEstateRama) — The Board of the American Wind Energy Association (AWEA) elected Tristan Grimbert of EDF Renewable Energy its chair today as thousands of developers, manufacturers, and suppliers headed to the largest gathering of the wind energy industry in the Western Hemisphere.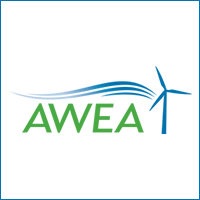 "As we return to California, birthplace of utility-scale wind power, we're bringing a brand new attitude," said Tom Kiernan, CEO of AWEA. "Big brand names are stampeding to buy wind to supply their stores and factories. With a stable national policy in place, and critical power line infrastructure on the way, we're delivering on our promises to keep cutting costs. Wind is on track to supply 10 percent of U.S. electricity by the end of the decade."
Kiernan hailed wind's emergence this year as America's No. 1 renewable energy resource in generating capacity. In the first quarter, the U.S. industry installed a new turbine every 2.4 hours on average.
"Thanks to strong leadership in states like California, wind remains on the path to grow, create more jobs, and supply even more homes and businesses," said Kiernan.
California will soon receive 50 percent of its electricity from renewable energy sources thanks to a state law passed in 2015, and wind power will continue to play a significant role in the California energy supply, locking in additional consumer savings by 2030. State Senate President pro Tempore Kevin de León will keynote on Tuesday and describe an even more ambitious goal to reach 100 percent renewable energy by 2045.
"With WINDPOWER's homecoming to California, the birthplace of American renewable energy, we are thrilled to showcase the industry's growth and innovation," said Danielle Mills, Director of AWEA's California Caucus. "Wind will continue to be a key piece of California's energy economy. Senator de León's role as keynote demonstrates California's commitment to creating new jobs and building a reliable, affordable and clean energy future."
WINDPOWER attendees will sample the industry's latest technology at over 400 exhibitor booths. They'll benefit from discussions at a variety of Education Stations throughout the show floor, including the Power Station, Tech Station, Operations Station, Project Development Station, and Thought Leader Theater. Visitors and the media can learn more and plan their visit by downloading the WINDPOWER app.
New AWEA Leadership
Tristan Grimbert, President and CEO, EDF Renewable Energy, today succeeds Chris Brown, President of Vestas Americas, as the Chair of AWEA's Board. Also elected today were Chair-Elect Steve Lockard, President and CEO of TPI Composites; Treasurer Ray Wood, Managing Director-Head of Global Power & Renewables, Bank of America Merrill Lynch; and Secretary Doug Fredrickson, Vice President at Blattner Energy, Inc.
Newly elected to the Board are Carole Barbeau, President, Energy Advisory – Region Americas, DNV GL; Buzz Miller, President and CEO, Southern Power; and Susan Nickey, Managing Director, Hannon Armstrong. Added as one-year special advisors are Brian Janous, Director of Energy Strategy, Microsoft; and Rob Threlkeld, Global Manager of Renewable Energy, General Motors.
WINDPOWER 2017 Welcome and Opening General Session
Tuesday, May 23
What: Welcome and Opening General Session, followed by a media availability for media attending the conference. The event kicks off with California President pro Tempore Kevin de León providing the event's keynote remarks, followed by AWEA CEO Tom Kiernan explaining why American wind power needs to continue "Delivering on Our Promises." Incoming AWEA Board Chair will then speak before transitioning over WINDPOWER's most popular panel.
Amy Harder, Energy Columnist for Axios, will moderate this year's Industry Leaders Panel – the marquee General Session panel at WINDPOWER. This year's panel covers implementation of wind energy into the 2020s, opportunities in tax reform, emerging political issues, and more.
Who:
Kevin de León, President pro Tempore of the California State Senate (Keynote Speaker)
Tom Kiernan, CEO, AWEA
Tristan Grimbert, President and CEO, EDF Renewable Energy and Board Chairman, AWEA
Pete McCabe, Vice President, Onshore Wind, General Electric Renewable Energy
Gregory Wolf, CEO, Leeward Renewable Energy, LLC
Karen Lane, CFO, Siemens Gamesa Renewable Energy, Onshore Americas
When: 10:00 a.m. to 11:00 a.m., Tuesday, May 23
Where: Industry Leaders Panel to be held at the Power Station, simulcast in all education stations, the AWEA booth and streaming online. This year's new simulcast feature enables the general session to reach a record number of viewers. A media availability will take place tomorrow in the Green Room (pictured below) at 11:00 a.m. Pacific Time, following the panel.
You can register for the General Session livestream here.
California was an early wind energy pioneer and still ranks fourth in the U.S. in wind power installations with over 5,600 megawatts (MW) of installed capacity. That growth has led to $12.5 billion dollar in capital investment and up to 4,000 jobs. This includes manufacturing jobs at 12 wind-related factories across the state. Wind farms in California pay rural landowners $20 million a year in land lease payments.
Wind energy supporters who aren't attending this year's conference can follow this week's event by using the hashtag #windworks primarily on Twitter or Facebook.
A media kit for the conference is available here: www.awea.org/WINDPOWER2017MediaKit
###
AWEA is the national trade association of the U.S. wind energy industry. We represent 1,000 member companies and over 100,000 jobs in the U.S. economy, serving as a powerful voice for how wind works for America. Members include global leaders in wind power and energy development, turbine manufacturing, and component and service suppliers. They gather each year at the Western Hemisphere's largest wind power trade show, the AWEA WINDPOWER Conference & Exhibition, next in Anaheim, California, May 22-26, 2017. Find information about wind energy on the AWEA website. Gain insight into industry issues on AWEA's blog, Into the Wind. And please join us on Facebook, and follow @AWEA on Twitter.
Media Contacts
David Ward
Director, Public Affairs
American Wind Energy Association
Email:

Phone: 202-425-2065 (cell)
Evan Vaughan
Media Relations & Outreach Coordinator
American Wind Energy Association
Email:

Phone: 202-431-4640 (cell)