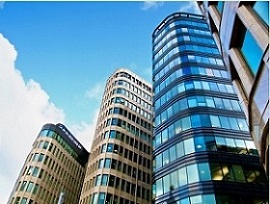 There is no understating the value of adding real estate to your investment portfolio — but it needs to be the right real estate for the right investor. If you are looking to acquire commercial properties, here are a few tips on what to look for and why.
Understanding the 4 Commercial Property Types
Just as there are different types of residential properties — think: single-family homes, condominiums, townhouses, etc. — there are also different types of commercial properties. Understanding the differences between the types is essential to understanding which commercial properties are worth your investment.
Office
Office spaces are designed to cater to the administrative needs of a business. Some office spaces are designed to meet specialized needs of certain businesses, like doctor's offices, and some office spaces are built for more general business use. Typically, office spaces enjoy low tenant turnover and long-term leases because businesses are expensive to move. However, because leases are long, there tends to be little opportunity to increase rents.
Industrial
Industrial properties have industrial purposes, like warehouses and logistics facilities. Often, industrial spaces carry lower operational risk and benefit from predictable cash flow, but they can be more vulnerable to economic disruptions. Plus, because>industrial properties tend to have a larger footprint, they are costlier for investors to acquire.
Retail
Retail spaces are for B2Cs, or businesses that sell products or services directly to consumers. Often, retail properties are grouped together in shopping centers or strip malls, but you can find standalone retail buildings. Like offices, retail spaces often harbor long-term leases, but when the interior of a retail space is built for a specific business that has been affected by changing market tastes, it can be expensive and time-consuming to find new tenants.
Multifamily
A property with five or more residential units is considered a commercial multifamily property. Even in times of economic distress, multifamily real estate remains a stable investment, but unlike other types of commercial real estate, multifamily buildings can experience high tenant turnover and short-term leases, both of which lead to increased expenses.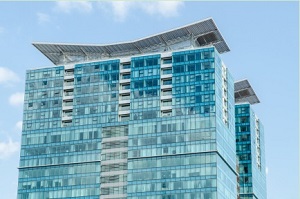 Understanding the 3 Commercial Property Classes
Once you have selected the type of commercial property appropriate for your investment, you then need to consider its class. Classification of commercial properties helps investors understand what type of returns they are likely to see from their investment. You can learn more about commercial classification and analyses of different properties in this real estate course.
Class A
Class A commercial properties typically boast a number of features that make them higher quality and more luxurious than other options. Some of these features may include:
Age of less than 10 years
Location in highly visible or high-traffic areas
Luxury finishes
Strong amenity packages
Thanks to these features, Class A properties command high rental rates only affordable to the highest income earners and most profitable companies — but they also demand high sales prices. Though Class A properties tend to be the least risky, they have limited appreciation, making them attractive only to cash-flow investors looking for stable income.
Class B
Class B commercial properties are slightly older and slightly less deluxe than Class A. Their age tends to be between 10 and 20 years; the properties are well-maintained, but they have average finishes that might be dated. Finally, Class B properties are often located in good but not excellent markets.
Typically, Class B properties are attractive to median income earners and small to medium-sized businesses because they have slightly lower rents than Class A properties. Since Class B properties can be improved with better fixtures, returns for these properties consist of a mixture of price appreciation and income.
Class C
Older and exceedingly dated, Class C commercial properties are often in desperate need of repairs, and they are usually located in undesirable areas, like far from highways or shopping districts. The finishes in these properties tend to be obsolete or non-functioning, often because they are between 20 and 30 years old.
Class C properties are easily the most affordable commercial properties, which can make them attractive to beginner commercial investors. However, it is important to remember that prices are low because these properties carry an elevated level of risk due to the vulnerable nature of their tenants' income and the extra capital required to make these properties functional.
The Best Qualities of an Investment-worthy Commercial Property
It is all but impossible to say for certain what kind of commercial property is best for any individual investor. You need to assess your budget, your risk aversion and the rest of your portfolio before you can determine what type and class of commercial property are right for you.