COUNTY OF SAN BERNARDINO, CALIF. – July 23, 2014 – (RealEstateRama) — Yokohama Tire Corporation (YTC) has chosen the County of San Bernardino for expansion into a larger Western Region Distribution Center. The company has leased a newly-constructed, 658,000-square-foot facility located at 16388 Fern Ave., Building 2 in the city of Chino, which it plans to occupy late this year. Yokohama will distribute its products, including passenger car/truck, commercial truck and OTR (Off-the-Road) tires from the facility. The company is relocating its warehouse operations from its current 380,000-square-foot facility in the city of Fullerton.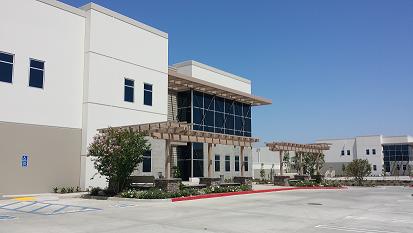 "The move to the new warehouse facility is just the beginning." said YTC's Chief Strategy Officer Tom Masuguchi. "In addition to expanding our West Coast capacity to keep pace with our strong growth, we will be breaking ground with new processes for servicing our customers, filling orders and distributing inventory throughout our four distribution centers in the country. The new facility will be the cornerstone of the future of our U.S. distribution network."
Yokohama plans to hire additional personnel over the next year, bringing full-time and contract labor to the new facility. The County of San Bernardino Workforce Investment Board (WIB) worked closely with Yokohama through the County's Workforce Development program. The County also offers assistance with programs such as the California Competes Tax Credit, an income tax credit for businesses that want to come to California or stay and grow in California.
"Yokohama Tire is a quality brand and a great addition to the high caliber of companies that have made the County their home. The County of San Bernardino continues to demonstrate its strength as a location of choice for corporate investment," said Kelly Reenders, economic development administrator, County of San Bernardino. "Our logistics infrastructure is ideal for strategic distribution operations and the County is able to provide a number of pro-business programs and incentives that give companies, including Yokohama, the tools they need to facilitate job growth."
About the County of San Bernardino: Located at the heart of Southern California, an economy of 22 million people, the County of San Bernardino is the largest county in the United States. Its vast borders stretch from the greater Los Angeles area to the Nevada border and the Colorado River encompassing a total area of 20,160 square miles. Comprised of 24 cities, the County of San Bernardino encompasses more than two million residents with a workforce exceeding 900,000. Its assets include an innovation corridor of close to two dozen colleges and universities supporting a strong, diverse workforce along with an unparalleled collection of roadways, runways and railways that lead to regional, national and international business centers. Visit www.SBCountyAdvantage.com.
About Yokohama Tire Corporation: Yokohama Tire Corporation is the North American manufacturing and marketing arm of Tokyo, Japan-based The Yokohama Rubber Co., Ltd., a global manufacturing and sales company of premium tires since 1917. Servicing an extensive sales network throughout the U.S., Yokohama Tire Corporation is a leader in technology and innovation. The company's complete product line includes tires for high-performance, light truck, passenger car, commercial truck and bus, and off-the-road mining and construction applications. For more information on Yokohama's broad product line, visit www.yokohamatire.com.
CONTACT: Janis Smith
Phone: 703-738-0230
Email: