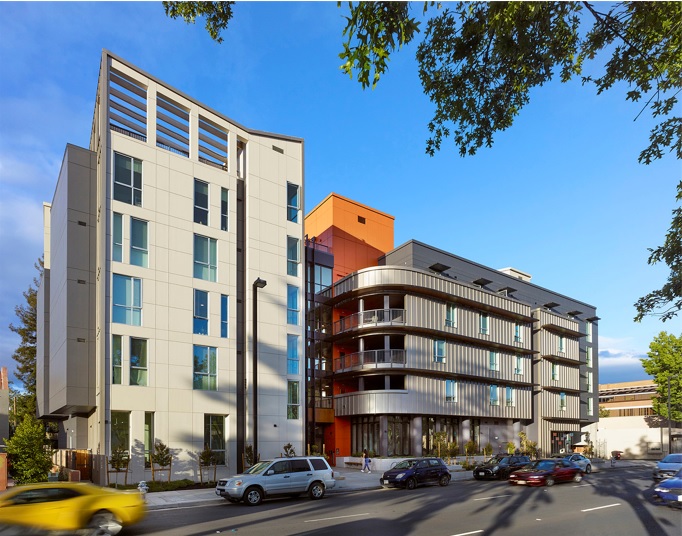 MOUNTAIN VIEW, Calif. – RealEstateRama – Alta Housing, a community-based, nonprofit developer, is celebrating Affordable Housing Month with the grand opening of Luna Vista Apartments, the organization's newest affordable community at 950 W. El Camino Real in Mountain View, California. The new, five-story, 71-unit residential community provides independent living for a mix of single- and two-person households earning between 30% to 70% of the area median income. Fifteen of the units are reserved for adults with intellectual or developmental disabilities. Alta Housing has partnered with Housing Choices Coalition and San Andreas Regional Center (SARC) to serve this community.
"Luna Vista Apartments was built and leased up during the pandemic and we are grateful to all of our stakeholders who have supported our effort to add much-needed affordable housing to the city of Mountain View," said Randy Tsuda, Alta Housing's President and CEO.
Tsuda adds, "We know that this new, beautiful affordable community and its proximity to downtown Mountain View, public transit, shopping and services, public library, pool and parks will bring stability and an enhanced quality of life to our residents at Luna Vista."
Luna Vista is situated on 0.61 acres, which previously housed a Taco Bell, and is centrally located on El Camino, a block north of Downtown Mountain View. On-site amenities include a roof-top deck with views of the mountains and bay and outdoor lounges on the second, third, fourth and fifth floors, giving residents various options for outdoor access. There is also a community room with a kitchen, a conference room, computer lab, library and laundry facilities.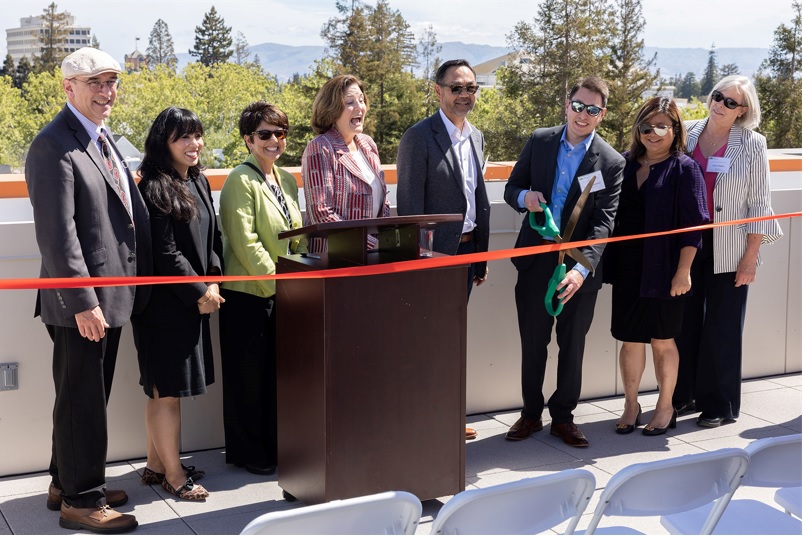 Alta Housing is also providing on-site management and services to residents, including case management, resident engagement, educational assistance, health and wellness programs, financial planning courses, job counseling and assistance with accessing community resources.
"Alta Housing's services at 950 W. El Camino Real are designed to ensure housing stability, promote health and wellness, and encourage community building," Tsuda said. "Alta Housing's mission is to create stronger, more diverse communities by providing and maintaining high-quality, affordable housing where our residents can thrive."
Luna Vista is close to multiple bus lines that allow access to communities throughout the peninsula. "Many residents work in Mountain View or the surrounding communities and are able to commute by walking, public transit or bike," noted Tsuda.
The new apartment community has a bicycle parking space and a storage locker available to each resident and is located within a quarter mile of the Mountain View community shuttle and four bus lines (VTA 22, 52, 81, 522).
Financing was provided by the City of Mountain View, Wells Fargo Bank, California Community Reinvestment Corporation and Low Income Housing Tax Credit Program. Acquisition funding was provided by Housing Trust of Silicon Valley.
Van Meter Williams Pollack LLP served as the project's designer. The general contractor was Nibbi Brothers; Luk and Associates was the civil engineer; Murphy Burr Curry (MBC) was the structural engineer; Fard Engineers was the mechanical electrical and plumbing plans (MEP) engineer; and Hill Associates served as the landscape architect.
The property is LEED Platinum certified and includes rooftop solar panels and electric vehicle charging stations.
About Alta Housing
In its 51 years of service, non-profit Alta Housing builds, develops, acquires and manages low- and moderate-income housing in the San Francisco Bay Area. With over 2,500 residents and more than 450 units in various stages of development or construction, Alta Housing provides high-quality, award-winning housing with subsidized rents and supports its residents in reaching their goals through its Resident Services program. Alta Housing continues to expand its portfolio and focuses its future housing efforts along transit corridors on the Peninsula. For more information about Alta Housing, visit www.altahousing.org.
# # #