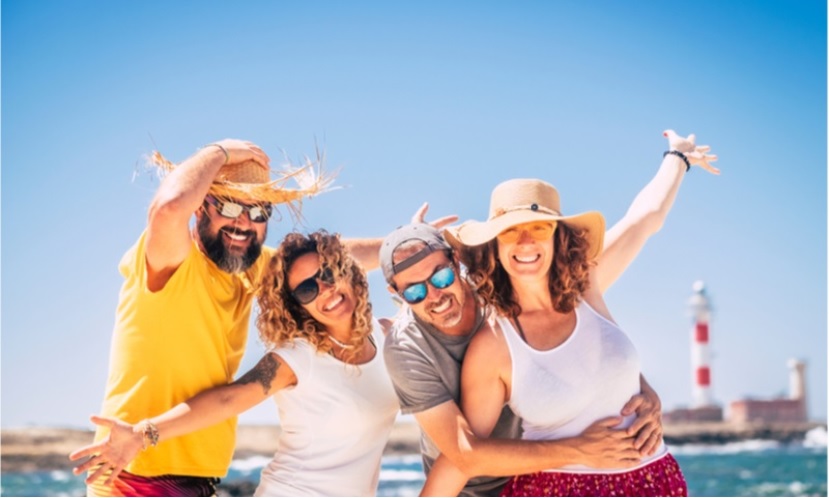 There's no reason to be blue if you only have a weekend available in Palm Coast, FL. The city has a lot to offer, yes, and it might be difficult to choose just a few places to visit in the timeframe of a weekend, but with a bit of planning and a car at your disposal, anything is possible. Just open the extremely handy Google Maps and start scanning for attractions. Select a few things that are close to each other and organize your days by areas. You shouldn't plan to visit places that have large distances apart from each other as you'll spend too much time in your car, driving. It is better to see Palm Coast on foot and really be able to enjoy the sights.
Your age doesn't matter in this Coastal Paradise so don't worry about not being able to find age-appropriate activities. There's more than enough things to do and while it's easy to find the best outdoor activities in Palm Coast, FL, there are plenty of options for indoor fun as well.
Pack for your trip
Palm Coast is a place where you don't want to end up without some specific items. While there are many things that you can purchase in the city or by the shore, it's easier if you just pack the things that you have available, tried and tested, the things you know work best for you.
So go ahead, pack a light backpack and don't forget to add these items below in your travel bag.
Swimsuit;
Water-resistant Sunscreen;
Sunglasses;
Flip-flops;
Summer wear;
These are essential in order to be able to fully enjoy your time in Palm Coast, FL. They might be basic things, but like this, you'll be able to avoid turning into a lobster during your three-day trip. Other things that you shouldn't leave your house without are: ID, wallet, vital medicine and your head.
Weekend trip in Palm Coast, FL
There are a few highly important things that you should not miss when in Palm Coast, FL and we'll pinpoint them for you but consider meals and accommodations on your trip as well. As fascinating as sleeping in a car can be for young couples, it isn't the most comfortable for anyone who wants to completely enjoy a trip.
We asked around, tried out a few things and we managed to discover some amazing activities for any age or interests. You don't have to limit yourself to a specific age group or party as most of the following can be enjoyed by anyone. We only tried to organize a weekend in such a way that it would fit anyone.
Romantic Escapes
For the romantics out there who are looking for those perfect moments in the sunset and rose petals sprinkled over cashmere sheets, Palm Coast is the perfect place to reconnect with your significant other and even pop the question. From the blue skies to the honey-colored beaches, romance is a given in this couples getaway.
Where to share a blanket
Hammock Beach Resort will give you the most amazing sunrises and sunsets on the ocean's horizon without even having to leave your luxurious room. The amenities are breathtaking, that is if you're into the whole sipping drinks near the pool idea or gourmet meals. If that's not enough pampering for your romantic retreat look for accommodations at the White Orchid Inn & Spa with heated mineral pools, relaxing courtyards or a breezy bicycle ride along the coast.
What to do with your significant other
What can be more romantic than a horseback ride on the beach with your significant other? Just imagine watching the sunset together on the beach as you ride along the waves and feel the breeze caressing your skin. Now, that's a memorable way to spend a day on the beach.
Do not forget about the waves, however, because a trip to Palm Coast doesn't count if you didn't take a dive in the ocean. Get your swimsuit on and take out the sunscreen as UV protection is no joking matter. After you enjoy the water for a few hours, treat your better half to cocktails on the beach as you watch the dolphins together, playfully tumbling in the ocean close-by.
Your second day can be spent on a private cruise for more wildlife sightings. Alex's Sailing Dream will take you places where you will have a chance to see whales as they migrate along the coast from December through March. Enjoy a bottle of bubbly champagne while you sail in the company of dolphins and seabirds that are gliding through the air. The sun, the water and the perfect moments created will stay with you forever.
Where to eat a romantic meal
Well, this is a simple one. The options are endless if you're looking for waterfront view restaurants. Candlelit dinners for romantic evenings can be enjoyed along the coastline in Palm Coast, FL.
The European Village is a great option for its amazing architecture and walking areas that were inspired by those breathtaking piazzas from Europe. There are over a dozen places where you can eat, drink and shop in this area no matter what your preferences are. The Mezzaluna Pizzeria has some of the best traditional pies and the pasta is so good that you'll feel like you're in Italy. For some Mediterranean dishes, be sure to stop by Lisbon at Night Restaurant & Cafe. Grilled sea bass and the best cod you've ever eaten are some traditional dishes that they serve and Farley's Irish Pub is the best place to stop on St. Paddy's day.
If you want something particularly original, arrange for a private meal with the sand beneath your feet under a canopy of string lights and some fine music in the background. As the sun sets the sand will be a perfect cushion as you take out the ring.
Modern Family
There is no need to worry about traveling with children when in Palm Coast, FL. Many families come here to enjoy the sand, the sun and the shoreline as the region has many family-friendly attractions that are perfect for children of all ages. Get ready to enjoy top destinations in the sun with your entire family.
Where to stay as a family
Finding accommodations with children on your hip might be challenging elsewhere, but here you can make sure the little ones have activities available to burn out all of that extra energy while you enjoy a day at the spa if you'd like. Again we have to mention Hammock Beach Resort for its fantasy pool complex with waterslides that will keep your children entertained and lazy river rides for a light cooldown before lunch.
For the authentic Florida experience, you can take a look at the Beverly Beach Camptown for the best place to park your RV. There aren't many RV resorts that have an ocean in their backyard and limitless playgrounds for your children as well. But not to worry, the on-site store offers fresh coffee in the morning.
What to do to burn out energy
The Marineland Dolphin Adventure is one of the best things to do while in Palm Beach, FL. Feeding the dolphins, playing or even swimming with them is something your children aren't going to forget anytime soon. These gentle mammals have an astute sense of empathy and are highly intelligent which makes them perfect for delighting children as well as adults. For teens, there are also opportunities to see the feeding of sharks, from a safe distance. That might be a bit too much for children younger than 10.
Go on a kayak adventure with the family on the Guano Tolomato Matanzas National Estuarine Research Reserve. You'll be able to have a quick meet-and-greet with some manatees or dolphins that are living in this 77,000-acre reserve. The Ripple Effect Ecotour offers any excursionist that isn't too keen on rowing the option of using power boats that run on recycled vegetable oil in an effort to encourage eco-friendly tourism. This place is also amazing for birdwatchers as the salt marsh grass is a perfect home for many species of birds.
Where to eat for the whole family
If you want your children to splurge with some decadent food you can stop by Swillerbees Craft Donuts and Coffee Bar where they will be blown away by the different assortments available of sweets while you can enjoy a powerful cup of coffee as you get ready for the day, with some savvy bagels on the side. As the energy bar may run low by lunchtime, take your children to the Whaam Burger for a hearty meal that will help them keep up with the weekend excursions. As the day draws to a close get some fish n' chips down by the beach at Golden Lion Cafe after which stop by Sally's Ice Cream shack for a wide variety of flavors and specialties like amaretto or, a children's favorite, the cookie monster.
Conclusion
It doesn't matter where you're coming from or where you'll end up as Palm Coast, FL is an amazing stop along the way even only for a weekend. With so many things available by the shore or inland you can easily make more trips. Like that you'll be able to enjoy life in the newest city of Florida, the city of Palm Coast to its full potential. After a few short visits you'll find yourself getting in touch with real estate agents in Palm Coast, FL for a new home or a place to retire. The city is a great place to hang your hat and retreat to.
Let us know in the comments which is the most interesting part of Palm Coast for you as preferences may differ. Like & Share with friends and family particularly if they are also interested in a weekend getaway.