In the midst of a pandemic and people spending more time at home, it's no wonder why more and more families are looking to make some home improvements. Homes have suddenly become offices, schools, and recreational facilities. 
So making the investment in a few home improvements can greatly improve home values and functionality while bringing families closer together.
If you are considering some upgrades, make sure you also investigate the potential costs or savings on home insurance after renovating. Your premium may change, possibly saving you money each month. It's also a great idea to discuss the changes you plan to make with your insurance agent before you get started to make sure they can be covered on your policy.
Here are four practical ways to add value and comfort to your home and provide the family with some fun.
Build the Kids a Backyard Play Area 
All of this bonding time during the pandemic can lead to burn-out for any parent. Having an outside oasis for your children, even in the winter months, is a great way to entertain them. But your biggest concern when building the play area is safety and functionality. 
Keep these things in mind:
Don't make the play area so large that there's no room for other outdoor activities.
Research the cost of supplies and materials before you begin and set a realistic budget.
Let the kids help you build, and make it a family project.
If you aren't able to do the work yourself, get quotes from contractors. 
Don't forget the ground barrier to keep the weeds out. 
Ask the kids for input on what they would enjoy most in the yard. A treehouse may be a great start and fun even as they grow. While swing sets are also exciting, they tend to lose their appeal as children age. 
Play areas are good for the physical health of kids. It is recommended by the Centers for Disease Control (CDC) that children get at least one hour of exercise per day. Climbing, jumping, and running around the yard are all great ways for them to exercise. 
One option for outside fun is a trampoline. However, you may want to reconsider before you buy. Be sure to talk to your insurance professional to see what they have to say about home insurance rates and trampolines. 
Add a Deck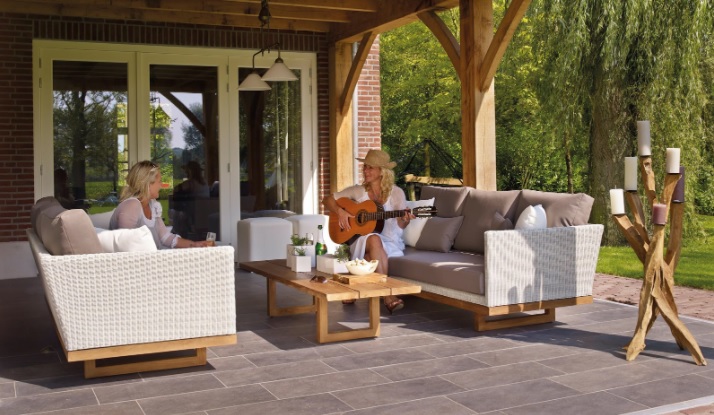 Adding a deck is a big-ticket home improvement. The size of the deck will be one of the greatest impacts on your project budget. But having an inviting sitting area outside is great for family dinner nights, relaxing in the sun, and everyone's favorite — grilling out. 
With so many options for decorating your outside space, choosing the right decking materials, stain color, and potential covering options are necessary. 
Depending on the climate you live in, adding a pergola or shade may not only add some relief from the hot sun but can also add beauty and enjoyment. 
Check with your locality before building as you may need a building permit.
Make sure your exterior decking doesn't interfere with any Property Owners Association restrictions which could cause you money and headache in the long run.
Safety first – make sure your railings are placed according to safety regulations.
Be careful to attach the decking to the house appropriately so as not to damage the exterior of the home.
Building exterior decking adds additional living space. It's a great way to spend some quality alone time in the midst of being stuck at home. Sit outside to drink your morning coffee or read a book. 
While it isn't cheap to build a deck, the years of enjoyment that it brings is worth it, and the resale value may be a wise investment.
Upgrade the Home Office
While many would say they have always had home office space, the chances that they actually used them as such on a daily basis wasn't very high until March of 2020. Now, it is the norm for people to be stuck at home working from their office space, kitchen table, or even from their bed. 
Creating a home office space that is functional, inviting, comfortable, and free from distractions helps to ensure productivity during working hours. Believe me, it is so easy to get distracted by the kids, the laundry, and the television when working from home. Taking away the outside noise of everyday life at home is a huge must.
You may be wondering what you need to convert a room into an office. If you don't have space already designated for your home office, it's easy to create one keeping these points in mind.
Find a room or space that isn't full of activity. Make sure there is a door to separate you from the outside world. 
Make sure the area is bright so you don't feel like you are trapped in a dungeon.
Add the tools you need to get your work done.
Keep the area free from home clutter and make the space for office use only.
Add appropriate lighting as necessary.
Have a comfortable chair and desk or table.
No matter what room you turn into your home office, make sure the rest of the family knows that when you are in that space you are focused on working and can't be disturbed.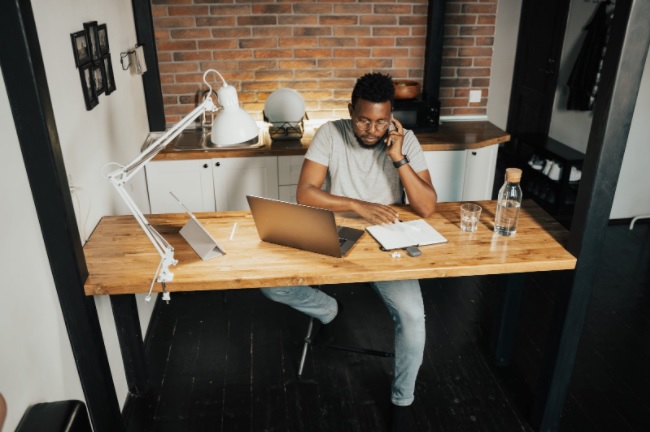 Small & Simple Home Upgrades
Home projects don't always have to be about adding rooms, building structures, or breaking the bank. Simple changes can go a long way for creating a comfortable home environment. 
Paint dark and dingy walls. Add chalk paint to the kid's room or play area so they can color on the walls without leaving permanent stains. Then it can be used for instructional purposes while home-schooling during the pandemic.
Change light fixtures to a more modern and clean design.
Clean your windows. You will be surprised at how much light shines in.
Give the front door a good scrubbing and painting. Put some planters by the door and a new welcome mat. Paint it an inviting color like red or blue. You can always paint the shutters to match.
Think of ways to refresh and modernize the exterior of your home.
Clean up the shrubs. Pull the weeds, and add some colorful pea gravel around shrubbery. Get rid of the mulch as it can attract insects.
Declutter the house and make your space more open and inviting. The less there is to clean, the less stressed you will be.
Regardless of what home projects you do, create spaces that your entire family will enjoy and feel comfortable in as the world waits for the new norm to settle in.

Robyn Flint is a home insurance expert who writes and researches for the insurance comparison site, USInsuranceAgents.com. She is also a licensed Realtor with eight years of experience and a certified trainer in real estate licensing classes in Virginia.