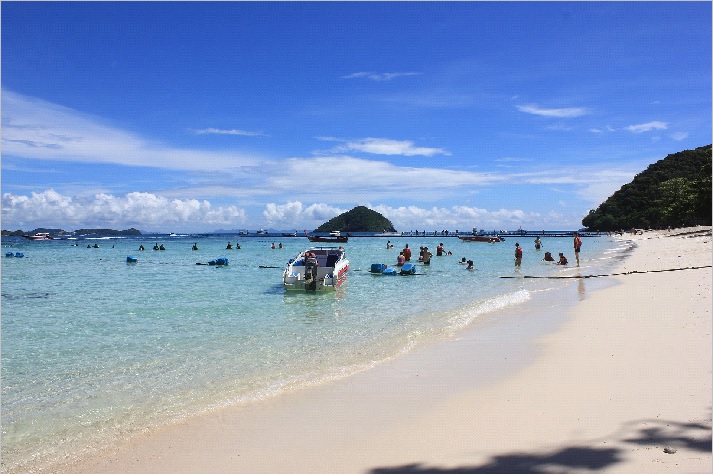 It is no wonder that Phuket Island has become one of South East Asia's most visited tourist destinations. With its white sandy beaches, crystal clear waters, amazing scenery, its myriad of tourist attractions – all made even more special by the amazing Thai culture – it is easy to see why the country appeals to tourists from all over the world.
Nearly 40 million tourists visited Thailand in 2019, and around 30% of those numbers visited Phuket. Even given the problems associated with coronavirus in 2020, these numbers are expected to increase further in the years ahead.
What This Has Meant For Phuket's Real Estate Market
Just as we have seen a huge increase in tourist numbers over the last decade-plus, we have also seen a corresponding boost to the local property market. And just as the trend for tourism has built momentum, the same is expected for the real estate sector.
When visitors arrive on the island, they are immediately taken in by the beauty of Phuket, the culture of Thailand, and the welcoming local population. As they begin to look into the cost of property, they are amazed at how attractive the prices are, especially when compared to their home countries. That's why so many people decide to purchase their own small slice of paradise in Phuket.
The easiest way for foreigners to do this is by owning a freehold condominium, the only truly legal means for a foreigner to own real estate in Thailand in their own name.
What Makes a Condominium So Attractive in Phuket?
Freehold condominiums allow foreigners of all nationalities the opportunity to own property on this amazing island in the Andaman Sea.
The laws of Thailand are very clear on land ownership. Foreigners are not allowed to own land in Thailand, but they are allowed the freedom of owning a full freehold title to a condo unit. Thai law states that as long as a condominium development has 51% Thai ownership, the remaining 49% may be owned by foreign nationals.
This makes buying a condo in Phuket the most attractive and stress free way of investing in this buoyant real estate market. In Thailand, freehold ownership means the same as anywhere else: buyers retain ownership forever. This is permanent until the time comes when they decide they no longer need their condo, and choose to sell it on to a new buyer.
For anyone buying a condominium in Phuket, they should make sure that they are purchasing one of the 49% of freehold units available for foreign ownership, rather than one of the 51% which are only available to foreigners as a leasehold. Leasehold contracts are limited to 30 years by law, so the value of the unit will decrease over time, and may also be harder to sell to a new buyer.
Condominiums Also Offer Great Facilities
Another attraction of a condominium for holiday makers are the resort facilities. Most resorts offer an array of comforts and lifestyle enhancers to improve the stay for guests and residents.
There are many local and international developers on the island and all of these are competing to make each new resort even better than the last. Stylish swimming pools, kids pools, and even slides and fountains are the norm, while most have well equipped gymnasiums, spas, steam rooms or Swedish saunas.
The hotel-styled condominiums will also have upmarket reception areas, landscaped gardens and even a kids club. Some have onsite movie theatres, beauty parlours, and an array of international cuisines from a choice of restaurants. In the case of those situated in the right location, there are also amazing roof top bars and infinity swimming pools with breathtaking views across Phuket's stunning coastline.
All in all, buying a unit in one of Phuket's many resort condominiums, will give you far more than the usual comforts of home.
Phuket's Condominium Management Services
One of the reasons why condominiums appeal to foreigners (especially those simply looking for a rental-generating property or a vacation property) is that condos are so easily maintained, and they are managed by third-party management companies.
Many developers will offer full management services themselves, or employ a professional management company (sometimes a well-known hotel operator) to assist with this. Their duties go beyond simply managing the resort itself, and also extend to operating the rental service for would-be vacationers who visit the island.
For new buyers, many condominiums offer a guaranteed return over a specific time frame. This usually includes a fixed number of days that the owner may enjoy a free stay in their unit. Typically this is anything between 2 and 4 weeks per year. During this guaranteed return period, the owner usually doesn't even have to worry about any bills, maintenance or service costs, as these are typically covered within the agreement. All the costs are covered by the resort manager and the owner can just enjoy their free stay every year while receiving their yearly return.
When the guaranteed period expires, usually around the 5 year mark, owners then have the option to enter a "rental pool" program, where the income from the resort is divided up equally between the owners, relative to the size of each unit.
Hotel Licensed Condominiums in Phuket
It is becoming more popular now for condominiums in Phuket to also apply for a hotel license. These are sometimes called "condotels". The concept is not new to people from North America, where there are many hotel licensed condominiums. The hotel suites or units may be privately bought by investors, but then the business of renting the unit is managed as though they were ordinary hotel rooms.
A condominium offering hotel accommodation may be viewed as a kind of hybrid species of Phuket property. Essentially, it combines a legal freehold condo ownership title for foreigners in Thailand together with a fully licensed hotel operation, offering owners and guests the full range of services you'd expect from a world class hotel establishment.
These are first and foremost investment properties, and are not really intended for someone who is considering moving to the island, or using their unit as a long-term vacation home in the future. Owners are generally limited in the duration of their "free stay" each year, although this can be up to 4 weeks per year. If owners want to make longer use of their unit, they may do so by paying the standard hotel rates for additional nights.
For investors, buying a hotel licensed unit is a solid choice. Many condominiums in Phuket have not obtained hotel licenses, so are technically not allowed to offer vacationers short-term rentals. Legally compliant "condotels" have both a condominium license and a hotel license, meaning they comply with both Thailand's Hotel Act and Condominium Act.
As this type of investment has become more popular, many big brand hotel names have entered the Phuket real estate market. Wyndham (including Ramada), Sheraton, Radisson, Club Med, Marriott, Melia and Accor Group have all entered the market, with more expected to follow.
Buying a hotel licensed condominium or hotel suite has its obvious attractions for investors. Not only do they get full freehold ownership and capitalise on Thailand's booming real estate market, but they can also legally rent out to tourists for the long and short-term, thus capitalising on Thailand's flourishing tourism industry. But that's not all. Every year they can also take advantage of their free vacation stay within the resort where they have purchased.
For foreigners looking at the various types of condos for sale in Phuket that are aimed at purely at investment, a hotel licensed condotel certainly seems the way to go.
Which Nationalities Are Buying in Phuket?
Phuket has always been a melting pot for foreigners. People of all nationalities come here to work, retire, and educate their children – and many of them buy property. There are also foreigners working in neighbouring countries throughout Asia who buy vacation homes on the island, as it is only a quick flight away from many major cities in the region.
Although Europeans and Australians have always been big buyers of Phuket real estate, Americans and Canadians have become bigger investors over the last year or two, and this trend is expected to pick up even more over the next few years. The Chinese and Russians, who entered the market just a few years ago also remain significant contributors.
In many of the countries mentioned above, property prices are simply beyond reach for the average person, so many buyers are attracted by the extremely affordable price points being offered in Phuket.
There are indications that the next major group of buyers will be from the Indian subcontinent. Although Indians currently represent only the seventh largest number of visitors to Phuket (by nationality), new flights are expected to open in the future, so India's contribution to the buoyancy of the Phuket real estate market is predicted to grow substantially in the years ahead. With an estimated 500 million middle class Indians just a few short hours away by plane, this demographic could be a major contributor to the property market in the future.
Where Are The Best Place to Buy Real Estate in Phuket?
Phuket contains a variety of terrains and demographics, so there is a vast choice of places to suit almost everyone.
It should go without saying that those seeking the best investment opportunities should concentrate their focus on the highly popular tourist destinations on the West Coast. West Coast condos are by far the easiest to rent, and in the high season rental and occupancy rates are far superior than anywhere else on the island.
After all, most tourists come to the island for the crystal clear azure waters and incredible beaches, and these are all found on the western coastline. Those closest to the beaches are in the highest demand and those with sea views obviously offer the best returns.
The center of the island, known as the Kathu Valley, is home to many of the islands golf courses. This area is very green, being surrounded by mountainous jungle, and although it is very quiet compared to the West Coast it is only a 10 minute drive from Kathu to Patong – Phuket's liveliest resort town.
For anyone looking for a home or vacation property away from the crowds then the East Coast may suit them better. The East Coast is relatively undeveloped, but it is close to Phuket's marinas, which take advantage of the still waters for perfect anchorage. Although the East Coast may lack some of the facilities and amenities of the West, it does have extremely beautiful views across the bay of Phang Nga.
Does Phuket Real Estate Benefit from Capital Appreciation?
Phuket is an island and, as most people know, land on islands is in limited supply. The same can be said for Phuket, especially on the West Coast where land is in the highest demand.
Although many of the resort towns on the West Coast are already developed, there will come a time when there is simply no more land available for development. When that happens, it is obvious what will happen to real estate prices on the island. This may still be a few years away, but the prospect has certainly had a significant impact on West Coast property values in Phuket already.
Other factors will also push prices up. This includes general inflation on land values, labour costs, landscaping, the bricks and mortar, not to mention all the other fixtures, finishings and furnishings. All of these will increase in price over time, increasing the upward pressure on property prices.
Real estate the world over has always been a solid investment, and there is no reason why the same would not be true of Phuket. That said, Phuket differs from most markets around the world in that, for foreigners at least, it is a cash only market.
Virtually no borrowing in the foreign property market translates into far less volatility than you find in most other real estate markets. The lack of available mortgages for foreign buyers reduces the likelihood of the boom-bust cycles experienced in other countries. Instead, the market just creeps upward by 2-4% per annum.
Should You Use a Real Estate Agent in Phuket?
It is highly recommended that anyone contemplating a property purchase in Phuket should use an experienced real estate agent. Because their time on the island is often limited, foreign buyers can be under pressure to make a decision quickly, and the wrong agent may put added pressure on them to buy. It is important that they take the time to weigh up their options wisely.
One of the island's leading real estate agencies, Thai Residential, which has one of the largest selections of condos for sale in Phuket, offers some advice. Paul Over, a British national and the company's Senior Sales Director, suggests: "Do not become victim to agents who market their real estate using high pressure sales tactics, similar to the techniques used in the time share industry.
"As soon as you feel any pressure, you should immediately put up a guard," Paul advises. "It's best to just try and completely avoid any type of sales strategy that forces you into making a decision on the spot. History has shown us that when you're under pressure you end up being forced into buying something that you instantly regret."
There are many real estate agencies in Phuket, and it pays to take the time to find one that comes recommended by another buyer. A good agent will have your best interests at heart. They will not just tell you everything you want to hear, but rather give you the full picture.
Always use a Lawyer
Not only should you be selective with your choice of real estate agent, you should also make sure you have an experienced lawyer on your side. Things will always be smoother with sound legal representation, and in some cases it may even be wise to obtain legal guidance even prior to viewing any property.
It also pays to request that your lawyer carry out due diligence on any prospective real estate you are thinking of purchasing. Although this may add to the cost, it adds a further layer of protection and a lot more peace of mind.
Summary
As the booming tourist industry in Phuket continues to grow, it is easy to see why one of the key beneficiaries of this should be the real estate sector.
The revenue which local and federal governments have generated from the tourism industry has financed exponential improvements in infrastructure. Phuket has a new modern airport, an excellent road network, and there are plans to construct a light railway system from the airport in the north to the tourist heavy areas in the south.
This rapid modernisation has attracted foreign direct investment by the billions, with new tourist attractions and luxury hotels setting up shop on the island. And this development is necessary to keep pace with the expected year-on-year increases in foreign arrivals to the island.
Investors in Phuket real estate today will not only benefit from capital appreciation, but will also achieve solid rental returns from their investment in the years ahead.