Washington, D.C. — (RealEstateRama) — The office of Congresswoman Eleanor Holmes Norton (D-DC) announced that the House Committee on Transportation and Infrastructure, on which she serves, yesterday passed her bill that requires the Library of Congress to install the District of Columbia's seal in the stained-glass windows of the Thomas Jefferson Building Main Reading Room. Currently, the stained-glass windows contain the seals of all states and territories that existed when the building was constructed, except for the D.C. seal, which was readily available at the time and should have been depicted. Now that Democrats control the House, this is one of 20 bills Norton is introducing as part of her "Free and Equal D.C." series of bills.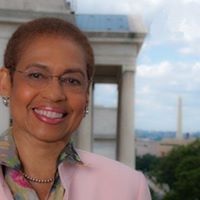 "Pending D.C. statehood, we will use whatever tools we have to make D.C. equal in all respects with states," Norton said. "The 20 bills I am introducing this session could be passed right now to complete the Home Rule Act and expand equality before and without statehood. While the placement of a D.C. seal may seem trivial to some, Congress must recognize the 700,000 federal taxpaying American citizens who live in the District."
There is evidence that the seal of the District should have been depicted in the Library of Congress. The Members of Congress Room in the Jefferson Building, which is not open to the public, already has a painted depiction of the D.C. seal, along with state seals, on its ceiling. Congress already includes the District, or has corrected the omission of the District, when honoring the states. For example, the World War II Memorial includes a column representing the District, and D.C.'s Frederick Douglass statue now sits in the Capitol alongside statues from the 50 states. Many examples of the District's current representation in ceremonies and symbols established to honor the states are the direct result of Norton's efforts.
In 2013, after a nearly 13-year legislative fight led by Norton, the District's first-ever statue, depicting Frederick Douglass, was unveiled in the U.S. Capitol. In January 2013, the President signed into law the National Defense Authorization Act for Fiscal Year 2013, which contained a provision Norton sought requiring the armed services to display the District of Columbia flag whenever the flags of the 50 states are displayed. In addition, Norton has succeeded in getting legislation enacted to give D.C. a coin after it was omitted from legislation creating coins for the 50 states. D.C.'s Duke Ellington coin is in circulation today. Norton also successfully worked with the U.S. Postal Service to create a D.C. stamp, like the stamps for the 50 states. She also got the National Park Service to fly the D.C. flag alongside the state flags at Union Station.
###