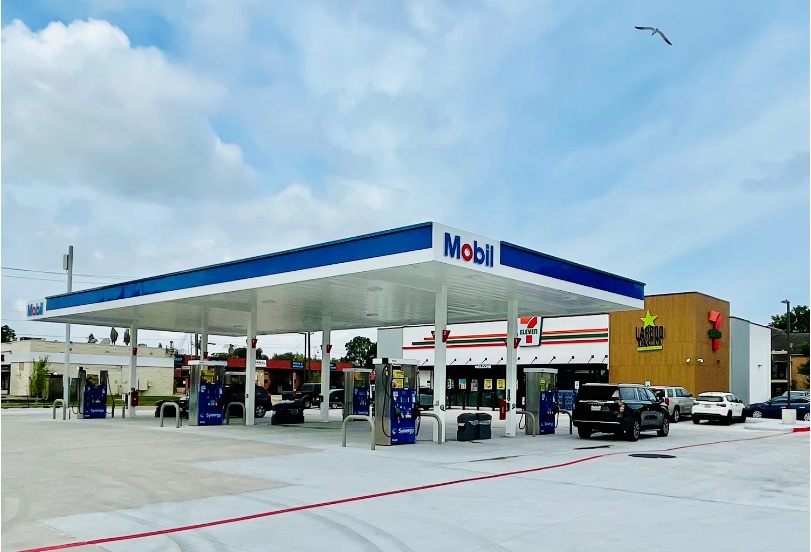 This sale represents RealSource's second Texas, new construction, single-tenant net-leased investment occupied by 7-Eleven in two weeks
NEWPORT BEACH, Calif. – RealEstateRama – RealSource Group, a national commercial real estate brokerage company focused on retail, healthcare and automotive properties, announced today that the firm arranged the pre-sale of a brand new, single-tenant net-leased investment occupied by 7-Eleven, Laredo Taco Company quick-serve restaurant and a fuel station in an off-market transaction in Houston, Texas. Although the purchase price could not be disclosed, the sale achieved a cap rate of 4.5%. This is RealSource's second Texas 7-Eleven sale transaction within two weeks. The previous sale was in Arlington, Texas.
RealSource's Vice President Austin Blodgett, in association with ParaSell, Inc., represented the seller, a private developer based in Houston. Chuck Klein, executive director with Cushman & Wakefield of San Diego, California, represented the buyer, a private investor based in Southern California.
"We began marketing the single-tenant 7-Eleven while it was still in the early stage of construction and generated multiple offers within the first week of marketing," said Blodgett. "We secured an all-cash, Southern California-based buyer who was looking for a brand-new construction 7-Eleven property in a tax-free state. We facilitated multiple site visits with the buyer in order for the buyer to get comfortable with the trade area. One of the main selling points on this deal was that it was a build-to-suit; in this case, 7-Eleven put up nearly all of the capital necessary to build the fuel station portion of the project, which clearly showed the tenant's commitment to this location."
7-Eleven is located at the signalized intersection of Broadway Street and Rockhill Street at 8550 Broadway Street, with 30,000 cars per day. 7-Eleven, which opened on June 10th, occupies a 4,842-square-foot building on 1.1 acres with a new absolute, triple-net 15-year lease.
"This is a great location with excellent visibility, a large 48-foot pylon signage directly on Broadway Street, and less than 1 mile from Houston's Hobby International Airport with over 50 million passengers annually," noted Blodgett. "7-Eleven has little to no competition within a 3-mile radius and is in the direct driving path for rental car returns and major overnight paid parking lots at Houston Hobby Airport." The property is also within walking distance to more than 3,500 apartment units and hundreds of single-family homes.
Blodgett adds, "Along with gas and c-store sales, 7-Eleven and the developer expect that this site will do extremely well with Laredo Taco QSR, providing a steady flow of additional income to this store."
The Laredo Taco Company is 7-Eleven's quick-serve Mexican food restaurant, which is famous for its tacos served on warm flour tortillas made from scratch in on-site kitchens each day. 7-Eleven acquired the Laredo Taco Company restaurants along with Stripes convenience stores in South Texas as part of the 1,000-store acquisition from Sunoco in 2018. 7-Eleven is now adding Laredo Tacos to the majority of their new stores in Texas.
Another big selling point of this deal was the fact that it is located in Houston proper, which is the largest city in Texas and the fourth most populous city in the United States with 2.3 million residents. The Houston Metropolitan Statistical Area is the fifth largest MSA in the nation with a population of 7.1 million and we are continuing to see massive population growth in this area.
According to Blodgett, "These new 7-Eleven deals continue to be sought-after by out-of-state buyers, which is driving down cap rates to record low levels. There is a massive amount of liquidity in the market right now and the availability of good deals is rather slim. If you have a new construction 7-Eleven deal opening in the next six months, now is the time to sell and chase a new record cap rate."
About RealSource Group
RealSource Group is a commercial real estate brokerage company that specializes in tenant representation, investment sales and sale-leasebacks on a national platform. With the combination of RealSource's leasing and sales experience, broker network, technology, processes and national platform; RealSource delivers high production, quality service and measurable results for its clients. Since 1991, having transacted over 850 commercial real estate deals nationwide, RealSource has perfected its platforms through proven execution. For more information, visit: realsource.com.
# # #
Austin Blodgett
Vice President, Investment Sales
RealSource Group
949.431.2735 Office