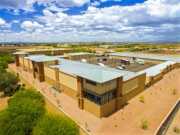 Scottsdale, Arizona, May 16, 2017– Dominion Self-Storage is proud to announce the opening of their second self-storage center. The state-of-the-art self-storage business is located in Queen Creek, Arizona on Germann Road, East of Power Road at 18729 Business Park Drive.
Now is time to spotlight the newest buildings, initiatives and innovations that are shaping, informing and catalyzing the high-performance planning, design, construction and operations processes. The Beyond Green™ Awards are a great way to recognize those projects and activities that contribute to making high-performing, resilient buildings and communities. Today, the National Institute of Building Sciences Sustainable Buildings Industry Council (SBIC) issues the Call for Entries for its 2016 Beyond Green™ High-Performance Building and Community Awards.
Building managers can now track energy, water, greenhouse gas emissions and waste together in Energy Star's Portfolio Manager WASHINGTON - (RealEstateRama) -- The U.S. Environmental...