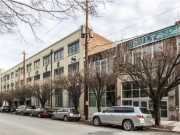 Fulton Supply Lofts, a recently completed loft conversion project in downtown Atlanta, has been awarded the 2017 Design Excellence Award from the City of Atlanta Urban Design Commission for its historic authenticity and sustainable design. The property has also been given the first EarthCraft certification by the Southface Energy Institute for energy conservation and sustainability in a multifamily restoration.
Downtown Los Angeles has gone from a ghost town to a boomtown in a relatively short period of time. In 1998, about 18,800 residents lived in the area. Over the next 16 years, the district grew to more than 54,000 residents—and the momentum continues at a feverish pace today. On Mo
LANSING, MI - February 1, 2013 - (RealEstateRama) -- The Michigan Main Street Center at MSHDA has released its 2011-2012 Annual Report highlighting over $28 million in private investment in the 16 Selected and Master Level Michigan Main Street Communit...