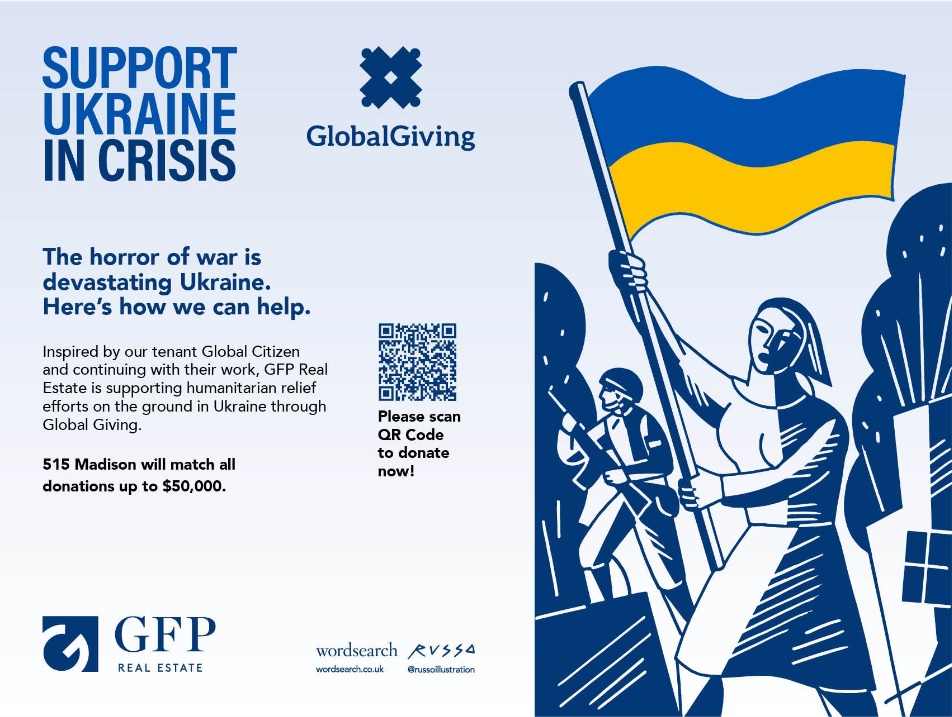 GFP to Donate Funds Raised to GlobalGiving's "Ukraine Crisis Relief Fund" Supporting Humanitarian Efforts for Those Affected by War in Ukraine 
NEW YORK (7/18/22) – RealEstateRama – GFP Real Estate is pleased to announce that its "Support Ukraine in Crisis" campaign raised more than $200,000 to support humanitarian relief efforts on the ground in Ukraine.
GFP Real Estate launched its "Support Ukraine in Crisis" campaign in May, asking tenants and building visitors at each of its office buildings city-wide to donate what they could to support those in need.  The company posted signage with QR codes in each participating property encouraging passersby to donate directly to the cause.  In addition to each participating property donating to the effort, GFP matched all donations made by its tenants during the campaign.
Money raised by GFP Real Estate and its tenants will be donated to GlobalGiving's "Ukraine Crisis Relief Fund," which has raised more than $49 million dollars thus far.  All donations made to the fund will "support humanitarian assistance in impacted communities in Ukraine and surrounding regions where Ukrainian refugees have fled."
GFP Real Estate Chairman and Principal Jeffrey Gural was inspired to create the campaign after seeing the overwhelming success of the international "Stand Up for Ukraine" drive led by Global Citizen—a GFP Real Estate tenant—that raised more than $10.1 billion worldwide.
"As an organization, we believe strongly in helping others whenever possible.  We saw this incredible effort put together by our tenant, Global Citizen, to help those most affected by the war and thought, 'How can we extend the impact of their efforts and help those in need?'" said Gural.  "I'd like to thank our tenants and their employees for helping us make a difference by supporting those who have suffered so much loss."
GlobalGiving is considered one of the most reliable and trustworthy charities in the world and boasts a four-star rating and a nearly perfect score from Charity Navigator due to its stability, efficiency, sustainability, and commitment to transparency.  For more information, please visit: https://www.globalgiving.org
IMAGES: To view and download high resolution images of GFP Real Estate's "Support Ukraine in Crisis" signage/flyers posted in participating GFP properties, please click this link:
https://www.dropbox.com/s/rz3pr6deu6fmkkl/Ukraine-Captivate-Screen.jpg?dl=0 
About GFP Real Estate, LLC
Committed to building a better New York since 1952, GFP Real Estate is a vertically integrated owner, operator, property manager and developer of commercial real estate in the New York metropolitan area. With over 55 buildings and more than 12.8 million square feet under ownership, GFPRE's portfolio includes some of New York's most iconic real estate assets.
###