Mercy Housing Northwest Celebrates Grand Opening of Affordable Housing Community in Southeast Seattle
New family affordable housing property welcomes residents to their new homes in Othello.
(SEATTLE, WA) –- (RealEstateRama) — Mercy Housing Northwest (MHNW), a non-profit affordable housing provider, announces the grand opening of its newest property, Mercy Othello Plaza, on Saturday, July 8, 2017 at 11:00 AM. Special guests presiding over the ribbon cutting ceremony include Dep. Mayor Hyeok Kim, County Executive Dow Constantine, Wayne Lau of Rainier Valley Community Development Fund and Mona Lee of Othello Park Alliance. Together with Mercy Housing board and staff, they are joined by new residents of Mercy Othello Plaza, partners/funders and members of the Othello neighborhood.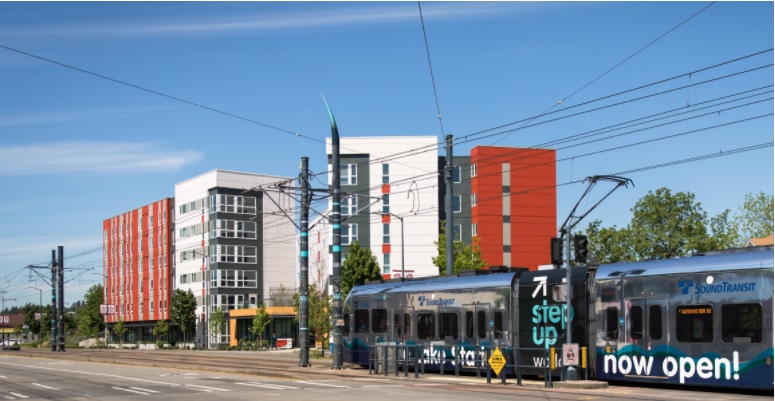 "On July 8, we celebrate the opening of over a hundred family homes that will help working families live in a diverse neighborhood steps away from open spaces, health services and transit," said Mayor Ed Murray. "This is the exact type of investment we need to make Seattle an affordable and livable place for families, new immigrants to this country, and people who face obstacles to stable housing. Congratulations and thank you to everyone who made Mercy Othello Plaza a reality."
Mercy Othello Plaza is situated in the heart of the Rainier valley in southeast Seattle. The lottery for applications to Mercy Othello Plaza drew substantial media attention earlier this year. MHNW opened applications for 3 weeks in January and received more than 2,000 completed applications.
The property serves as a prime example to MHNW's approach to the affordable housing crisis—quality, safe rental homes that working families can afford, enhanced with services that provide opportunities for families to thrive.
Sound Transit had originally owned the land and used it for construction staging when the light rail line was built. Sound Transit selected MHNW through a competitive RFP and sold the land to Mercy, which built the development.
Located just a half block from the Othello LINK light rail station, this transit-oriented development improves access for families to local schools, jobs and neighborhood services. The property is also steps away from many immigrant-owned businesses, providing residents easy access to retail shops and restaurants.
"Often in today's economy, finding housing you can afford means settling for a long, expensive commute", said Sound Transit Board member and King County Executive Dow Constantine. "Mercy Othello Plaza shows how we can leverage the opportunity of affordable, high capacity transit by building affordable housing near LINK light rail stations. As a Sound Transit board member, I will ensure the agency continues to turn land from transit projects into transit-oriented development – to meet the needs of working people in our growing region."
The property offers 108 energy efficient apartments that are affordable to individuals and working families earning $18,000-$55,000 annually. The ground floor also serves as the new headquarters for MHNW, with 7,500 square feet of office space.
Major funders for the development include the Washington State Housing Finance Commission, Seattle Office of Housing, JP Morgan Chase, Wells Fargo Bank, the JP Morgan Chase Foundation and Norcliffe Foundation.
The building includes a 2,000 square foot community center for resident services programming offered to both residents and the community at-large. MHNW is providing a wide variety of onsite supportive services and activities to engage residents of Mercy Othello Plaza and help them thrive in their community. Full time bi-lingual staff are onsite to coordinate services programming, including health and wellness activities, an after-school homework club, and financial literacy classes. The surrounding community is also able to benefit from program services provided at Mercy Othello Plaza.
"It has been wonderful seeing our resident families settle in to their new home here at Mercy Othello Plaza", says Bill Rumpf, MHNW President. "This location is ideal for families—with great access to jobs, school, a park and local shops. We are grateful for the opportunity to help meet the vast need for affordable family housing in Seattle. Residents have been benefitting from health and educational programs that are offered on-site and the Othello community and partner organizations have been able to utilize the community space as a resource".
The announcement comes as the affordable housing crisis worsens in Washington state, where a person has to make at least $23.64 per hour in order to afford a modest two-bedroom apartment at Fair Market Rent (FMR), according to a report by the National Low Income Housing Coalition (NLIHC). The same report found that someone working a minimum wage job would have to work 86 hours per week in order to afford a modest two-bedroom rental home at FMR in the state.
About Mercy Housing Northwest
Mercy Housing Northwest (MHNW) is the Washington affiliate of Mercy Housing Inc., a national nonprofit organization headquartered in Denver, Colorado. MHNW owns more than 2,000 affordable homes across 16 counties in Washington. This year marks the 25th year that MHNW has been serving families in Washington state. We are committed to creating safe, vibrant and healthy communities for families and seniors. For more information about Mercy Housing Northwest, please visit https://www.mercyhousing.org/northwest.
Contact: Colin Morgan-Cross
(Mobile) 201-723-6554
(Office) 206-602-3481


mercyhousing.org/northwest