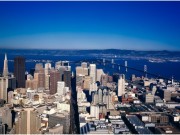 The TransAmerica Pyramid used to be the tallest building of the Bay City, but the recently inaugurated SalesForce Tower has stolen its title, with its 61-stories and 1,070 feet. This project is only the beginning of a series of infrastructural plans set out to revamp San Francisco's skyline in the years to come.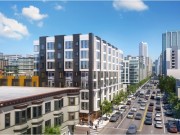 International award-winning firm KTGY Architecture + Planning announced today that the new mixed-use residential community at 360 5th Street in San Francisco, developed by Trammell Crow Residential (TCR) and designed by KTGY, was recently approved by the planning commission. The new $95 million development located in San Francisco's SoMa (South of Market Street) district includes 127 apartment homes and over 9,300 square feet of retail and creative workspace on .53 acres.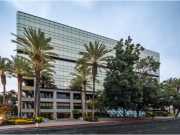 Meridian, a full-service commercial real estate developer based in California, is pleased to announce the purchase of Sutter Square, a 174,689-square-foot nine-story office building located at 1800 Sutter Street in Concord, California. The seller was the Cranbrook Group of Modesto, California. Meridian paid $26.2 million for the 78 percent leased building located near downtown Concord.
The U.S. Environmental Protection Agency announced its annual Green Power Leadership Awards to seven businesses across California. The firms were among 25 businesses and organizations across 13 states recognized for their achievements in advancing the nation's renewable energy market and reducing greenhouse gas emissions that contribute to climate change
Advanced Microgrid Solutions (AMS) announced today that the company has selected Tesla as the primary technology provider for its groundbreaking utility-scale energy storage projects. Under the agreement, AMS will install up to 500-megawatt hours (MWh) of Tesla batteries in its energy storage projects. AMS has also signed a master agreement with global firm Black & Veatch for engineering and construction services
Torrance, CA - September 18, 2012 - (RealEstateRama) -- HGA Architects and Engineers (HGA) has relocated to expanded offices in San Francisco to accommodate its growing practice serving healthcare, higher education and cultural clients. HGA's San Fra...
Torrance, CA - March 14, 2012 - (RealEstateRama) -- HGA Architects and Engineers (HGA) has hired Kenneth E. Bishop as associate vice president and senior construction administrator for the Healthcare Practice Group in the San Francisco office.
Torrance, CA - November 24, 2011 - (RealEstateRama) -- The HGA Architects & Engineers-designed Student Services Center at Monterey Peninsula College in the Northern California town has officially opened, showcasing the architectural firm's abilit...