The TransAmerica Pyramid used to be the tallest building of the Bay City, but the recently inaugurated SalesForce Tower has stolen its title, with its 61-stories and 1,070 feet. This project is only the beginning of a series of infrastructural plans set out to revamp San Francisco's skyline in the years to come.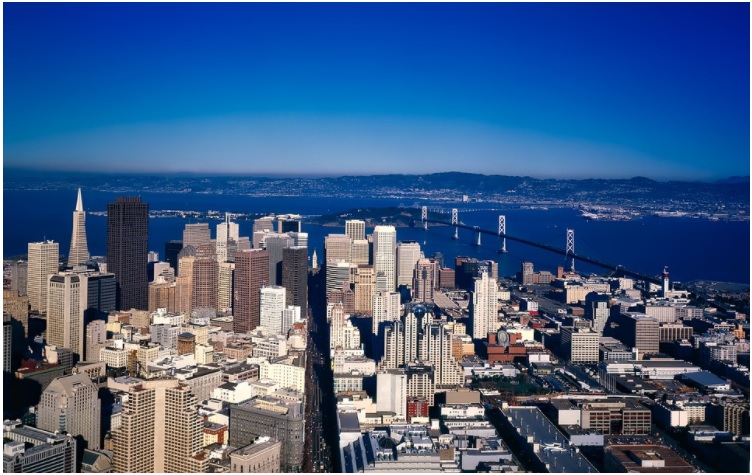 The new Salesforce Tower
Real estate developer Hines had originally planned the Transbay Tower before the global financial crisis hit in 2007. The project was then sold to Boston Properties, which in 2014 made a 15-year and 714,000-square-foot tenant lease with Salesforce for $560 million. The tower's foundations rests on a site that is at high risk of earthquakes near the original waterfront. The engineers, therefore, designed a structure with 42 piles drilled 300 feet deep into the ground in order to withstand extensive and violent stress. The aesthetic of the cloud computing company's offices is only a starting point for the city's fresh new look.
Urban planning
A series of urban re-development projects have already been noted for billions of dollars in funding in order to revive San Francisco's infrastructure. The first event will be in 2019 with three openings: the Chase Center, the new 18,000-seat arena that will be the home of the Golden State Warriors; a subway stop close by; and a shopping center of 100,000 square feet. These projects are part of a larger plan called Mission Bay that aims to re-launch the older industrial and port areas of the city. The impact of this huge plan will be extensive, as it covers an total area of 4.4 million square feet. It will also include the construction of new offices, research centers and medical campuses, workshops, hotels, public spaces, libraries and schools.
Transportation: crucial to San Francisco's future
The city is getting a new look, however it absolutely needs to renew its transport system. San Francisco is one of the most congested cities in the world. Both city officials and private investors are taking on a series of projects in order to improve public urban mobility.
The Transbay Transit Center, a $2.5-billion project to be completed by 2030, is one of the most crucial. It will be a large urban transport hub that will serve downtown San Francisco with connections between the subway, buses, trains. This new structure is expected to serve 100,000 people each day and 45 million each year. The Transbay transport hub is part of an even greater plan: the Transbay Redevelopment Area, a new $4.5 billion urban development to re-launch the entire neighborhood.