Just like the common saying that the eyes are the windows to the soul, the doors can reflect your building and fashion taste. Frameless glass doors are becoming the latest fashion trend in most cosmopolitan cities. It is widely used in this modern era because of its numerous benefits and advantages, especially in significant industrious buildings, companies or supermarkets.
The essence and necessity of doors can't be underestimated in most buildings. The type of door can play a vital role in the aesthetic look of the whole building. It's the first contact of the building with most customers and clients, especially in big industrial buildings. It could also increase the rating and economic value of your building by reducing the hazards caused due to poor door selections. Frameless glass doors offer numerous benefits and much more. That's why they are the most trendy doors in most companies nowadays.
Since you have realised the importance of doors to every building, it is essential to choose the right door to meet your needs and necessity. Frameless glass sliding doors are an excellent choice because of their flexibility, adaptability, and ability to use different locations and buildings. They are a secured, fashionable, flexible, and economically friendly option when choosing the type of door to choose for your facility.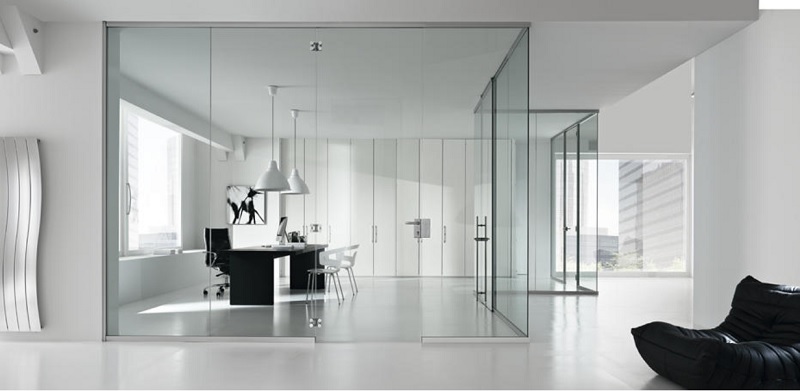 Factors to Consider Before Selecting Frameless Glass Doors
There are different factors and things to consider before making your final decision on the type of door to select. The kind of door for your building can be influenced by many factors, especially if you decide to choose a frameless door. The factors to consider includes:
    Budget: The type and quality of door to be fitted in your building can be influenced by the amount of money budgeted or set aside for the project. Most quality doors and products come with prices that are worth the investment. It is better to invest in a quality four that will last longer than cheap inferior ones that last for a short period.
    Location: The location of the door is also crucial in choosing the door type. The location describes the frequency of use of the door and the type of people that use them regularly. Double sliding glass doors are preferable in most countries or areas with frequent opening and closing of the entrance doors. Supermarkets, stores or big organisations prefer to choose this type of door because of its ease of opening and closing.
    Frequency: Some doors are more frequently used than others, for example, entrance doors or doors leading to the back of your house or garden. It is advisable to choose frameless glass sliding doors for entrances you use often. This is important because if a bad door were installed, it would wear out or get damaged easily.
    Climate and Weather Condition: Weather conditions change and fluctuate depending on the time of the year. It has a significant impact on the type of door installation, especially if you live in European countries or the Uk. Selecting a  frameless door that can withstand harsh weather conditions would save you from unnecessary expenses and repair.
Benefits of Installing Frameless Glass Doors in your Buildings
Since you are aware of the factors to consider before selecting your door type, it is evident that frameless glass doors are good regardless of the weather, location and purpose. Some of the numerous benefits include:
    Resistance to fluctuating or harsh weather conditions
    Flexible and durable regardless of the frequency of use.
    Fashion trendy
    Secured and safe
Frameless glass doors are the best choice to select if you want a durable, trendy and secured door for your building.