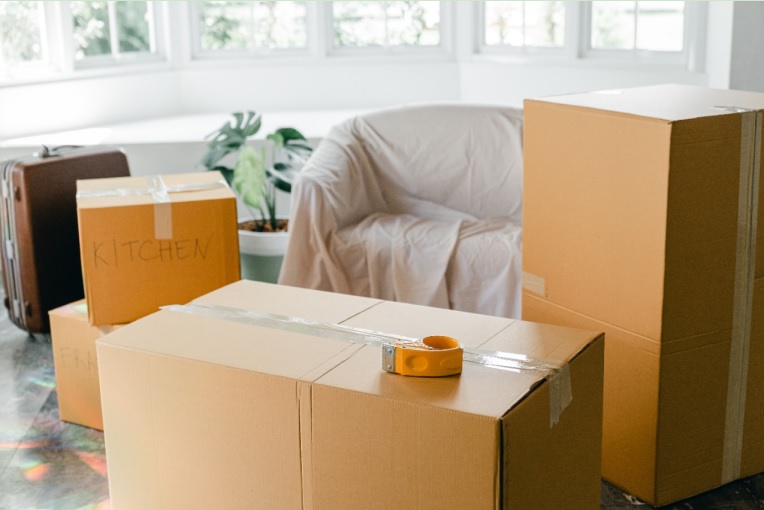 Thinking about moving to a new house is exciting, but trust me, that is the only exciting part. Moving is one of the most stressful jobs you can undertake.
Often you don't know where to start, what to pack and where to keep the extra stuff. Also, you have to contact the utility company of your current and new residence and talk to your kid's school administration. This is just a glimpse of what must be done before and after moving.
But packing your stuff and moving to another house does not need to be stressful all the time. Follow the tips below to make your moving stress-free.
Buy packing supplies
Start your packing process by buying packing supplies which include cartons, tape, rope, garbage bags, bubble wrap, Styrofoam, old newspapers, marker, labels,  stretch wrap for furniture, etc.
Make sure you have boxes of different sizes sturdy enough to bear the weight of the content packed.
You can either buy everything new or look for used material online. Alternatively, if you have plastic boxes in the house, use them to pack your belongings.
Arrange for vehicle transportation
If you are moving across the country to another state and don't want to drive your vehicle to the new destination, you may have to arrange to transport your vehicle.
Talk to the cargo companies for vehicle transportation. These companies may have different requirements based on the vehicle type, such as a car, RV, or truck.
For instance, the requirements and cost might differ if you want to transport an RV (Recreational Vehicle). But if you don't find the right service on short notice, don't take any risk.
Instead, keep your RV in an RV storage unit until you arrange safe transportation of your vehicle. These storages are secure and have covered parking to protect your vehicle from sun, heat, and wind.
Start packing in advance
The biggest blunder homeowners make when moving is to start packing when they are a few days away from hitting the road.
The best advice we can give these homeowners is to start as early as possible. Early packing will relieve you of the stress of last-minute packing.
Last-minute stress is so overpowering that it often makes you forget things and make unintentional mistakes. Therefore, start at least two weeks before the final day of moving.
Declutter and donate
When you start packing, purge your house, move from one room to another, take out the drawers, open the cupboards and inspect the contents you have been stowing in them.
When you live in a house for some time, it is possible to accumulate a lot of stuff. But it is also a fact that upon inspection, you will find that you don't use many or that most things are nothing more than junk cramming the space. So, moving is the best time to purge your house, remove all the clutter or decide what to do with it.
If there is stuff that is good in condition but no longer needed, send it to the nearby donation center or contact a charity yourself. The charity staff will happily oblige your request and pick the stuff up from your doorstep.
The more you declutter, the better idea you will have about the stuff that must be packed and taken to your new house.
Start packing from the room you least use
When you start packing early, it isn't wise to start from your bedroom or kitchen because you use these places until the last day of your stay in the house. Instead, start from the room or area of the house that does not come in use frequently.
For instance, if you think your kid's playroom or the library won't be used as often as it does until you settle in your house, start packing from these rooms.
Alternatively, if you have many floors in your current home, start from the house's highest floor and move towards the lowest.
Seasonal items such as Christmas decorations, seasonal clothes, gardening tools, and machines are the perfect example of things that you can pack early.
Roll your clothes when packing
Ask an avid traveler about the best way to pack your clothes, and they will tell you about rolling your clothes.
Rolling your clothes is much easier and more efficient than folding your clothes. Besides, rolling your clothes also takes less space, and you can store more clothes in a cardboard box.
Also, the clothes don't come down unfurling with a mere touch. And, when you unpack your clothes, you won't find them in a crumpled mess.
Label your boxes
One of the efficient ways to identify what you packed in which carton or bag is by labeling them on all sides. Use a permanent marker to write about the content inside the box; if it has books write "books" on all sides and the top with big font. This will make it easier for you to recognize the box once you are in your new house.
Consider the well-being of your pets
If you have had pets for some time, you will understand how big changes such as a move to a new place affect them. Some pets feel stressed and get anxious, while others get lethargic.
Keep an eye on your pet's behavior. They may stop eating and responding to your calls, cuddles, or even fall ill.
The behavior of one pet can be quite different from the other, but there is one thing you can do. And that is to let them get acquainted with the packing material and enjoy themselves.
The more acquainted they are with what is happening, the prepared they might be for the change.
Conclusion
Moving to a new house is full of anticipation of living in a new place, room, and people. But during the actual moving process, you will realize how stressful this can be until you have a plan of action to follow. The article gives you the mandatory plan of action to make moving more managed and streamlined.