People say the kitchen is the heart of every home. And what represents heart and love more than family?
Are you looking to renovate or revamp your current kitchen design? Love entertaining, and want a more functional space?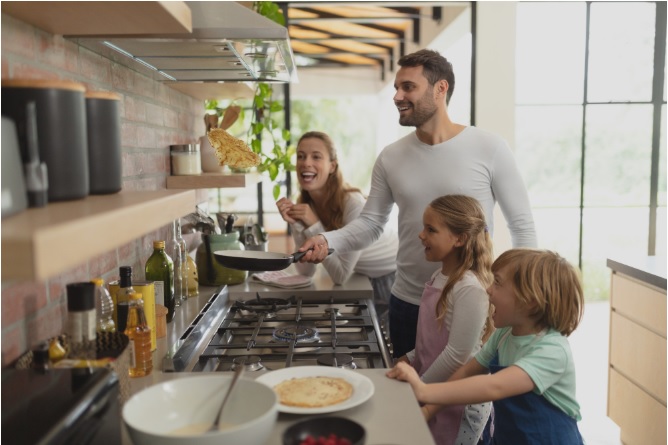 Whether you love to host parties, prepare gourmet meals, or enjoy large family dinners, this article is for you. Keep reading to discover nine design tips for creating the perfect family kitchen space for any size gathering.
Grab your apron and let's get to work!
Let the Kids Get Creative
When you think of family in the kitchen, what comes to mind? Children, of course!
It's a universal (and valid) worry for most parents that the kitchen isn't safe for little ones. With so many sharp objects and hot surfaces around, accidents can happen.
One of the best ways to safely welcome your kids into the kitchen is by creating a designated space just for them. Add a small corner or nook that showcases child-size furniture and accessories.
Paint one wall using chalkboard paint or hang a dry erase board that lets your children express their creative side. Invite them to help you write your grocery list or display recipes.
Kids naturally love to help, and parents can rest easy knowing their children can be included in family activities.
Use an Open Floor Plan
If your family kitchen layout is designed around entertaining, an open floor plan is the way to go. Your kitchen overlooks the dining room and living room, guaranteeing everyone is included in the festivities.
Your guests can rest comfortably in the living room while you whip up snacks or a meal. You can easily converse as visitors and family sit at the counter or dining room table.
Open floor plans are functional and also create a welcoming feel. This layout may even make your living space look bigger than it is!
Island Life
No, we aren't talking about jet setting to the Bahamas, but instead incorporating one (or more!) islands into your kitchen design.
Islands are a common gathering place in most kitchens and include a sink, counter space for food prep, plus a seating area.
While you cook or wash dishes, guests and family can sit at the counter facing you. This is perfect for entertaining or helping your children with their homework.
Want to utilize your kitchen space? Try adding a new island to your design.
Designate the main island for all cooking and food prep and let your kids and guests enjoy extra space on the second island. This added space is also the perfect place to lay out food and snacks, encouraging a family or buffet-style dining experience.
Create a Cozy Nook
You want your family kitchen design to be cozy. Try adding a breakfast or banquette nook that cries, "Welcome"!
Skip traditional chairs and opt for a cushioned bench. There's something kid-friendly and ultra-casual about a bench at the table. Add some throw pillows or blankets for an added personal touch.
If possible, position your nook near a window. The nook allows natural sunlight to shine in and creates a warm, cozy space.
Another pro tip: opt for an easy-to-clean fabric that eliminates the hassle of cleaning up spills or accidents.
Design a Designated Work Area
While some homeowners love welcoming company into the kitchen, they also enjoy a designated workspace for cooking. There's nothing wrong with dividing your family kitchen into eating or socializing areas that are separate from food prep areas.
Placing all of your major appliances and amenities on a single wall is an effective way of creating the divide you're looking for.
This renovation blog offers more tips on creating a functional work area for those who enjoy a little wiggle room in their kitchen.
Add an Office Space
The kitchen isn't just for cooking and entertaining. Adding a small desk or office space to your kitchen area is a growing trend.
Several kitchen designs allow for a small table or counter space that can double as an office. This is perfect for adults that work from home. It's also an excellent spot for kids to complete homework while mom or dad prepare dinner.
If you love looking up recipes online, set your computer or laptop here for easy reference as you work.
You can even add a small corkboard or chalkboard for posting essential reminders, grocery lists, or other messages for family members.
Include an Oversized Pantry
Storage is one of the most important aspects of any kitchen space. Almost as crucial as walk-in closets in the bedroom, an oversized pantry should be the highlight of your kitchen.
Not only do walk-in pantries let you store plenty of goodies, but it helps you keep them organized and accessible.
Storing all of your grocery items and paper goods in one space makes crafting your grocery list a breeze. It also makes it much easier for everyone in the family to find what they're looking for.
Need more counter space? Store any loose items or those you don't use every day in the pantry for easy access. This storage cuts down on clutter and instantly enlarges your work area.
Opt for Durable Countertops
Speaking of countertops, the material you choose goes a long way – especially for those with large families or frequent guests.
You want a counter that is durable and easy-to-clean. If fingerprints are one of your pet-peeves, steer clear of highly polished stone slabs and opt for something textured and darker in color.
Quartz, granite, and even concrete are perfect for high-traffic kitchen counters that get a lot of use. A satin finish on a solid surface makes for easy cleaning and lets you remove minor scratches yourself!
Worried about your little ones bumping themselves on the sharp edges of your counter? Don't be! Opt for rounded corners on your countertops that help prevent injuries.
Choose Slip-Resistant Flooring
While we're on the subject of injuries, slips, and falls in the kitchen are all too familiar. Accidental spills can create hazards on your kitchen floor. That's why choosing a slip-resistant material for your flooring is so important.
Slip-resistant tile, linoleum, cork, and textured laminate or vinyl flooring are all great options. If you want stone tile, add a hammered, flamed, honed, or tumbled finish to help prevent slips and falls.
You can also place slip-proof runners and area rugs strategically throughout the kitchen.
Create a Functional Family Kitchen Design
Your kitchen is the gathering place for both family and guests. Whether you're cooking while your kids do homework or you're hosting a holiday party, your family kitchen needs to be functional.
The good news is, you can have a functional kitchen space that's also fashionable!
Unsure of what to look for in your next kitchen? Or perhaps you're looking to sell your home and think your current kitchen design needs a facelift?
Check out our blog for all things real estate and let us guide you toward a beautiful home that fits your needs!